Mack Brown compares Sam Howell to legendary Texas quarterback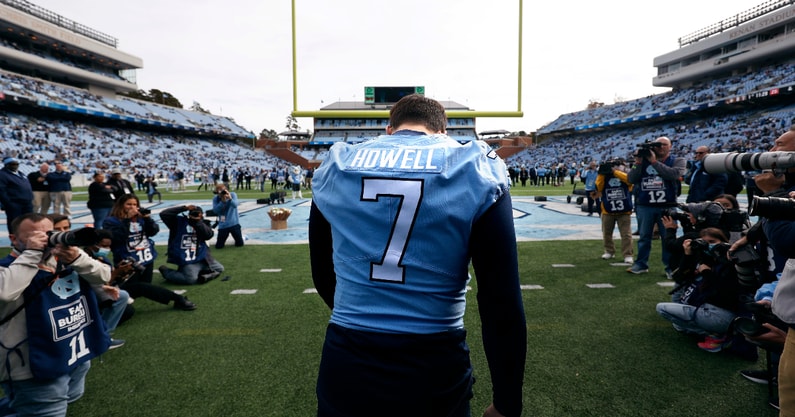 Sam Howell was touted as a potential top-five NFL Draft pick ahead of the 2021 campaign — but his stats took a dive last season and with the NFL Draft approaching, there are varying opinions on where the North Carolina signal caller will be selected and how scouts and evaluators view his ceiling as a starter in the pros.
On Monday, Howell showcased his talents for a bevy of NFL coaches and decision makers at the UNC pro day and his coach, Mack Brown, had an interesting comparison between his most recent signal caller and another QB the former Texas Longhorns coach is more than familiar with.
"I think he's a lot like Colt McCoy more than anything," the UNC head coach said. "But the accuracy, wow. And Colt McCoy had those same qualities coming out."
Many NFL talent evaluators, scouts and experts may find the comparison interesting to say the least, but context clearly key here.
Ahead of the 2021 campaign, Howell was one of the rising quarterbacks in his draft class. His first two seasons backed up the hype. The four-star consensus QB chose UNC over powerhouses Alabama and Georgia. Ohio State and Michigan also offered Sam Howell, and Clemson pursued the North Carolina native heavily, too.
But Howell bought into Mack Brown and clearly wanted to stay home and help revitalize the UNC program. He caught eyes as a freshman, starting in every game and finishing the year with 3,641 passing yards, 38 touchdowns and just seven picks. Suddenly, North Carolina had a legitimate high-caliber QB, and Howell's sophomore campaign is when the college football world as a whole took notice.
He threw for 3,856 yards and 30 touchdowns to seven interceptions as a sophomore in 2020, leading the Tar Heels to an 8-4 record and Orange Bowl berth. considered not only a Heisman Trophy front runner, but also a potential top-five draft pick in the 2022 NFL Draft by multiple experts and media outlets.
While the narrative is easy to say Sam Howell took a step back in 2021 — and on paper his stats certainly took a dive — many believe the struggles were a lot less about Howell and more about his surrounding cast, or lack thereof. He lost his top two receivers and top two running backs along with several key members of the offensive line.
Suddenly, he was asked to do it all, but like Colt McCoy — who is regarded as one of the top passers to ever play at Texas — Howell did add to his game by incorporating mobility in 2021. Previously, he was viewed as more of a pocket passer.
Will Sam Howell have similar NFL future as Colt McCoy?
McCoy is a legend in Texas Longhorns country, but many believe Howell's future won't take the same path as the now veteran NFL backup did.
While McCoy's five-year run with the Longhorns will go down in history, his collegiate success never translated to the NFL the way he had hoped. When he left Texas and headed to prepare for the NFL Draft, McCoy finished with just about every honor, award and record imaginable in the progam's history. He went 45-8 in 53 career starts and his No. 12 jersey was retired in 2010.
But varying opinions — similar to Sam Howell now as the NFL Draft inches closer — led to McCoy falling despite his collegiate success. He was ultimately selected in the third round by the Cleveland Browns, but never found success as starter. While the former Longhorn just wrapped up his 12th NFL campaign as the backup for Kyler Murray in Arizona, he's now settled into his role and never shined as a starter.
McCoy has put together a long NFL career as one of the most highly revered NFL backups year after year, but Sam Howell, his agent and many of the top experts believe the UNC passer has a much higher ceiling at the next level. .
"Howell is interesting — Sam Howell, out of North Carolina — because he's not that tall, just over 6-feet. But he's big, he's strong. He, like [Ole Miss quarterback Matt] Corral, is a competitive, tough runner. He has a big arm. He's the best deep-ball thrower in this class. And I think a team like Detroit that's so blue-collar and tough and built on that mentality, I think they could wind up falling in love with a guy like Howell because he's everything that they embody. So, with that second first-round pick at No. 32 overall, that could be a good choice for the Lions. And, remember, you get to lock him in for a fifth year as a first-round draft pick."
McShay's fellow NFL Draft expert Mel Kiper added to the Howell hype as well.
"Sam Howell, to me, is a Baker Mayfield-type, but I think you look at the year he had — the inconsistencies with a result of the four players [North Carolina lost]," Kiper said. "They lost two running backs, two receivers, we knew there would be a drop off in terms of his numbers, but there were games where he still looked like a top-10, top-15 pick, others where, as Todd [McShay] said, second round. So, You've got to come up somewhere in between."
Howell could very well end up being one of the biggest steals of the 2022 NFL Draft and in a class with so many unknowns and varying opinions, where he lands and the organization who selects him is one of the more underated storylines to watch.