Sam Williams gives hilarious take on failed basketball career, reveals college secret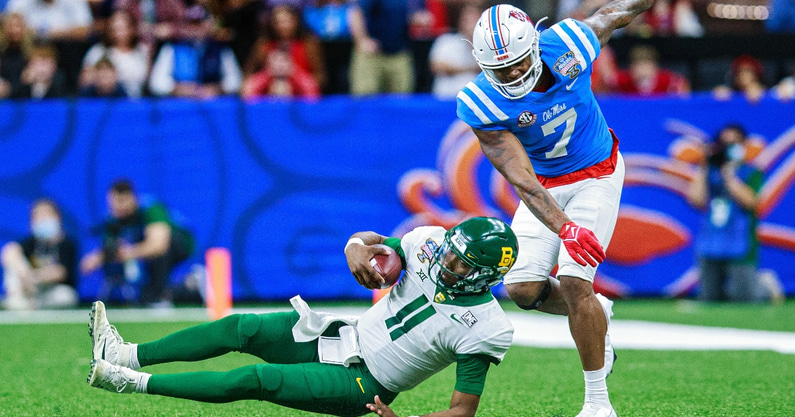 The Dallas Cowboys added a versatile defensive lineman in the 2022 NFL Draft, selecting former Ole Miss EDGE rusher Sam Williams in the second round. Williams, who also has a background playing basketball, is looking to come in and make an impression right away on the Cowboys defense.
Following his selection, Williams had a hilarious conversation with local Cowboys reporters, where he explained his basketball background.
"My fifth year," Williams said when asked how long he has been playing football. "I was a basketball player. We ain't gonna bring up that, but yeah. I was a hooper."
Now that Williams is playing in Dallas with the Cowboys, he will be in close proximity to one of the NBA's best young stars in Luka Doncic. Doncic is a great basketball player, and Williams understandably couldn't come up with an answer when asked how he would guard the young phenom.
"Luka, he a different breed," Williams said. "I might just, I don't know, put my hand in his face. Hope he miss. But I don't know."
LeBron James has been one of the NBA's biggest superstars for many years. But that didn't stop Williams from jokingly putting himself right alongside him. When asked about what kind of basketball player he was, Williams immediately turned to the current Lakers star.
"They say I was like LeBron, but I don't know, like I think LeBron wanna be like me," Williams joked. "But it was fun. Like I mean I was aggressive and I was big. Well I wasn't big, I was just tall kind of. Basketball was just like a thing that I've done."
Williams goes further into his basketball background after being taken by Cowboys
When Williams started playing football, it was mainly to try and help him improve on the football field. But as it turns out, Williams ended up calling it a career on the court once his football career started to take off.
"It started with basketball, it's like you need to play football so you can like go to the rim harder," said Williams. "Like you could be more physical. And then football came, I killed it. That's the only sport I had offers in. I played basketball my whole life, never got offered. So that's probably a sign that I need to give it up."
Throughout his collegiate career, Williams played intramural basketball to try and stay in shape in between football seasons. Now that he has been drafted by the Cowboys, Williams knows that football is his profession. But basketball is something that he will always turn back to.
"I mean I was just like dang, like I never saw myself going to college," he said. "So take the chance. But like I never told anybody this, but my first year at Ole Miss – I couldn't anymore because of COVID – but I played intramurals. We was the champions. I scored about 30. But yeah, that's what I was doing during the offseason, just playing intramural, keeping lose, staying in shape my first season at Ole Miss because I love basketball so much. Even at JUCO, I always played pickup ball with my teammates. I even played basketball with the basketball team and open gym. Like I play it, but football is my profession."