49ers sign new running back to help with loss of Raheem Mostert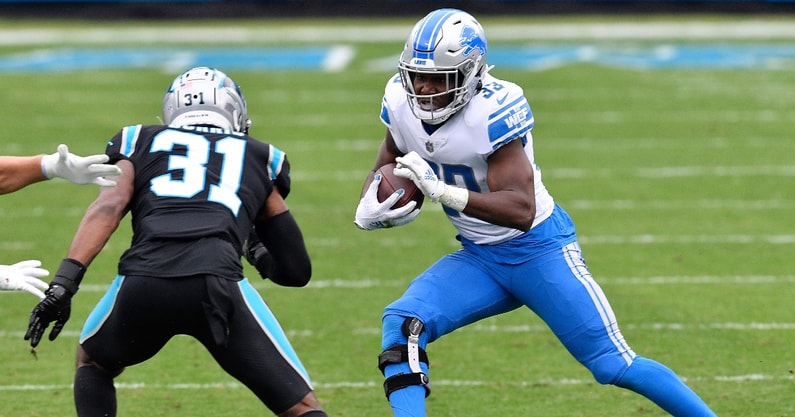 Kerryon Johnson has found his third home in less than five months. 
On Tuesday, the 49ers revealed they would be signing the fourth-year running back. The announcement came from Johnson's agent, Drew Rosenhaus, per Adam Schefter.
The news comes after San Francisco's Raheem Mostert opted to have season-ending surgery to repair what 49ers head coach Kyle Shanahan called "chipped knee cartilage." He suffered the injury in a 41-33 win against the Lions on Sunday. Had Mostert elected not to have the surgery, he would have been out for eight weeks. 
Johnson was a second-round NFL Draft pick in 2018 out of Auburn. In three years with the Lions he played in 34 games with 16 starts and accumulated 1,752 total yards from scrimmage and 11 touchdowns. 
The Lions released Johnson in May, and the Eagles claimed him shortly thereafter. He subsequently suffered a knee injury, and Philadelphia released him off of the Eagles' injured reserve list in August.
An all-purpose back and return man, Johnson played three years at Auburn and recorded 2,972 yards from scrimmage and 34 touchdowns. His junior year was by far his best; he accumulated 1,391 yards on the ground and 18 scores. He averaged 25.1 yard per return on kickoffs, seventh in Auburn history, and was named SEC Offensive Player of the Year in 2017.
49ers offense put on a show on Sunday in win
Mostert had just two carries for 20 yards before leaving Sunday's game against the Lions, but the offense did not have many issues in his absence. 
Elijah Mitchell picked up the slack for Mostert, tallying 104 yards on 19 carries and a touchdown. He had a 38-yard touchdown run in the second quarter. No. 2 running back JaMycal Hasty had a carry for a three-yard score. The 49ers also have rookie Trey Sermon out of Ohio State who showed at the end of last year he is an explosive and exciting option should the 49ers want to use him. 
San Francisco only had 131 yards on the ground but put up 41 points largely due to their passing game. Jimmy Garoppolo played nearly the entire game and had 314 yards and a touchdown after completing 17 of his 25 pass attempts. Rookie and No. 3 overall draft pick Trey Lance threw his first career touchdown pass, becoming the first quarterback to do so on his first career passing attempt since Tim Tebow. 
Wide receiver Deebo Samuel posted 189 receiving yards and a touchdown on nine catches. He was topped in yardage in the NFL only by Kansas City's Tyreek Hill, who had 197 yards on the day.