Scouting the Commitment: What is Arizona getting in 5-star Kylan Boswell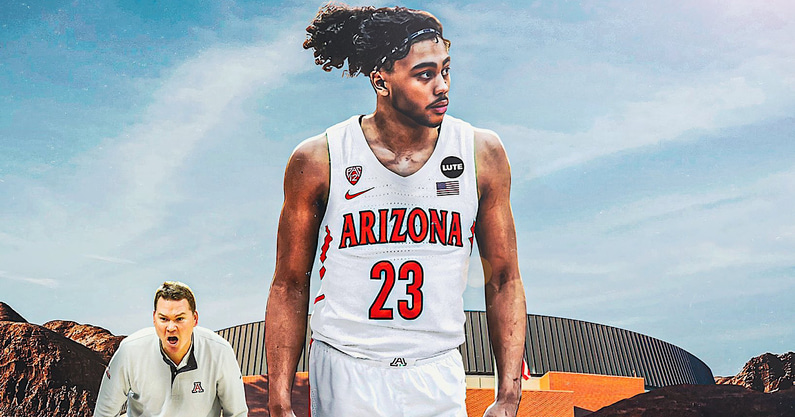 Arizona head coach Tommy Lloyd made waves on Monday when 2023 On3 Consensus No. 11 Kylan Boswell committed to the Wildcats. Joe Tipton broke the story for On3 (here).
Despite never having been a head coach, Lloyd came to Arizona with a reputation. He was one seat down from Mark Few for 20 years and helped build the program. Lloyd was involved in the game-planning, the recruiting, the decision-making for one of the most prominent programs in the country.
Lloyd has lived up to those expectations and then some during his first season on the sidelines in Tuscon. According to College Basketball-Reference, Arizona averages 84.4 points per game, third in D-I. Lloyd employees a free-flowing offense that allows the point guard to play fast and read and react.
This system has led Arizona to a 25-3 record, second place in the AP polls. Their 15-2 conference record has them with a two-game lead over Southern Cal for first place in the PAC-12.
The central piece for Arizona's attack is point guard Kerr Kriisa, and Kylan Boswell has noted this. "I have been watching how they play their guards, and they have done really well this year," Boswell recently told On3 about Arizona.
Boswell is a winner
Go ahead and print the t-shirts, get the posters made, Kylan Boswell is a winner. Over the past 12-months, Boswell has led his high school team to a state championship appearance, won a gold medal with the U16 Team USA team, and won a Peach Jam 16u championship.
Winning follows Bowswell around. He currently has his Chandler (AZ) AZ Compass team at a 22-4 record and a birth in the Geico Nationals tournament. There is a chance Boswell could join Armando Bacot and DeAngelo Russell as the only players to win a Peach Jam championship, a gold medal, and a Geico championship in the same calendar year.
The consummate point guard
If the true measure of a point guard is winning, what does Boswell bring on the floor? At first glance, Boswell is a very strong-framed player. He has broad shoulders with a thick base, Boswell has put on ten-plus pounds of muscle since the summer. However, he has not lost his mobility and athleticism with the muscle gain.
Boswell can get to his spots on the floor. He has adept knowledge at running a team and can get his guys into sets in the half-court, or he can play at a fast pace in transition and make correct reads.
Boswell is a smooth shooter from three, and he has a lethal pull-up jumper in the mid-range. His head is always up in traffic. He appears to have a sixth sense of where the defensive help is coming from and where his teammates are on the floor.
The common saying with high-level point guards is he makes everyone better around him, and you do not go from team to team, setting to setting, and win at a high level like Boswell without having this trait.
The Arizona fit
Arizona's system under Lloyd puts a lot of playmaking responsibilities on the point guard. They have a very free-flowing offense with read and react actions. With his IQ and ball skills, Boswell fits perfectly in this type of system. He is used to playing at a high level, with a lot of talent around him, and sharing the wealth.
It is also interesting for a program to get the point guard in the fold as their first recruit of a class. Especially a point guard who can create and win, high-level players like to play with guys like that. Boswell is a Team USA guy, a Nike guy, and will play in the Geico Championships. High-level players know him.