SEC announces players of the week after Week 5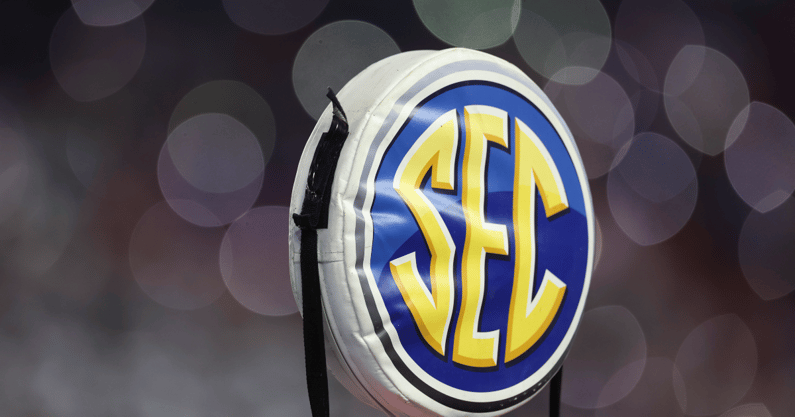 After several big performances from Week 5 of college football, the SEC announced its players of the week on Monday. Alabama running back Jahmyr Gibbs was named the Offensive Player of the Week, while Mississippi State cornerback Emmanuel Forbes took home defensive honors.
Gibbs was a big part of the Crimson Tide's 49-26 victory against No. 19 Arkansas, rushing for a career-high 206 yards and two touchdowns. Both of Gibbs' touchdown runs came in the fourth quarter, where Alabama outscored Arkansas 21-3 to pull away for good.
Forbes entered the Mississippi State record books Saturday, as his interception return for a touchdown was the fourth of his career, making him the school's all-time leader. He totaled two interceptions on the day as the Bulldogs defeated No. 17 Texas A&M 42-24.
CLICK HERE to subscribe for FREE to the On3 YouTube channel
Below is the full list of SEC Players of the Week after Week 5 of college football, including the special teams and freshman player of the week.
Week 5 SEC Players of the Week
Offensive Player of the Week: Jahmyr Gibbs, RB, Alabama
Defensive Player of the Week: Emmanuel Forbes, CB, Mississippi State
Special Teams Players of the Week: Jack Podlesny, K, Georgia AND Harrison Mevis, K, Missouri
Freshmen of the Week: Quinshon Judkins, RB, Ole Miss AND Barion Brown, WR, Kentucky
Offensive Lineman of the Week: Micah Pettus, RT, Ole Miss
Defensive Lineman of the Week: BJ Ojulari, DE, LSU
A pair of freshman had huge performances in the contest between No. 14 Ole Miss and No. 7 Kentucky, which the Rebels won 22-19. Ole Miss running back Quinshon Judkins led the team with 106 yards rushing and a touchdown in the win, bringing his total to 535 yards this season. But Judkins couldn't have done it without the Rebels offensive line, and right tackle Micah Pettus earned Offensive Lineman of the Week after making his first career start.
Meanwhile, Brown totaled 245 all-purpose yards on just five touches in the losing effort. That included an 85-yard kick return and two catches for 81 yards.
The kickers played a big role in the Georgia-Missouri game, and that was reflected in the special teams awards. Jack Podlesny and Harrison Mevis shared that honor after going a combined 9-of-9 on their field goal attempts Saturday. Mevis even hit two field goals of 50-plus yards, but it would be the Bulldogs who came out on top, 26-22.
Finally, LSU defensive end BJ Ojulari took home Defensive Lineman of the Week after finishing with four tackles, two sacks and a forced fumble in a 21-17 win against Auburn. His strip sack in the second quarter sparked 21 unanswered points as LSU came back from 17 down to earn the victory.