SEC commissioner Greg Sankey advocates for end of early signing period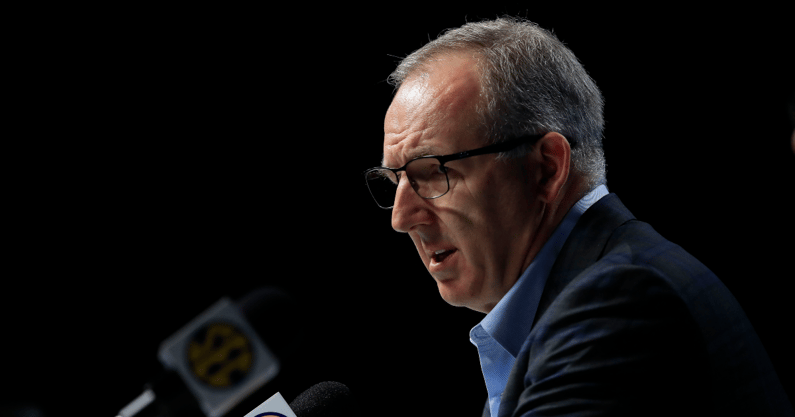 SEC Commissioner Greg Sankey is advocating for the end of the early signing period in college football.
Speaking with Nicole Auerbach of The Athletic, Sankey explained that he believes coaches simply have too much on their plate in December.
"We're crushing coaches in December," Sankey told Auerbach, in advance of the national championship game. "We're going to add Playoff games (in December). We have to change early signing."
There's a myriad of things coaches have to deal with throughout the month. From bowl game prep to the coaching carousel and the transfer portal window, with the latter having an unintended effect on the players involved.
"We've created more pressure for young people," said Sankey, a co-chair of the Division I Transformation Committee that approved the transfer windows, per Auerbach. "There was a notion that we needed these long windows to alleviate pressure. I think we created pressure for young people. …
"We have to change December and college football to support the health of our participants and our leaders — and conduct the games."
While the transfer portal windows will be an interesting conversation moving forward, the easier fix at the moment is dealing with high school athletes and the early signing period.
"I would suggest we have to pivot back," Sankey told The Athletic. "Maybe it doesn't have to be the first Wednesday in February like it is, but we have to get through the postseason. We have to get through coaching transitions. It ought to be done in the appropriate timeframe. It should not be disrupting seasons."
Additionally, Sankey reaffirmed that the SEC weren't heavily behind the implementation of an early signing period anyways, as other conferences pushed hard for it.
"Our conference responded to say, 'You're going to accelerate coaching transition,'" Sankey said, via Auerbach. "And what have we done? We accelerated coaching transition. And you look at the creation of the early signing period, it's very clear that's changed things, and I've talked with ADs who say they have to have coaches hired by late November, early December."
Still, how quickly can things change? According to Sankey, it's something that needs to and could be fixed as soon as next offseason.
"My fear is that we frustrate people to the level that they just leave the leadership roles that are really important in college football," Sankey said, via The Athletic. "So, change is needed. And we have to be direct in our comments.
"People have to acknowledge the reality, and we need to not be trying to protect some notion that existed five or 10 years ago. We have to acknowledge reality, and we have to pivot."
Time will tell if Greg Sankey can garner enough support to make some major changes, but it's evident what his stance is on the matter.