SEC power rankings after Week 2 of college football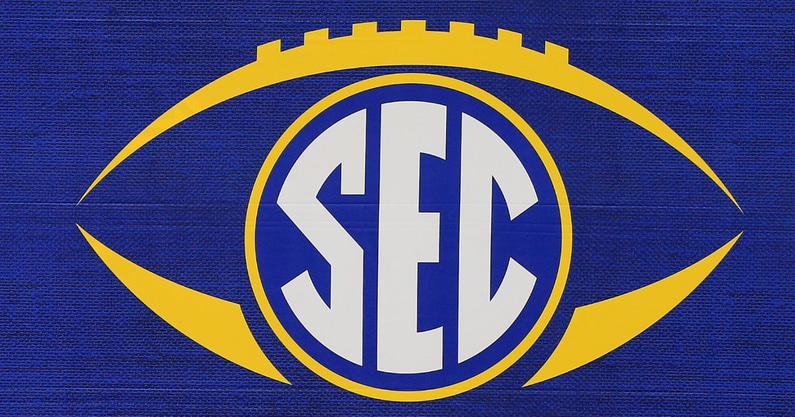 Last weekend was a fruitful one for the Southeastern Conference, and the SEC power rankings reflect it. In Week 2, 12 of the 14 SEC teams escaped with a victory — aside from Tennessee and Missouri, who faced off against Kentucky.
Offense was at a premium, as Alabama, Georgia, Florida, Arkansas, Ole Miss and Auburn all put up at least 40 points. Moreover, the Razorbacks had the most impressive victory — defeating the Texas Longhorns, 40-24.
Prior to Week 3, let's take a look at the SEC power rankings — using the ESPN Football Power Index.
SEC Power Rankings, per ESPN FPI:
1) Alabama Crimson Tide: ESPN FPI: 1; National Ranking: 1
2) Georgia Bulldogs: ESPN FPI: 2; National Ranking: 2
3) Florida Gators: ESPN FPI: 6; National Ranking: 11
4) Texas A&M Aggies: ESPN FPI: 9; National Ranking: 7
5) Auburn Tigers: ESPN FPI: 10; National Ranking: 22
6) Ole Miss Rebels: ESPN FPI: 14; National Ranking: 17
7) Arkansas Razorbacks: ESPN FPI: 22; National Ranking: 20
8) Kentucky Wildcats: ESPN FPI: 30; National Ranking: NR
9) Mississippi State Bulldogs: ESPN FPI: 34; National Ranking: NR
10) LSU Tigers: ESPN FPI: 36; National Ranking: NR
11) Missouri Tigers: ESPN FPI: 54; National Ranking: NR
12) Tennessee Volunteers: ESPN FPI: 59; National Ranking: NR
13) South Carolina Gamecocks: ESPN FPI: 61; National Ranking: NR
14) Vanderbilt Commodores: ESPN FPI: 119; National Ranking: NR
As you can see, the SEC makes up five of the top ten teams in the ESPN FPI. Moreover, Alabama and Georgia lead the way in both the FPI and national rankings.
While Texas A&M may be ahead of Florida nationally, the Gators are ranked ahead of the Aggies per ESPN. Additionally, it's the same story for Ole Miss and Auburn – the Tigers trail the Rebels nationally, but are ahead on ESPN.
Finally, Arkansas broke into the top-25 in the ESPN FPI following their huge victory. Additionally, they moved all the way up to 20 in the national rankings — ahead of Auburn.
Week 3 Preview
This week, some stiffer competition enters the SEC. First, Alabama and Florida face-off in a matchup of two Goliaths. If the Gators can upset the Crimson Tide, the college football world will be turned over.
Next, Auburn travels to Happy Valley to take on Penn State. If the Tigers can get overcome the craziness and get a victory, they'll shoot up the national rankings.
Finally, South Carolina travels to Georgia to take on the Bulldogs. If Shane Beamer's energy can translate to a victory, Georgia's SEC hopes may be dashed.