SEC Power Rankings: Kentucky, Tennessee post impressive road wins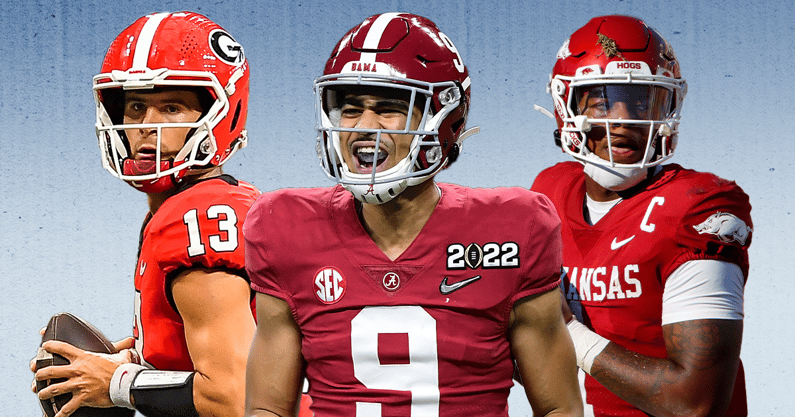 After a 13-1 week to open the season the SEC didn't fare quite as hot in Week 2, though two of the conference's five losses over the weekend came in conference matchups. Regardless, there is a good deal of movement in the SEC Power Rankings for Week 2.
Georgia moved past Alabama last week and a scare for the Crimson Tide on the road at Texas will keep it that way for the time being. That said, there's a very, very large gap between the top two teams in the league and the rest.
The bottom of the league starting to take shape, though.
CLICK HERE to subscribe for FREE to the On3 YouTube channel
Today we update the SEC Power Rankings following Week 2 games.
2022 SEC Power Rankings – Week 2
Offensive efficiency left a bit to be desired in Georgia's 33-0 win over an overmatched Samford squad, but other than that it was what you'd expect from a cupcake game. The red and black Bulldogs outgained the other set of Bulldogs 479 yards to 128, didn't turn it over and made short work of their second win by having more than 40 minutes time of possession.
The Crimson Tide aren't quite firing on all cylinders right now, but we've seen Nick Saban teams overcome that to be a serious national contender by year's end. And when you've got a quarterback with ice in his veins like Bryce Young, you can get by. The Tide survived a road scare against a plucky Texas squad 20-19, but they'll have to find a way to protect Young better going forward. He was sacked twice, while the Longhorns hurried him seven other times.
Arkansas (+2)
After the clear-cut top two teams in the league, there's a tight logjam from spots 3-5. Arkansas gets the nod by a hair for now, barely, over Kentucky. The Razorbacks have two very solid wins, opening with a win over then-ranked Cincinnati and dispatching South Carolina this week. Arkansas gets a brief respite with Missouri State this week before a trip to Texas A&M in Week 4.
Kentucky (+3)
The Wildcats had the best win out of the threesome battling for placement on the second tier in the league right now, beating Florida on the road in the Swamp. Young playmakers are beginning to emerge offensively for the Wildcats, who are always well-coached defensively. That Kentucky was able to limit the at-times-electric Anthony Richardson to the degree it did was eye-opening.
Tennessee (+1)
Not to be outdone, the Volunteers also had a very impressive win. Kentucky leapfrogs Tennessee mostly because Pittsburgh played a good chunk of the game without starting quarterback Kedon Slovis, while running back Rodney Hammond Jr. missed the game entirely (he totaled 129 yards and two touchdowns in the Week 1 win over West Virginia). Tennessee was far from perfect in the second half but managed to come through in the clutch to secure a 34-27 road win in overtime.
Florida (-2)
As we noted going into the season, the Gators are an incredibly difficult team to figure out. As impressive as Richardson was in the Week 1 win over Utah, he was equally awful Saturday in a 26-16 loss to the Wildcats. That said, Florida's defense was quite a bit improved and the game was a contest into the fourth quarter. The game in Knoxville in two weeks will reveal quite a bit and could have a big impact on the SEC Power Rankings for both Florida and Tennessee.
Mississippi State (+1)
The Bulldogs, like Kentucky and Tennessee, secured a road win this week. Though Arizona isn't exactly the cream of the crop in the Pac-12, a dominant 39-17 win that should have been an even bigger blowout keeps Mike Leach's squad right on track. Leach working with a veteran quarterback like Will Rogers who understands his system can be quite dangerous. We'll find out just how dangerous in Week 3 when the Air Raid offense heads to Baton Rouge.
Ole Miss (+1)
Ole Miss hasn't had a true test yet, beating Troy in the opener and Central Arkansas 59-3 this week. A trip to face Georgia Tech this weekend will be a slight step up, but the Rebels should really be 4-0 before hosting No. 9 Kentucky in Week 4. Of note: Ole Miss continues to play two quarterbacks but Luke Altmeyer left the win over the Bears on Saturday with an upper body injury.
Texas A&M (-6)
A lackluster season opener against Sam Houston State proved to portend bigger issues for the Aggies after all. Texas A&M once again struggled with quarterback play as Haynes King fumbled twice and the offense struggled to get anything going outside of running back Devon Achane's contributions. All that culminated in a 17-14 loss to Appalachian State. The Aggies fell all the way to No. 24 in the AP Poll and get zero time to regroup. Here are the next four weeks for Jimbo Fisher and company: vs. No. 13 Miami, vs. No. 10 Arkansas, at unbeaten Mississippi State, at No. 2 Alabama.
South Carolina (+1)
The Gamecocks made their meeting with the Razorbacks at least a mildly interesting one, though they didn't really come up with answers for Arkansas quarterback KJ Jefferson or running back Raheim Sanders (27 touches for 186 yards and two touchdowns). Turnovers were a big difference, as Arkansas played mistake-free and South Carolina turned it over three times in the contest, ultimately falling 44-30.
LSU (+1)
LSU came out looking angry after a season-opening loss to Florida State. The Tigers had racked up 37 points by the time the first quarter ended and led Southern 51-0 at halftime. No point in wasting too much ink on the Southern game; LSU gets its real bounce-back chance next weekend when it hosts Mississippi State.
Auburn (+1)
Though the Tigers move up a spot in the Week 2 SEC Power Rankings they did little to convince anyone that anything but a rough season is in store. Auburn still has major quarterback questions after both T.J. Finley and Robby Ashford threw an interception and finished without a touchdown pass in a narrow 24-16 win over San Jose State. Even normally productive running back Tank Bigsby was limited to 51 yards on 13 carries. Now Auburn will play host to No. 22 Penn State in Week 3.
Missouri (-3)
Albeit in very wet conditions, Missouri simply couldn't do anything to stop the run as Kansas State powered to a very comfortable 40-12 win. Quarterback Brady Cook threw two interceptions, as did Jack Abraham (on four straight possessions, no less). The Tigers also gave up a punt return touchdown. It was pretty much an across-the-board failure for Eli Drinkwitz's squad.
The Commodores raised some eyebrows with a 2-0 start to the season and even Saturday's result — a 45-25 loss to ranked Wake Forest — was fairly good by Vanderbilt standards. Second-year coach Clark Lea is clearly having a positive impact, though the Demon Deacons couldn't be stopped offensively and managed to limit Commodores starting quarterback Mike Wright. Backup quarterback AJ Swann did well in relief, tossing a pair of touchdowns. A bit of odd scheduling sends Vanderbilt to Northern Illinois in Week 3.
Want to see how this week's power rankings compare to our previous edition? Check out the 2022 Preseason SEC Power Rankings here!