SEC releases Week 3 Players of the Week honors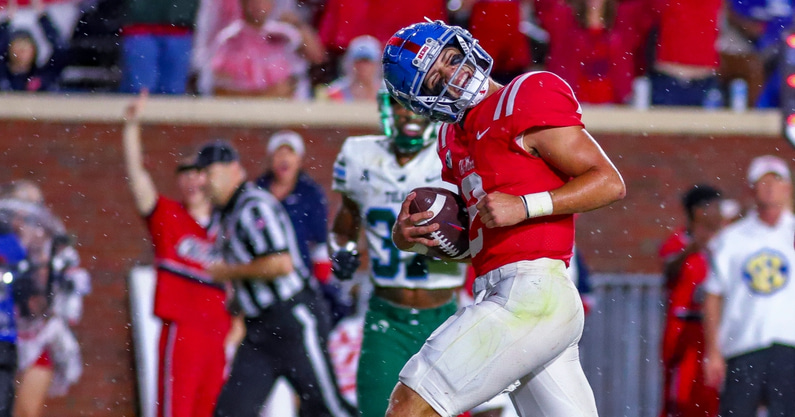 Following an entertaining slate of football in the SEC during Week 3, the conference has released Players of the Week honors. The weekend was highlighted by No. 1 Alabama vs. No. 11 Florida in the SEC, where the Crimson Tide narrowly escaped with a 31-29 victory.
The full SEC honors include a record-setting offensive performance, and six different teams are represented.
SEC honors: Offensive players
Offensive Player of the Week: Matt Corral, quarterback, Ole Miss. Corral set SEC records by becoming the first player in conference history to ever throw for three touchdowns and run for four scores in a single game. Ole Miss had a huge game offensively, defeating Tulane 61-21. In addition to his seven touchdowns, Corral threw for 335 yards and had 68 more on the ground.
Offensive Linemen of the Week: Jeremy James, Ole Miss, Ricky Stromberg, Arkansas. A lot of Corral's ability to set SEC records in Week 3 was because of a strong performance from the Ole Miss offensive line, led by Jeremy James. The Rebels had 41 first downs and 707 offensive yards while not allowing any sacks. Stromberg led an Arkansas line that had 633 total yards and 45 points in a win over Georgia Southern. Arkansas is one of five FBS teams to rush for 240+ yards in three games.
SEC honors: Defensive players
Defensive Players of the Week: Will Anderson, Alabama, Nolan Smith, Georgia. Will Anderson's health coming into Alabama's game against Florida was a question. In the end, Anderson played and played a great game with seven tackles, four pressures, and 3.5 tackles for loss. For Georgia, Nolan Smith had a career-high eight tackles, also adding 1.5 sacks and a forced fumble. Georgia came away with a 40-13 victory over South Carolina, and the Bulldogs have only given up one touchdown on the season on defense.
Defensive Lineman of the Week: BJ Ojulari, LSU. LSU defeated Central Michigan 49-21, and Ojulari had a big game in the win. He had three tackles and 2.5 sacks in the game. LSU's defensive line had five sacks and 15 tackles, while holding Central Michigan to 56 yards on the ground and 284 total in the game.
SEC honors: Special Teams/Freshman
Freshman of the Week: Adonais Mitchell, Georgia wide receiver. Mitchell had career highs with four receptions, 77 yards, and a touchdown. The touchdown was the first of his career, and was a career-long 38-yard reception for the score to give Georgia a 21-6 lead. Each of Mitchell's other three receptions gave the Bulldogs a first down.
Special Teams Player of the Week: Nik Constantinou, Texas A&M punter. The Australian native punted four times for the Aggies for 182 yards. He averaged 45.5 yards per punt. Each of Constantinou's four punts were downed inside the 20-yard line. His longest punt of the game was a 61-yard rocket that the Aggies would down at the five.