Second-year surge: College football's new wave of stars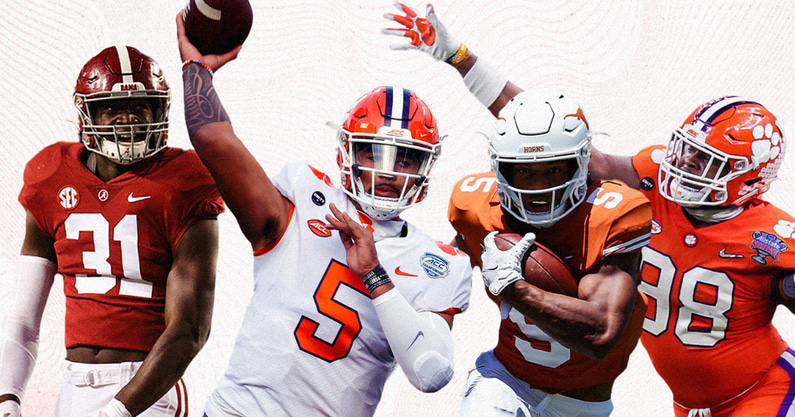 Among the allures of following football recruiting is the opportunity to get an early look at future college and NFL stars. We're wired to feel the urge to see who is next. For those who love to identify and watch young stars in college football, I've got good news: There's a bunch coming our way, with most entering their second year.
It's no secret the 2020 football season was disjointed at all levels because of COVID-19. In college football, there was a limited offseason, conference-only schedules and dozens of cancellations. In spite of all those factors, we still saw repeated flashes from a strong freshman class. By the end of the season, it felt like many of the sport's most exciting players were true freshmen.
That group is back, with many assuming key roles at top programs. A top-heavy NFL draft and a poor 2019 recruiting cycle has created a superstar void within the sport. That void should be filled by second-year players.
The 2021 college football season should be shaped by sophomores and redshirt freshmen.
Second-year QBs set to start
Four of the top six teams in the preseason AP Top 25 are starting second-year quarterbacks.
Top-ranked Alabama turns to Bryce Young to replace Mac Jones. Young, a former five-star recruit, is among several new starters on Alabama's offense. Young capped off a prolific prep career with a masterful senior season in 2019, hitting nearly 72 percent of his passes for 4,528 yards while accounting for 68 total touchdowns to six interceptions. He's a shorter quarterback with innate accuracy and creative playmaking.
Young's SoCal rival and fellow five-star D.J. Uiagalelei takes over for Trevor Lawrence at No. 3 Clemson. We got to see the big-armed passer start two games last fall when Lawrence was out with COVID. At 6-foot-4, 250 pounds with a plus arm, Uiagalelei could have the best physical tools of any quarterback in college football. We've seen him make high-difficulty throws with regularity dating to high school.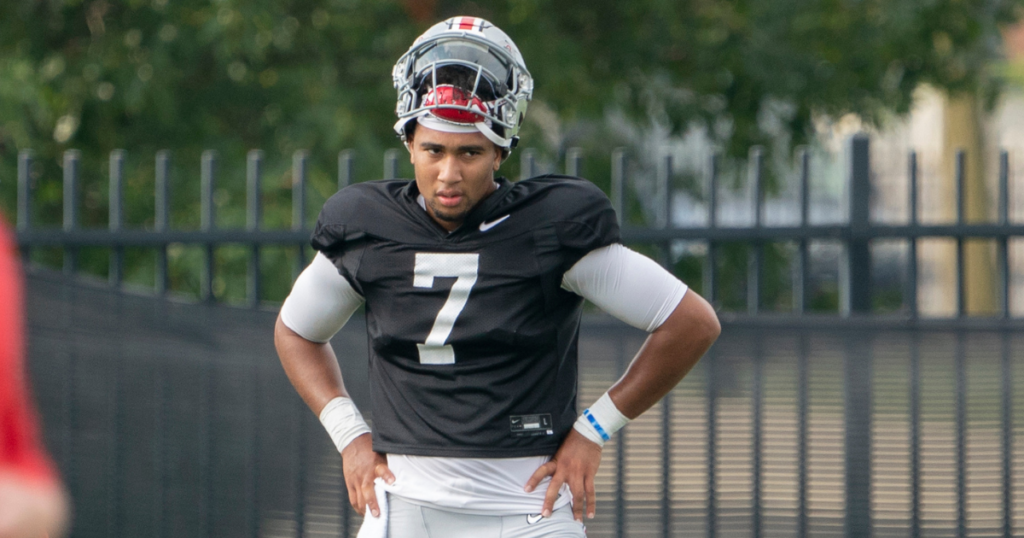 A third SoCal five-star, C.J. Stroud, won the starting job at fourth-ranked Ohio State and will look to replace Justin Fields. Stroud emerged from the nation's deepest quarterback room and looks to have the best complement of skill-position talent heading into the fall. A smooth passer with a well-rounded skill set, Stroud has been on a rapid ascent since his senior year of high school.
Former four-star Haynes King was named the starter at No. 6 Texas A&M last week. He was perhaps the best overall athlete at quarterback in the 2020 recruiting class and runs a sub 4.5-second 40-yard dash.
Max Johnson at No. 16 LSU and Hudson Card at No. 21 Texas are two more second-year quarterbacks set to start for top-25 teams. Johnson showed promise after taking over for LSU midseason in 2020, and Card is a former top-100 prospect from quarterback factory Austin (Texas) Lake Travis.
Impact defenders
The favorite to win the Bednarik Award might be Alabama outside linebacker Will Anderson. He was among the most disruptive pass rushers in college football last season, and that should increase in 2021. Reports out of Alabama's camp indicate the former top-five prospect has made it tough on the Tide's offense. We saw Anderson's length, explosion and physicality on display as a recruit.
Defensive backs Malachi Moore and Brian Branch along with defensive tackle Tim Smith are three more second-year standouts on the Tide defense.
Clemson's defense will be anchored by second-year stars along the front. Edge Myles Murphy and defensive tackle Bryan Bresee are former five-star recruits who turned in strong freshman campaigns. Murphy is a jumbo pass rusher at 6-5, 275 pounds and had 11.5 tackles for loss in 2020. He ran a 4.65 as a recruit. Bresee is an athletic, disruptive presence at multiple spots. Additionally, keep an eye out for another former five-star prospect from the 2020 class in linebacker Trenton Simpson.
At LSU, second-year cornerback Eli Ricks teams with Derek Stingley to comprise perhaps the most talented corner duo nationally. Ricks was a bright spot on the Tigers' maligned defense as a freshman, picking off four passes. Edge BJ Ojulari and defensive lineman Jaquelin Roy are two more former blue-chippers who flashed as freshmen in 2020.
Oregon has two big-hitting former five-stars at linebacker in Noah Sewell and Justin Flowe. Sewell was a wrecking ball as a freshman. Flowe missed time with a knee injury but is back to full strength.
Texas A&M's defense should have multiple second-year starters with cornerback Jaylon Jones, linebacker Edgerrin Cooper, nickel/safety Antonio Robinson and defensive tackle McKinnley Jackson in the mix. All are former blue-chippers.
Within the SEC, also keep an eye on second-year cornerback Emmanuel Forbes at Mississippi State.
Historic running back talent
The second-year group at running back looks to be among the best at the position in years.
Texas' Bijan Robinson has the highest preseason Heisman odds of any non-quarterback. He was the No. 1 running back in the 2020 cycle. Robinson hit his form at the end of last season with several impressive showings. The contact balance and agility is as good as you'll see.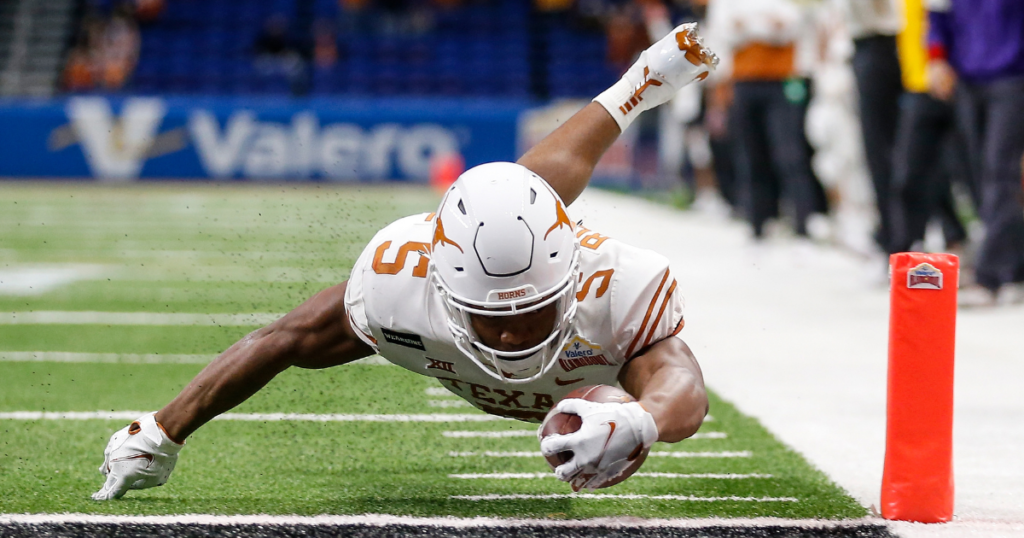 Tank Bigsby was a tackle-breaking machine at Auburn as a true freshman. The former top-100 prospect had one of the more impressive freshman seasons from start to finish at the position. Bigsby is an angry, physical runner and also showed some pass-catching chops as a recruit.
Texas A&M's Devon Achane was named Orange Bowl MVP after running for 140 yards and two touchdowns on 12 carries against North Carolina. He also might be the fastest player in college football. Achane qualified for the NCAA championships in the 100 meters.
Former five-star prospect Zach Evans made headlines for a wild recruitment. The one-time Georgia signee ultimately landed at TCU and has since stabilized his career. Evans showed his elite burst last fall. He's set to share the load with another second-year back in Kendre Miller.
Jahmyr Gibbs was a huge get for Georgia Tech in the 2020 cycle. Gibbs figures to be play a key role in the Yellow Jackets' offense as a dangerous, every-down back with high-end agility.
Deuce Vaughn at Kansas State may not have the high-end upside of these others. That said, the 5-6, 173-pound Vaughn gave Big 12 defenses fits in 2020, totaling 1,221 all-purpose yards.
Jase McClellan at Alabama and Kendall Milton at Georgia are two more second-year backs to watch. Both are in deep backfields but have shown promise.
Emerging receivers
We thought the 2020 was the cycle of the tight end, so look for Notre Dame's Michael Mayer to be the nation's best at the position by the end of this fall. The former five-star prospect showed outstanding agility within his routes as a recruit. He shined in every setting, whether it was Friday nights, camps or all-star games.
LSU's Kayshon Boutte enters the season as one of the SEC's top talents at receiver. We saw Boutte become the focus of LSU's passing attack late last fall, culminating in a 14-catch, 308-yard, three-touchdown game against Ole Miss. The former five-star recruit is a top athlete and should easily slide into the WR1 role at LSU.
Marvin Mims was Oklahoma's best receiver as a true freshman. He's a savvy technician with advanced spatial awareness. Mims was one of the most productive high school receivers we've ever seen; he accounted for 2,626 yards and 31 touchdowns as a senior in 2019.
Ohio State is loaded at receiver, but the feeling is Jaxon Smith-Njigba is next in line after Chris Olave and Garrett Wilson. Smith-Njigba is a filthy route-runner with strong hands. He's also one of the most productive receivers in the history of Texas high school football with 5,414 career receiving yards and 63 TD receptions (both third in state history).
Jordan Addison was the gem of a strong 2020 class for Pat Narduzzi at Pitt and played like it as a freshman. He finished with 60 catches for 666 yards as a true freshman.
If Mims is most productive receiver in the Big 12 this fall, TCU's Quentin Johnston might have the highest upside. The 6-4, 201-pound Johnston is a twitched-up deep threat who easily outruns secondaries.
Jalin Hyatt (Tennessee) and Jermaine Burton (Georgia) are two more talented second-year receivers we're eyeing.
Looking ahead
It should go without saying there are numerous other second-year players set to emerge.
We could see Northwestern's Peter Skoronski make an argument as the Big Ten's top offensive linemen. Former blue-chippers Walker Parks (Clemson), Paris Johnson (Ohio State), Tate Ratledge and Broderick Jones (Georgia) and Javion Cohen (Alabama) could start for top units this fall. There will be other prospects at other positions popping up.
And don't be surprised to hear some matching sentiment from the NFL draft community later in the fall, when you can expect to hear something like "the real prizes are in the 2023 draft."
That talk will have to wait, though. We still have two seasons to enjoy this group of budding stars