Shane Beamer 1-on-1: Spencer Rattler has 'unfinished business' at South Carolina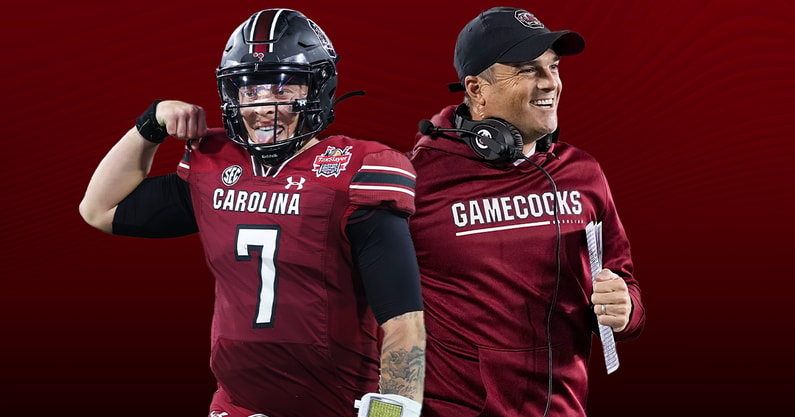 On a cool Columbia night late last November, Spencer Rattler had an out-of-body experience. 
Through the Gamecocks' first seven conference games, the former 5-star Oklahoma quarterback had struggled throughout his transition season at South Carolina, throwing for as many interceptions (five) as touchdowns (five).
The move to South Carolina was supposed to be a fresh start.  He left Norman to reunite with former Sooners tight ends coach Shane Beamer, and his transfer was billed as one of the biggest moves in college football in 2022. 
But South Carolina's season's script looked nothing like the storybook career renaissance so many predicted for Spencer Rattler. He had his moments, sure, but overall it was a frustrating year. He battled issues with confidence and inconsistencies. He was handcuffed by an offense that did he — and a a solid surrounding group of playmakers — little favors. He looked like another 5-star flameout. 
Then he turned into John Elway against No. 5 Tennessee, throwing for 438 yards and six touchdowns. He completed 81% of his passes and averaged 11.8 yards per attempt. Rattler led nine scoring drives and en route to a 63-38 upset — the most points by an unranked team over a Top 5 team in 86 years. 
"That was probably the best I've ever felt in a game. I felt unstoppable," Rattler said afterwards. 
The very next Saturday, Rattler went out and helped South Carolina beat Clemson for the first time in eight years, tossing two touchdowns and 360 yards. 
The back-to-back performances confirmed what Shane Beamer had been preaching — and believing what No. 7 was capable of — all season. 
"Spencer has proven he can play quarterback at a high, high, high level," Beamer told On3. 
"It was always there."
"He just went out there and played free. He played with that confidence (we'd seen before). He wasn't afraid to make mistakes. It's not that he hadn't done some of that throughout the year. People act like he didn't do anything until the Tennessee game, and I get it, he did have amazing stats that night, but he led us to our first win ever over Texas A&M. 
"He led us to a win over Kentucky for the first time in Lexington in over 10 years. So he'd done some really good things. Maybe he hadn't lit it up to that point, I get it, but we saw it in practice. We knew how talented he was. The throws he could make. My message to him going into that Tennessee game was to just cut it loose. I'm not taking you out of the game. You're our starting quarterback."
And he will be again in 2023, so now the Gamecocks need a lot more of those "high, high level" showings from Spencer Rattler if the program aims to avoid a plateau season this fall.  
WHY RATTLER CHOSE TO RETURN TO SOUTH CAROLINA
Before leading consecutive Top 5 upsets last November, Rattler's future did not include bolting for the NFL Draft. But scouts suddenly had renewed interest in the former Top 10 overall recruit, who flashed his zip, accuracy and moxie in the two storied wins. 
While Rattler pondered leaving South Carolina last December, Shane Beamer was passionately defending his hire of Dowell Loggains as the 'Cocks' new OC — snapping back at local reporters who'd criticized the decision.
With Marcus Satterfield joining Matt Rhule at Nebraska, Beamer saw an opportunity to tweak Carolina's offense, which finished middle of the pack in the SEC — mostly due to the two outlier performances to end the regular season. Before the Tennessee upset, the Gamecocks were averaging just 20 points per game, so Beamer went searching for a coordinator who had experience in both the college and pro levels working with all manner of quarterbacks. 
"Dowell has a deep background working with other QBs in the NFL. He had coached veteran QBs who had been very successful throughout their careers. He had coached rookie QBs right out of college. No. 1 draft picks, free agents, you name it," Beamer said. 
"And they all speak highly of him, including Connor Shaw, who played for Dowell in the NFL for a couple different teams. He's been around and that resonated with (Spencer)."
Loggains' first recruiting task at South Carolina was to connect with Rattler, and the pair quickly formed a relationship during bowl practices. Beamer had maintained steady dialogue with Rattler and his family late in the season, but he gave his quarterback space late in the process. 
In early January, Beamer received the news he hoped to hear. Spencer Rattler would play football at South Carolina in 2023. Beamer was excited. And also relieved.
"I felt confident all along but you never know. It was great conversations I had with him and his family throughout. We played Clemson on that Saturday and we talked to his family, talked his mom and his dad. And then we really didn't talk about it during the month of December. Spencer really wanted to focus on the bowl game and finishing up 2022.
"I felt like he wanted to come back. I felt like the best thing for his career was to come back, but he made that decision and I was really, really excited as the head coach of this program."
Beamer saw Rattler as a wide-eyed freshman at Oklahoma, and now being around the fifth-year senior this spring, he's seen a guy who's naturally matured but also more accepting in his role. Rattler's decision was also an affirmation for Beamer's program. 
"This is his team. His offense," Beamer said.  
"Spencer is a really good person. I'm really fired up to be with him for another year. I don't know if pride is the word, but I was really pleased that he felt like things were going in the right direction here at South Carolina that he wanted to come back for another year. 
"He was saying, 'You know I came to South Carolina from Oklahoma, and it's even better than I thought it was going to be. I'm not leaving because we have unfinished business here.' That made me feel good as the head coach."
CAN RATTLER ELEVATE SOUTH CAROLINA'S OFFENSE IN 2023?
Rattler's decision helped spur some early offseason momentum for the Gamecocks, as star wideout Juice Wells (68 catches for 928 yards and six scores) also opted to forgo the NFL Draft and return to school. South Carolina added multiple potential starters from the transfer portal, and Rattler helped deliver the final recruiting pitches to freakish 5-star athlete Nyckoles Harbor, who signed with Carolina in February.
(***As an aside, Beamer joked that the first question at every Gamecock Club speaking event this spring has been, "Is Nick Harbor going to play offense and defense?" The plan is to start the 6-5, 230-pound freshman at receiver and "take it from there.")
"To have Spencer coming back just gives everybody else confidence," Beamer said. 
"Guys on our team made decisions off Spencer. It did a lot of great things for our program. … We've talked about it. Now it's how can we keep doing (how Rattler played vs. Tennessee and Clemson)?
"What we did in those games, how we called it offensively, coached it? We need to continue to grow from that."
And that's likely the key to unlocking South Carolina's potential this fall. The Gamecocks are a program on the rise, but Beamer is cognizant that progress isn't always linear — especially facing a gauntlet 2023 schedule. 
As excited as they are about the team's offensive tweaks under Loggains and some additions from the portal, this is still a very flawed offensive roster. There's uncertainty at tailback after Marshawn Lloyd transferred to USC, and starting left tackle Jaylen Nichols went down with a potential season-ending injury in the spring game. 
This is an offense — and team — that needs Rattler to play like the Supernova 7 he was against Tennessee and Clemson on more Saturdays than not this fall if Shane Beamer & Co., are going to exceed expectations for a third straight autumn.