Shaw's Standouts: Hoop Group's 2022 Southern Jam Fest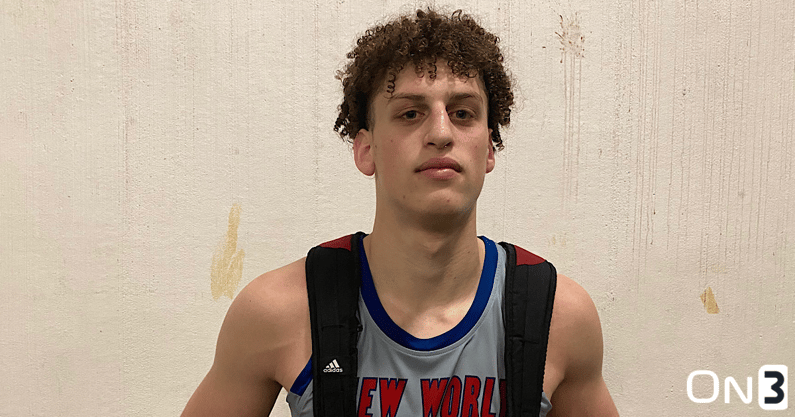 Hampton, Virginia – Hoop Group's Southern Jam Fest is a staple in the recruiting world. This year's event brought some of the best teams, across shoe circuits and independents, from across the east coast. On3 was courtside for the duration of the event.
Age Group Champions:
17u – Team Loaded Va 3SSB vs. New World 3SSB (did not play the game)
16u – Team Durant EYBL
15u – Team Takeover EYBL
Here are Shaw's Standouts.
Most Valuable Player
6-5 SF Jamie Kaiser, New World 3SSB
Since the start of April, Jamie Kaiser has been on a tear. Of course, the wing led the WCAC in scoring this past season, so this type of production is nothing new. But, now that he has turned away from his high major football offers, people are paying a little more notice. Kaiser knows his game and understands how to get to his spots. Skillset plus efficiency, and now the eyes are watching.
Recruitment: Has taken official visits to Wisconsin and Harvard. Indiana, Virginia, Virginia Tech, etc., have offered recently.
Most Outstanding Player
6-10 2023 Xavier Booker, George Hill All Indy
Intrigue is probably the best word to use when talking about Xavier Booker. The lefty stands around 6-foot-10 and is a fluid athlete, able to run and move with wings. Booker knocked down at least five threes in three of the four games played. He is a lengthy athlete who uses his frame well around the basket. Booker averaged more than 20 points, eight rebounds, and three blocks leading his team to the Elite 8. There is a world of upside with this one.
Recruitment: Has talent official visits to Purdue, Indiana, Michigan State, and Kansas State (old staff)
Best in (Under)class
6-7 SF Khani Rooths, New World 3SSB
Khani Rooths walks on the floor, looking the part. He continued to get more comfortable as the weekend continued, leading his New World team to the championship game. Rooths has touch that extends beyond the three-point line, and he has a good wing handle in the half-court. There is so much upside here, and he is just getting into his bag. Watch the progression over the next eight to ten months, and see where things go.
Recruitment: Indiana, Virginia Tech, Xavier, Georgetown, Maryland, etc.
First Team All-Southern Jam
6-2 CG DJ Wagner, NJ Scholars EYBL
The competitive fire that runs through DJ Wagner is hard to ignore. Put the ball in his hands, and he will make something happen. He has a quick and aggressive first step and an assortment of hesitations getting into the paint. He finished well, going for over 20 in each game. But again, the competition switch he turns on for the opening tip-off is impressive.
Recruitment: Has taken official visits to Kentucky and Memphis. Unofficial visits to Temple and Villanova (old staff). 
6-5 SF Isaiah Coleman, Team Loaded NC 3SSB
This event was Isaiah Coleman's first playing with this team, but the comfort level was already there. Coleman showcased what he could do on the ball, playing as the primary initiator much of the time. Coleman is a skilled shot-maker and confident at multiple levels. He is a good defender in the passing lanes. The four-star continues to show new parts to his game. 
Recruitment: Offers from VCU, Xavier, Miami, UConn, Maryland, Seton Hall, Georgetown, etc.
6-2 SG Connor Dubsky, Prospect U
Shooting is at a premium in all levels of basketball, and Connor Dubsky may have been the best shooter in the gym this weekend. The long-armed shooting guard has deep range and confidence. He showcased some surprising bounce, rising for a couple of dunks in the event. His Southern Jam Fest high was 27 points, and he did not go for less than 15 in any of his performances.
Recruitment: Offer from Maine.
7-0 C Aaron Bradshaw, NJ Scholars EYBL
Aaron Bradshaw continues to get better each time he steps on the floor. The 7-foot-0 center shot the ball well off the catch, flashing to open areas and playing well off DJ Wagner's dribble penetration. Bradshaw was a huge factor around the rim, both protecting it and rebounding. Bradshaw is thought of as one of the top centers, in the country, for his class. 
Recruitment: Offers from Kentucky, DePaul, Georgetown, Kansas State, Maryland, UCLA, Rutgers, Seton Hall, Miami, LSU, St.John's, etc.
6-9 C Carter Lang, Team Loaded Va 3SSB
You can almost write it down when the ball tips off that Carter Lang will have a double-double. The lefty is a strong area rebounder, with two hands as he high points the ball. He can score over his right shoulder on the block and knockdown catch-and-shoot threes. Lang consistently puts up numbers, including a 20-point and 11 rebound performance in the semi-finals leading Team Loaded Va to the Southern Jam Fest championship game.
Recruitment: Offers from Rice, Loyola-Chicago, Richmond, Virginia Tech, George Mason, etc.