Shaw's Storylines stemming from the Under Armour Next Elite 24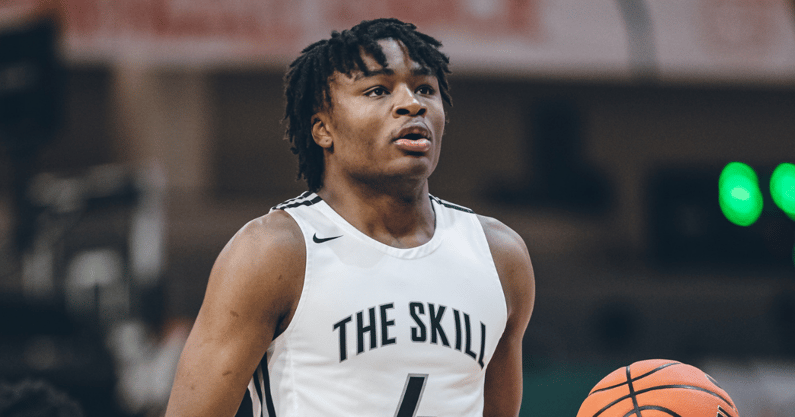 Chicago, Illinois – Under Armour's Next Elite 24 is back in business. After a six-year hiatus, Under Armour came back with a show using the beautiful Lake Michigan backdrop on Northerly Island, twenty-four of the nation's best players lineup on the man-made outdoor court.
Before we get started, we want to acknowledge this was an all-star game. In typical all-star game fashion, everyone was having fun, and there was a lot of playing to the crowd. Let's go through some things we did learn from the event.
Isaiah Collier took home game MVP. This was his second event back, returning from a patella injury that kept him out since early May. The other event was the invite-only Steph Curry Camp, where Collier also took home MVP.
On3's No. 2 player in the 2022 class finished with game-high 20 points. He was 7-of-14 from the field with five rebounds and three assists. He also hit the game-winner.
Collier is a stocky, sturdy point guard. His floor vision is second to none amongst his peers. He has the crafty handle to get his defender on their heels, the quick burst to blow by his man, and the passing accuracy to thread the tightest of needles.
Through the first two Nike EYBL sessions, Collier was averaging 15.1-points and a circuit-leading 6.0-assists per game. He was also shooting a strong 44.8 percent from three. Despite the two-plus month layoff, Collier has not slowed down.
He was able to poke and prod his way to another event MVP, showing yet again why On3 took a chance on the point guard and named him the No. 2 player in the class.
Collier's top four schools are Southern Cal, Michigan, Cincinnati, and UCLA. A commitment is expected to come soon.
Player Notes
-Five-star SF Justin Edwards – The lefty showcased his stroke in winning the three-point contest and then showed off his explosion with a game-high 20 points. The 6-foot-6 Kentucky commitment was great throughout Peach Jam as he jumped nine spots to No. 4 in On3's latest 2023 rankings update.
-Four-star PG Tahaad Pettiford – This all-star game format played right into the hands of Pettiford. The 6-foot-0 point guard is explosively quick with a crafty handle and bounce. He also brings a flair to the game and, when called upon to improvise, On3's No. 28 ranked player in 2024 was able to shine.
-Five-star PF Sean Stewart – In an all-star game environment, a player who plays with a motor will typically stand out. The 6-foot-9 Duke commitment ALWAYS brings his motor with him. He finished with a game-high eight rebounds, along with 14 points on 7-of-13 from the field, and he was a +13 +/-.
-Four-star SG Jamie Kaiser – There is something so smooth about the Maryland commit, which is a big reason why On3 has him 50-plus spots higher than the industry. At 6-foot-5, Kaiser has a great feel for the game, excellent vision, and he has a smooth jumper with deep range. The former P5 football recruit has a toughness about him, and his 14 points, six rebounds, and four assists on 6-of-9 shooting showed he can shine and make plays in any setting.
Where has all the shooting gone?
Combine the two teams tonight were 11-of-62 (17.7-percent) from beyond the arc. In a day where one-trick-pony shooters are signing max NBA contracts, where has all of the shooting gone?
Sure this was an all-star game setting that was outside overlooking a lake. There were probably some weather elements involved, but 17.7-percent is disturbing.
Isaiah Collier (3-for-9), Tahaad Pettiford (2-for-7), Tre Johnson (2-for-5), and Vyctorius Miller (2-for-3) were the only players to make more than one attempt. Five different players were 0-for-2 or more, and four players finished 0-for-4 or more from three.
Find me some shooters!
High-upside bigs are available
Bigs can take a little bit longer to reach their peak as an athlete. That may not be more apparent than with this current 2023 class.
A look across the current landscape shows a lot of late-blooming, high-upside big guys. In this game alone, three of the top big men embody this thought. Four-star JP Estrella grew eight inches over the last two and a half years. Four-star Dennis Evans was unranked at this time last year. Five-star Xavier Booker did not pick up his first high-major offer until June of 2021.
At this point last year, there was extensive talk about the 2023 class being void of centers. At that point, Estrella, Booker, and Evans were not even blips on the radar.
Booker played 14 minutes in this game. He finished 3-of-6 from the field for six points and five rebounds. The 6-foot-11 center has committed to Michigan State.
Estrella started the game and played 19 minutes. He finished with ten points, four rebounds, and two blocks on 5-of-8 shooting. The 6-foot-11 center will commit soon after taking official visits to Iowa, Tennessee, Syracuse, and Marquette.
Evans played almost 12 minutes in this one. He had seven points, six rebounds, and three blocks and was 2-of-2 from the field. Kansas and Florida State are the 7-foot-1 center's most recent offers.