Shaw's Superlatives: The best from Pangos All-American Camp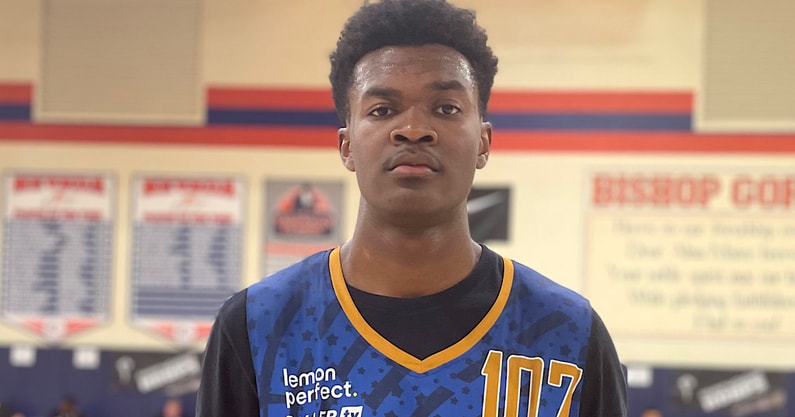 Las Vegas, Nevada – Some of the best players in the country gathered at Las Vegas (NV) Bishop Gorman High for the 2022 Pangos All-American Camp. On3 sat courtside for the entire event, and here are the notable standouts National Recruiting Analyst Jamie Shaw saw from the three days.
Most Valuable Player
4-star PF Devin Royal
Devin Royal was steady and consistent throughout the Pangos camp. In a space where some players cherry-pick and take plays off, Royal was locked in. He is a skilled offensive player, showing passing vision, three-point range, and the capability of attacking off the bounce. It was a great showing for him. A showing that, especially following EYBL Louisville, will get him a bump in On3's next ranking update. 
Recruitment: Royal has taken three official visits, Penn State, Marquette, and Iowa State. He has two official visits set for June, Ohio State and Michigan State.
Most Outstanding Player
C Yves Missi
This exposure camp was Yves Missi's first he has played, and he made his mark early and often. All week, the 6-foot-10 sophomore center attempted to dunk everything around the basket. He also chased every rebound on both ends of the floor. His motor ran hot, and his production followed. Missi showed comfort working over his left shoulder and timing on the defensive end. Look for Missi to enter the next 2024 rankings update from On3. 
Recruitment: Upwards of 15 offers, including Michigan, Kansas, UCLA, St. John's, etc.
Defensive Player of Pangos
4-star C Ugonna Kingsley
Quite simply put, Ugonna Kingsley is not like any other defender we have seen in the past five years (maybe more). His ability to move his feet, his dexterity to block with both hands, and his timing/vertical pop have him protecting the rim and sliding with guards on the same possession. Kingsley came into camp noticeably limping, but he still played his allotted minutes in all games. 
Recruitment: Kingsley spoke about four schools, LSU, Kentucky, Kansas, and UConn
Best in (Under)class
SG Tounde Yessoufou
I kept looking down at my roster sheet during the first game because Tounde Yessoufou continued to make plays. I noticed his size, his name, and that he was from California each time I peeked. It was early in the second half after Yessoufou made another play that the 2025 part of his roster profile hit me. The Santa Maria (CA) St. Joseph guard was the best player on the floor in some games, showing a college-ready frame and an advanced skill set when dribbling, shooting, and passing. Earmark this name, and watch his growth closely. 
1st Team
5-star SG Ian Jackson
4-star PF Sean Stewart (Duke)
3-star PG AJ Johnson
4-star C Papa Kante
4-star C Isaiah Miranda