Signing Day winners and losers: Sooners climb, Florida fizzles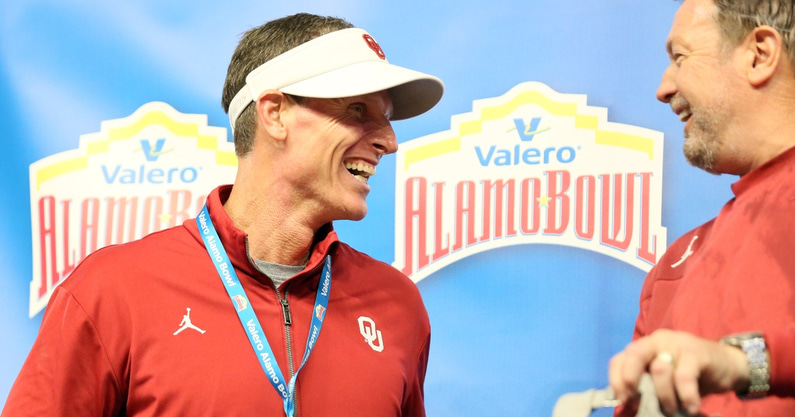 The traditional National Signing Day didn't provide as many fireworks or shocking moments as we saw with the Early Signing Period. However, there were still some teams that stood out as winners and others that fell flat on Wednesday. On3 looks at your Signing Day winners and losers.
Signing Day Winner: Texas A&M
The biggest winner of them all is Texas A&M. The Aggies' outstanding class got even better on Signing Day with the addition of Five-Star Plus+ defensive lineman Shemar Stewart and five-star safety Jacoby Mathews.
Both were examples of recruiting excellence.
That's especially true when you consider A&M had to go into South Florida to beat Miami for Stewart. It was a similar story with Mathews, as the Aggies had to beat home-state LSU for him.
While A&M didn't win for five-star linebacker Harold Perkins, it should not dimmish the incredible job the Aggies staff did with this class. It's such a good class that you can officially call the A&M 2022 crop the best ever.
It's a class that should give Jimbo Fisher everything he needs from a talent standpoint to compete for national championships.
Signing Day Loser: Arizona State
A historically poor Power 5 recruiting class took another hit on Signing Day when it was revealed that defensive coordinator Antonio Pierce is resigning from his position for alleged NCAA recruiting violations. There were also recent reports that head coach Herm Edwards was implicated in recruiting violations.
All in all, it appears to be a "grim future" at Arizona State and it was reflected with a recruiting class that is ranked as the No. 120 class in the country and last in the Pac-12.
Edwards and ASU have worked the transfer portal to some success. But there's no way to sugarcoat the struggles on the high school and junior college recruiting trail.
Winner: Oklahoma
There was a sense of concern over Oklahoma's 2022 recruiting class after Lincoln Riley bolted for USC. There were some major defections in the Sooners' class – namely five-star defensive lineman Gabriel Brownlow-Dindy.
But now that the smoke has cleared on Signing Day, the Sooners under new coach Brent Venables reeled in their best class since 2019.
OU did it with a Signing Day flurry that included four-star defensive lineman Gracen Halton, three-star cornerback Jamarrien Burt, four-star defensive lineman R Mason Thomas and four-star EDGE Kevonte Henry.
It's the type of run that has prospects across the country fired up about the Sooner program. It also gives the OU coaches fuel to attack the 2023 recruiting class with gusto.
Loser: Florida
Ok, it's probably harsh to call Florida a loser honestly. That's especially true since Billy Napier and Co. made so much headway in such a short amount of time to get the Gators in the game with so many big-time prospects.
But Signing Day was kind of a dud for the Gators.
They didn't land Perkins, Mathews and four-star defensive lineman Caden Story. Plus, somehow the Gators went from favorites to runners up with coveted four-star running back TreVonte' Citizen in the final hours leading up to Signing Day.
There was some good news when four-star receiver Caleb Douglas committed and three-star offensive lineman Jalen Farmer stayed true to his pledge.
However, the buzz that was building leading up to Signing Day for the Gators quickly faded on Wednesday. That being said, it's going to be very, very exciting to see what this staff can do with a full calendar year to recruit with.
Signing Day winner: Miami
While Miami missed out on hometown five-star Shemar Stewart, Mario Cristobal's program had a very good Signing Day.
Things got started when coveted four-star running back TreVonte' Citizen bucked projections that he'd end up at Florida or even LSU by picking the Hurricanes. It was a pretty remarkable job by the Hurricane coaches to get him on board, even though they don't have an offensive coordinator in place.
Then came quality offensive line additions from three-star tackle Matthew McCoy and three-star interior lineman Anez Cooper.
Then the day wrapped up with the addition of local four-star defensive lineman Ahmad Moten. The Miami coaches had to beat out Oklahoma, Tennessee and others for him.
It's pretty impressive that Miami was able to sign almost a top-10 class with all the turmoil it faced with the coaching changes and still not having some key members in place.
Signing Day Loser: Iowa State
Iowa State failed to add anybody of note down the stretch. Plus, the Cyclones actually saw their class take a hit with the loss of R Mason Thomas to OU.
The Iowa State coaches put the full-court press on to keep him – including sending a full house of coaches to South Florida last week – but it wasn't enough to stop him from switching.
There are some good players in this Iowa State class, make no mistake. However, the Cyclones had a lot of recruiting momentum early on in the 2022 class. Yet, they weren't truly able to capitalize off of it.
Winner: Nebraska
Scott Frost and the Nebraska Cornhuskers were much maligned in the run-up to the Early Signing Period for a small class mainly made up of three-stars. But Frost brought in a much more aggressive recruiting staff after the season.
It paid off with two big Signing Day flips.
First, the Huskers landed four-star running back Ajay Allen Jr. out of Monroe, La. And then later in the day, the Huskers flipped former Georgia Tech four-star receiver commit Janiran Bonner out of Georgia.
Both were big-time additions at huge positions of need for NU. Frost said Bonner was "one of those guys you put on the tape, and it takes about two plays to know he's a good player."
But it's Allen that's the biggest headliner.
As the No. 108 recruit in the county, he becomes the highest-ranked recruit Nebraska has signed since Ndamukong Suh in the 2005 class.
Other Signing Day winners & losers
WINNER: The rich got richer on Wednesday, as Georgia's third-ranked class added four-star defensive lineman Christen Miller, fast-rising running back Andrew Paul and three-star in-state linebacker E.J. Lightsey. Just an overall impressive job by the UGA coaches from start to finish with the 2022 class.
LOSER: The Washington Huskies normally find themselves in the top half of the Pac-12. But that changed with the 2022 recruiting class that finished 11th in the league. Kalen DeBoer did the best with what little time he had. However, UDub didn't keep Vega Ioane from flipping to Penn State after he was committed for more than six months. The script could be flipped if four-star offensive lineman Josh Conerly Jr. decides to stay home, but he doesn't announce until March. Either way, it appears DeBoer has a lot of work ahead to get momentum back in Seattle.
WINNER: When Dan Lanning arrived at Oregon in December, he had the clock working against him. However, he rallied in January and the Ducks added some quality additions to its low in number commitment list. The Ducks had a good Signing Day with the additions of four-star running back Jordan James, four-star offensive lineman Dave Iuli and three-star in-state linebacker Emar'rion Winston. It was a good enough finish that the Ducks should have some quality momentum with 2023 names.