Six lesser-hyped SEC players with strong NFL draft grades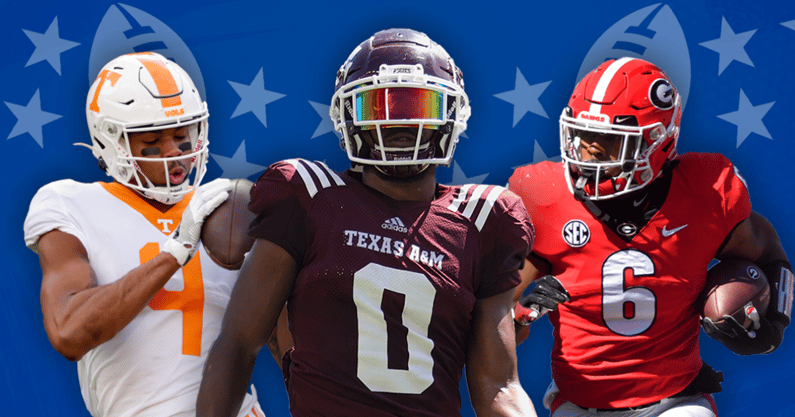 Not surprisingly, the early 2023 NFL mock drafts have been full of players such as Ohio State quarterback C.J. Stroud, Alabama quarterback Bryce Young, Crimson Tide linebacker Will Anderson and Georgia defensive lineman Jalen Carter.
But there are plenty of other top prospects who aren't getting much, if any, love in those early mock drafts and top prospect lists. To help get you up to speed, On3 will go conference-by-conference and identify some lesser-hyped NFL draft prospects who currently have early-round grades from scouts.
Here are six from the SEC, listed alphabetically.
Alabama junior G Javion Cohen
The buzz: Multiple early 2023 mock drafts have Alabama G Emil Ekiyor going in the first round. In reality, NFL scouts have Ekiyor as more of a later-round or undrafted free agent prospect and view Javion Cohen as the top draft prospect among Crimson Tide offensive linemen. Cohen, listed by Alabama at 6 feet 4 and 305 pounds, started all 14 games for the Tide as a sophomore last season and teamed with New York Giants first-round pick Evan Neal to form an elite left side of the line for Alabama.
Georgia senior RB Kenny McIntosh
The buzz: Georgia had two running backs go in the first four rounds of this year's NFL draft – James Cook in the second round to Buffalo (63rd overall) and Zamir White in the fourth round to Las Vegas. It's possible Kenny McIntosh ends up going earlier than both in the 2023 draft. Despite limited playing time (he has 130 carries for 753 yards in three seasons), McIntosh has impressed to the point that he has second-round grades from both of the scouting services used by NFL teams, National Football Scouting and Blesto. National Football Scouting has him with the top preseason grade among senior running backs. McIntosh, who has official measurements of 6-0 and 207 pounds, ran for 328 yards, three touchdowns and an average of 5.7 yards per carry last season. He also had 22 catches for 242 yards and two TDs.
South Carolina senior DT Zacch Pickens
The buzz: Scouts view Zacch Pickens as one of the top draft prospects among senior defensive linemen. The scouting services grade Pickens (6-4, 305) as a second- to third-round prospect. Pickens, a former five-star recruit, posted 38 tackles and four sacks last season.
Texas A&M senior WR Ainias Smith
The buzz: One of the SEC's most dynamic and versatile playmakers, Ainias Smith (5-10, 194) led Texas A&M with six receiving touchdowns last season and also returned a punt for a touchdown. Smith saw time at receiver and running back for the Aggies in 2020; he had a team-high 564 receiving yards and six TDs while also running for 293 yards and four TDs in 2020. Scouts have Smith graded as a third- to fourth-round prospect.
Tennessee senior WR Cedric Tillman
The buzz: Tennessee is in position to have a wide receiver selected in the first three rounds of the NFL draft for a third consecutive year. (Josh Palmer went in the third round in 2021 and Velus Jones was a third-rounder this year.) Cedric Tillman (6-3, 214) broke out last season after having just three catches in 2020. He finished with 64 catches, 1,081 yards and 12 touchdowns, becoming the Vols' first 1,000-yard receiver since Justin Hunter in 2012. The NFL scouting services have Tillman with second- to third-round grades.
Auburn junior DE Colby Wooden
The buzz: While Derick Hall gets more attention among Auburn defensive linemen, many scouts identify Colby Wooden as the better pro prospect. Wooden, listed by Auburn at 6-5 and 284 pounds, had 61 tackles, 8.5 tackles for loss and five sacks last season after ranking third in the SEC with 9.5 tackles for loss in 2020. Scouts view him as a second- to fourth-round prospect.
Honorable mentions: Missouri senior DT Darius Robinson, Kentucky senior WR Tayvion Robinson, South Carolina senior WR Josh Vann.