Is the SoCal quarterback renaissance upon us?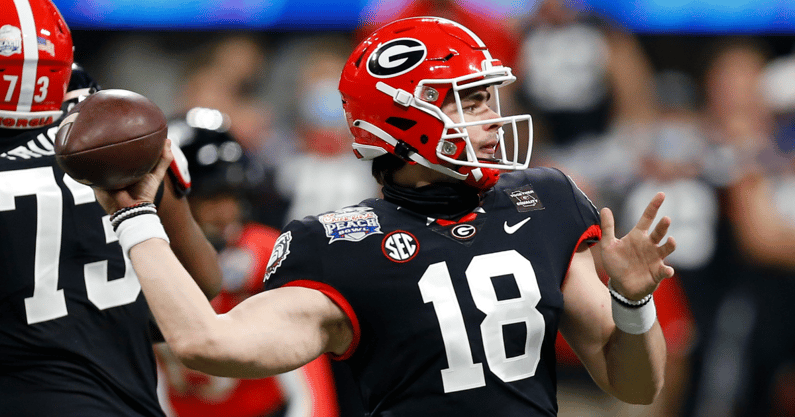 If preseason polls and prognostications are any indication, 2021 should be the year of the SoCal quarterback in college football. Four of the top five teams in the preseason AP Top 25 have starting quarterbacks from the Los Angeles area.
Bryce Young is set to take over for Mac Jones at Alabama. D.J. Uiagalelei assumes the starting job at Clemson after starting two games last fall when Trevor Lawrence had COVID-19. C.J. Stroud was named the starting quarterback at Ohio State over the weekend. JT Daniels returns as Georgia's quarterback after taking over midway through the 2020 season.
That group of quarterbacks also sits atop the preseason Heisman odds. Uiagelei has the second-best odds, while Young is third. Stroud and Daniels are tied for fourth. Additionally, Ole Miss' Matt Corral, another SoCal native, is eighth on the heels of a strong 2020 season.
Despite southern California's reputation as a cradle of quarterbacks, more quarterbacks from northern and central California have been taken in the top 100 picks of the past several NFL Drafts than from the L.A. area.
Six starting NFL quarterbacks are from California: Josh Allen, Tom Brady, Derek Carr, Sam Darnold, Jared Goff and Aaron Rodgers. Of the six, only Darnold is from SoCal.
Let's take a quick look at how each got here.
Matt Corral, Ole Miss
Corral is the oldest and most established of the group. He began his high school career at SoCal power Oaks Christian before transferring to Long Beach Poly for his senior season. A top-100 prospect in the 2018 cycle, Corral showed a quick-twitch playmaking ability with his arm and feet. He's a natural operator with a gunslinger mentality. We saw this in 2020 when he was at the controls of one of the SEC's most explosive offenses. Corral initially committed to Florida before backing off and signing with Ole Miss.
JT Daniels, Georgia
Daniels had a storybook high school career at Santa Ana Mater Dei. He earned the starting job as a freshman and had three prolific seasons for the Monarchs. Daniels was named National Player of the Year by Gatorade and MaxPreps in 2017 and led Mater Dei to a No. 1 national ranking. He made it look easy at that level with advanced accuracy and feel for the vertical passing game. Daniels skipped his senior season, graduating early to enroll at USC as a 2018 prospect. He started as a true freshman, then was hurt in the first game of his sophomore season and lost the job to Kedon Slovis. He transferred to Georgia following that season at USC.
D.J. Uiagalelei, Clemson
Uiagalelei (6-4, 250) is one of three five-star quarterbacks from the 2020 cycle who will start for a blue-blood program. He possesses elite arm strength. A three year starter at Bellflower St. John Bosco, Uiagalelei put up big-time production against top competition in SoCal. He led St. John Bosco to a national No. 1 ranking in 2019. Unlike Young and Stroud, we got to see Uiagalelei in extended action last fall when Lawrence was out.
Bryce Young, Alabama
Young was an on-field rival of Uiagalelei's in his two years at Mater Dei. Young transferred into the SoCal powerhouse as a junior, following Daniels' departure. He had a historic senior season, showcasing advanced accuracy and playmaking ability as a passer. Young was named MaxPreps National Player of the Year as a senior. Longtime Mater Dei coach Bruce Rollinson called Young "the greatest quarterback in school history." That's saying something considering Mater Dei boasts two Heisman winners, John Huarte and Matt Leinart.
C.J. Stroud, Ohio State
Unlike the other SoCal blue-chippers, Stroud did not play at a perennial power and was not identified as a top prospect early on. Despite that, Stroud's stock rose quickly as a senior, culminating in big-time offers and becoming a five-star prospect. Stroud was named MVP of the Elite 11 Finals in the summer of 2019. He then doubled his passing production as a senior at Rancho Cucamonga High. Ohio State beat out Georgia for his signature late in the process.
Spread offenses attract athletes
To what do we attribute this uptick in SoCal quarterbacks? For one, we've seen top high school programs in Los Angeles fully embrace spread offenses. Mater Dei and St. John Bosco run wide-open, pass-happy schemes. The effects are two-fold.
These spread offenses attract more athletes to play quarterback. Before the 2018 cycle, most of the top quarterbacks from the area were traditional dropback passers with limited mobility. Notable five-star prospects included Jimmy Clausen (2007), Matt Barkley (2009) and even Josh Rosen (2014). Nobody would call those guys dynamic playmakers.
While Corral, Daniels, Young, Uiagalelei and Stroud aren't Lamar Jackson or Michael Vick, they all can move well and are not robotic.
Playmaking and production
Spread offenses also allowed an outlet for these SoCal quarterbacks to get live in-game reps at high volumes. With pace ratcheted up, the group was able to gain significantly more exposure to live situations. This is crucial in any quarterback's development and even more so in a SoCal ecosystem that historically over-programs its passers.
Over-programming became much less of an issue as top SoCal quarterbacks consistently made plays outside the structure of their high school offenses. Additionally, this group was operating at a high efficiency while playing loose. They were allowed to explore the boundaries of their capabilities while boosting confidence.
Dropping talented athletes into spread offenses at power programs led to a boom in production from these top quarterbacks. Young (13,250 yards, 152 TDs), Daniels (12,041, 152), Uiagalelei (10,496, 127) and Corral (10,178, 103) threw for at least 10,000 yards and 100 touchdowns in their career. Corral had the most interceptions, with just 22.
The top-ranked prospect in the 2009 cycle, Barkley threw 57 touchdown passes in his three seasons at Mater Dei. For comparison, Young threw 58 TD passes as a senior. Daniels threw for 67 as a sophomore.
This trend in SoCal is similar to what we saw in Texas a few years earlier. Athletic high school stars like Johnny Manziel, Kyler Murray and Patrick Mahomes put up gaudy numbers and parlayed prolific prep careers to success at the next level(s).
SoCal QBs leaving the West Coast
Another differentiating factor with this new group of SoCal quarterbacks is their dispersion across college football. None of the five are at USC, or even in the Pac-12.
Young initially was a USC commitment before flipping to Alabama in the fall of his senior season. Corral was a Trojans pledge for the better part of a year early in his recruitment. Daniels transferred from USC to Georgia. Uiagalelei chose Clemson, which is 2,300 miles from his hometown. Stroud chose Ohio State over Georgia.
Recruiting has become increasingly national, and college football powers don't hesitate to go after top prospects from the other side of the country. This is particularly true with quarterbacks. If current trends are any indication, SoCal quarterbacks no longer feel tied to the West Coast.
Looking ahead
We could see this trend continue for the foreseeable future. While the 2022 quarterback group is a little sparse, two 2023 quarterback prospects from SoCal rank as top 10 prospects for On3.
Malachi Nelson (6-3, 180) from Los Alamitos ranks as the No. 2 overall prospect and is an early commitment to Oklahoma. He is the lone quarterback offer in the cycle for Lincoln Riley and already has shown an advanced feel and accuracy.
Nicholaus Iamaleava (6-6, 190) is a tall, strong-armed passer from Downey's Warren High. He doubles as a top volleyball player and is a cousin of Uiagalelei. Iamaleava has offers from the likes of Alabama, Georgia, Ohio State, Oregon, UCLA and USC. He figures to be a huge priority for the Bruins and Trojans.
While others are likely to emerge, Nelson and Iamaleava are enough to indicate the SoCal quarterback renaissance will be around for a while.