South Carolina TE makes 11th-hour pitch to coveted recruit Oscar Delp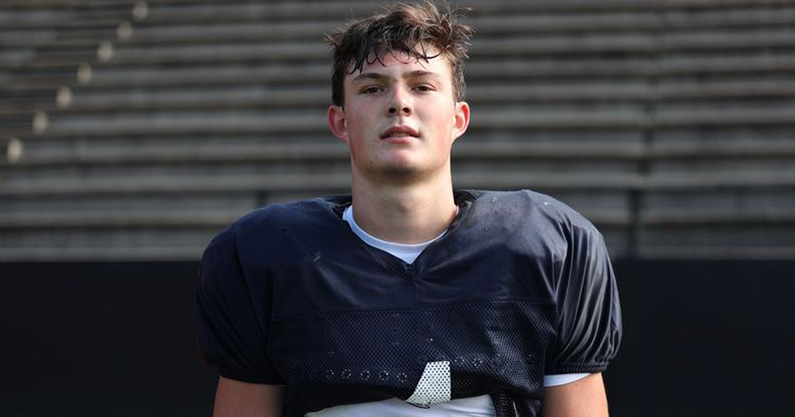 Four-star tight end Oscar Delp is set to announce his commitment between Clemson, Georgia, Michigan or South Carolina Wednesday night, and schools are doing everything they can to get their last-minute pitches in.
That includes Gamecock tight end Nick Muse.
Before he was done talking with reporters during a media session on Tuesday, Muse made it known Delp is wanted in Columbia.
"Oscar Delp, please join us," Muse told reporters before leaving the podium, according to a report from Mike Uva of Gamecock Central.
Oscar Delp excited about decision
In early September 2020, Oscar Delp had a breakout game and his recruitment took off. The 6-foot-5, 220-pound tight end out of Cumming (Ga.) West Forsyth was picking up offers daily. Now, after taking over a year to evaluate schools, the No. 86 player in the country is ready to make his decision.
The decision will be revealed around 6:50 p.m. ET Wednesday.
"The recruiting process has been stressful, but in a good way," Delp told On3's Chad Simmons two weeks ago. "It is not easy, but it is good stress because it means I am in a great spot. I have taken my time. I have taken many visits, and I am looking forward to Oct. 13."
The final four for Delp
Oscar Delp cut his list to the final four schools in the middle of August. He has since taken visits to Clemson, Georgia and South Carolina. Michigan did not receive a visit. But Delp has family there, he knows a lot about the history in Ann Arbor, and the Wolverines are still a strong contender.
"I am very comfortable with each of the four schools on my list," Delp said. "It came down to relationships, and I feel great with coaches at each of these schools."
Delp plans to have Tiger, Bulldog, Wolverine and Gamecocks hats on the table Wednesday. But all indications are Georgia is the team to beat for Delp, even with the repeated trips to South Carolina.
And the final pitch from Muse.