Spiegelman's Elite 11 performers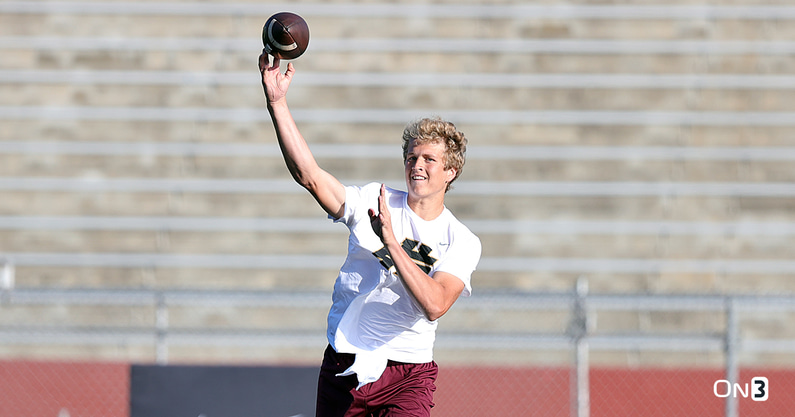 Twenty of the 2023 cycle's top quarterbacks in were in Southern California this week for the Elite 11 Finals. The three-day event wrapped up on Thursday with Iowa State commitment JJ Kohl as On3's Elite 11 Finals MVP.
The Elite 11 staff put out their own ranking each day and named Jackson Arnold as the MVP, which they based on "50-percent junior season film and performance/50-percent camp evaluation & physical traits" rather than solely on the three days of the Finals.
On3 National recruiting analyst Sam Spiegelman selected his Elite 11 from the event, which encompassed the cumulative showing over the course of the three days on location.
MVP: JJ Kohl – Iowa State
Perhaps the biggest surprise from the Elite 11 Finals was the emergence of Kohl during his Pro Day workout on Wednesday night. The Iowa State commitment put an exclamation on the week during Thursday's 7-on-7 portion. Kohl was masterful on the final day with merely four incompletions compared to six touchdowns in the live competition part of the event.
Not only was Kohl efficient, but he has an outstanding deep-ball placement and excellent arm talent as well as his fair share of "wow" moments. He's physically impressive and passes the eye test at 6-foot-6. Undoubtedly, Kohl's stock is on the rise.
2. Dante Moore
The On3 Consensus five-star quarterback from Detroit (Mich.) King hasn't skipped a beat yet this summer. After tearing up OT7 in June, Moore was surgical, again, out in Los Angeles and one of the unquestioned top performers from Elite 11 after showing out in all of the various events. Moore put together one of the stronger Pro Day outings and was brilliant during live action. He's exceptionally accurate on short and intermediate throws and puts enough velocity on his throws to effectively and effortlessly attack downfield.
Moore's confidence is exhibited in his game. He effortlessly squeezes passes into tight windows and leads his receivers open. When it's time to improvise, Moore continues to be a smart decision-maker evident and is extremely advanced evidenced by his 16-of-19 mark during 7-on-7 along with four touchdowns compared to zero interceptions. Oregon is trending on the On3 Recruiting Prediction Machine for the five-star.
3. Jackson Arnold – Oklahoma
Arnold, the Elite 11 MVP, not only flashed at different moments throughout the Elite 11 Finals but also consistently played at a high level from start to finish. The Oklahoma commitment out of Denton (Texas) Guyer is the second consecutive Texan to capture Elite 11 MVP honors after strong showings at each of the various competitions. Arnold effortlessly gets the ball out and is accurate throwing all over the field. He hits his targets in stride and displayed excellent footwork and distributed the ball quickly. He has fantastic touch on his deep ball and is adept at extending plays and exploiting mismatches and miscues on defense.
4. Christopher Vizzina – Clemson
Much like Arnold, Vizzina showed well throughout the week on the Left Coast and was consistently a top performer at the various series of competitions. The Clemson commitment was extremely sharp in the Pro Day workout and again in 7-on-7 with the timing of his throws and ability to see the field and attack accordingly. Vizzina throws with an air of confidence and can rip it. He can squeeze throws into extremely tight windows and is a calculated risk-taker. Vizzina was among the most accurate passers all week.
5. Malachi Nelson – USC
Nelson, the Five-Star Plus+ quarterback and local celebrity on hand, showcased one of the most naturally impressive arms in the country. The USC commitment has the ability to effortlessly make any throw, and when he's in a rhythm and clicking, Nelson is as good as a passer as anybody in this very strong 2023 cycle. The Los Alamitos (Calif.) standout was at his best during the Pro Day workout showing off all elements of his repertoire and his ability to deliver on-target from various arm angles. Nelson is very polished and was steadily great from the jump at the Finals.
6. Austin Novosad – Baylor
Another major stock-up candidate after the Elite 11 Finals is Novosad, the On3 Consensus four-star quarterback committed to Baylor. Novosad was consistently sharp with great touch on his passes downfield and some torque on his throws underneath. He's a reactive passer and quick to distribute the ball with excellent velocity, especially on his intermediate throws, and he's not shy about firing into traffic. The Lone Star State standout was a top performer at each of the respective events. The arrow pointing is certainly pointing up after the week in Los Angeles.
7. Rickie Collins – Purdue
Collins continued to get better as the event went on and after one of the strongest showings in the Pro Day on Wednesday, the On3 Consensus four-star Purdue commitment won the Mega-Target contest with a high score of 53, six points ahead of the next quarterback. Collins was at his best while also making use of his mobility. He doesn't lose his accuracy or touch while on the move and his poise is tangible. The standout from The Boot flashed in spurts throughout the week.
8. Chris Parson – Florida State
After winning the Rail-Shot Challenge opening night in Los Angeles, Parson stayed sharp for the remainder of the Finals. The Florida State verbal gets the ball out quick and makes decisions even quicker, and his ability to extend plays and maintain his accuracy is superb. Parson was among the better quarterbacks during Thursday's 7-on-7 as well.
9. Eli Holstein – Alabama
Holstein settled in for Pro Day on Wednesday and put his big arm on display. The Alabama commitment delivered authoritative throws down the seams and underneath. The Zachary (La.) four-star was at his best at his finale. Holstein connected on 13 of his final 14 passes and ended the day with three touchdowns. His competitiveness was on full display.
10. Avery Johnson
One of the better multi-sport athletes on hand at the event, Johnson also found his rhythm as the event went on and pieced together a strong showing in Wednesday Pro Day toward the back end of the evening. Not only does he possess notable traits, but Johnson displayed great touch on his throws as well as nice velocity and quick release. He came off natural eluding defenders in the pocket and is screaming with upside. Kansas State is trending on the RPM ahead of Johnson's upcoming decision.
11. Kenny Minchey – Pittsburgh
Minchey pieced together a solid three-day resume and showcased throws with some strong zip and a tight spiral. The future Panther was on-point during his Pro Day and throws a good-looking ball. While there weren't as many flashy moments, Minchey was consistently good in an array of different events, including the 7-on-7 where he was 10-of-18 with a touchdown and a pick.