Sponsorships more important than ever for schools, plus notes on streaming, Scott Frost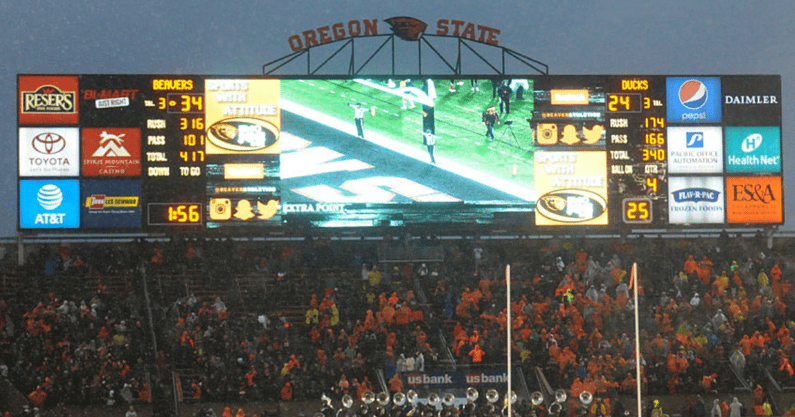 Angelina Lawton has had a front-row seat to observe how the pandemic has impacted the sports sponsorship space.
Lawton is the founder and CEO of Sportsdigita, a Minneapolis-based company that provides organizations with what she calls a "PowerPoint on steroids" to best sell their partnerships, tickets and overall brand narrative. She works with more than 400 of the biggest organizations in sports, including the Dallas Cowboys, Los Angeles Lakers and New York Yankees. On3 checked with Lawton to gauge what trends have emerged during a two-year stress test for the ages in college athletics.
As athletic departments emerge from the pandemic, the need to generate revenue never has been greater. As a result, athletic departments are increasingly encroaching on once-taboo sponsorship categories, particularly gambling. Two Power 5 athletic departments, Colorado and LSU, have secured partnerships with sports betting operators, and more schools are expected to follow their lead. In addition, Lawton echoed the sentiments of several sources in believing it's only a matter of time before sportsbooks are built into college sports venues, including football stadiums. The revenue potential is just too much for schools to take a pass in states where sports betting is legal; it's currently legal in more than two dozen states.
"It does make sense," said Lawton, whose company works with prominent college programs such as Notre Dame, Vanderbilt and Minnesota, among others. "On the pro [sports] side, you're seeing these brick and mortars part of arenas now, so it's really becoming a big thing. Obviously, it will carry into the collegiate [space]."
On the college front, there is an increasing number of use cases for the company's Digideck, its cloud-based presentation platform. They range from sponsorship to ticketing to fundraising and most recently to help highlight a university's resources to recruit athletes. 
In the worst of the pandemic, creating tech-heavy presentations illuminating the university's resources and highlighting its unique narrative was critical because the entire country was operating remotely. But even now, with more normalcy having returned, they have added value. Athletic departments spend millions on state-of-the-art facilities and locker rooms, complete with all the requisite bells and whistles. When prospects aren't able to tour campus, it's one thing to show off the facilities to recruits in glossy, colorful printed materials. It's another to wow them with a dynamic video presentation.
"It allows the university to tell their story from whatever level they want to," Lawton said. "An athlete will typically get a pamphlet in the mail. You get these big envelopes from colleges and it's just so archaic now, so the universities are really embracing [the presentations]. It's really media-rich, and that's the way it should be. With YouTube and Instagram and everything going on, to get a paper brochure, it just seems so outdated."
To that point, Lawton specifically mentioned a large project the company did with the University of North Texas to highlight the school's facilities and training programs. Minnesota has had success using the platform to help with ticketing, and Notre Dame specifically to help drive fundraising.
With fans now packing college stadiums again, there is plenty of potential that remains. The next frontier for athletic departments? Give potential ticket-buyers a more immersive, more realistic idea of the game-day experience.
"They've got to really translate that game-day experience and what's happening [in venue] into something that is not on pieces of paper," Lawton said. 
No quick pivot to streaming
With several conferences, as well as the College Football Playoff, readying to negotiate new media rights deals in the coming years, the big question is when top-tier live sports inventory will move exclusively to streaming platforms. Make no mistake, it's coming. But just how soon?
The most informed industry sources, in several conversations with On3 throughout the fall, echoed the sentiments that former ESPN boss John Skipper articulated to Sports Business Journal's John Ourand. In short, don't hold your breath because it's going to be a while.
Skipper, who now runs Meadowlark Media, said "there's still north of $115 billion in that business, which is going to keep most of what you want to watch on linear TV the next five years." He added that "while everything else has moved to streaming for the most part, sports is going to be the last thing going."
Scott Frost drama will continue
If you're a close follower of the evolution of the college football landscape, the Scott Frost saga will continue to warrant keeping an eye on. It depicts a once-proud program and fan base just starting to come to grips with its new, less-glamorous position in the sport's ecosystem. It's not the 1980s or '90s anymore, and Tommie Frazier and Tom Osborne ain't walking through that door.
The recipe for winning has changed, TV exposure has extended to highlight far more programs and it's difficult, if not nearly impossible, to envision how Nebraska can regain the sustained glory of its past. In addition, recruiting elite prospects to Lincoln is a formidable task, especially since the recruiting base has further shifted since the school entered the Big Ten. And a coaching vacancy at Nebraska this year would have been well down the pecking order of top jobs at a time when glitzy openings exist at USC and LSU.
So Frost gets another year to try to turn all those agonizingly close defeats into wins (each of the Huskers' losses have come by single digits and six were one-score games). Athletic director Trev Alberts gets another year to weigh a buyout that shrinks from $20 million to a more manageable $7.5 million as part of Frost's restructured contract. Frost also took a pay cut: He will be paid $4 million in 2022 instead of $5 million as he endures another year on the hot seat.