2024 top-100 RB Stacy Gage already knows four schools will receive official visits from him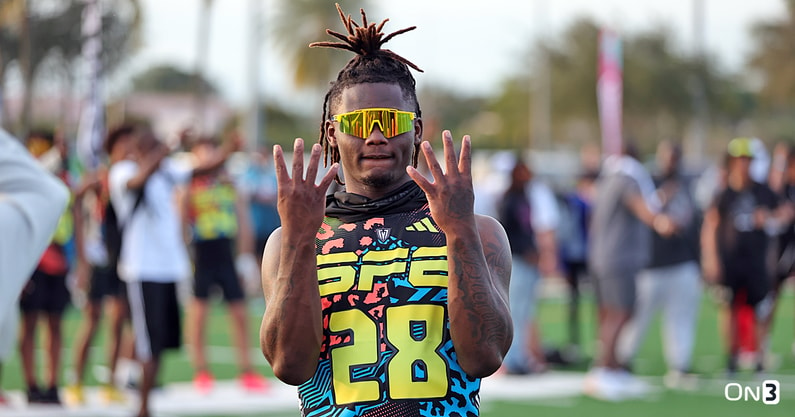 Fort Lauderdale (Fla.) St. Thomas Aquinas four-star running back Stacy Gage announced his top eight schools on New Year's Day. Four of those programs — Alabama, Ohio State, Oklahoma and USC — will receive official visits from the 5-foot-10.5, 205-pound tailback.
Gage will "most definitely" announce his commitment before senior year. He also shared that his four other finalists — Colorado, Florida, Miami and Penn State — are still in contention for his pledge.
"The schools that made that top eight, all of those schools made me feel like every time I talked with the coaches or was at the school, they made me feel like I was at home," Gage told On3.
Before his announcement, Gage wants to use all five of his officials. His commitment could be anywhere from the next few months to before next year.
Gage transferred to St. Thomas Aquinas from Tampa (Fla.) Wharton this offseason. Once the four-star settles in with his new school, he plans to pick his recruitment back up.
"I've still got other schools that are top schools, but they just didn't make the list," said Gage, the No. 87 overall prospect and No. 7 running back in the 2024 On3 Consensus. "But I still like them a lot… They're still in this recruitment process. I'm just trying to narrow it down, just get close to my commitment."
Gage discusses his high interest in USC
Gage has not visited USC yet. That will change soon, as the four-star will "for sure" take an official to the Trojans.
"Just them (having) Lincoln Riley as a head coach and coach (Kiel McDonald)," Gage said. "They've just been recruiting me as hard as they can. Even though I haven't been to their school, they've still been on me as hard as any other school. I just gotta show them that respect and get out there to that school."
Riley and McDonald are his two main contacts with the program. He already knows what he will be looking for when he arrives in Los Angeles.
"I just want to see if they can really develop me to that next level," Gage said.
Gage shares why Alabama, Ohio State and Oklahoma will receive official visits
Alabama: "It's a winning school. They run it back. They develop their players to the next level."
Ohio State: "Just me and Tony Alford, the relationship we got, he's just incredible. He's been recruiting me since I was a freshman, so why not?
Oklahoma: "That's just home for me. They gotta get one."