Standouts from the USA Basketball Junior Team Minicamp practice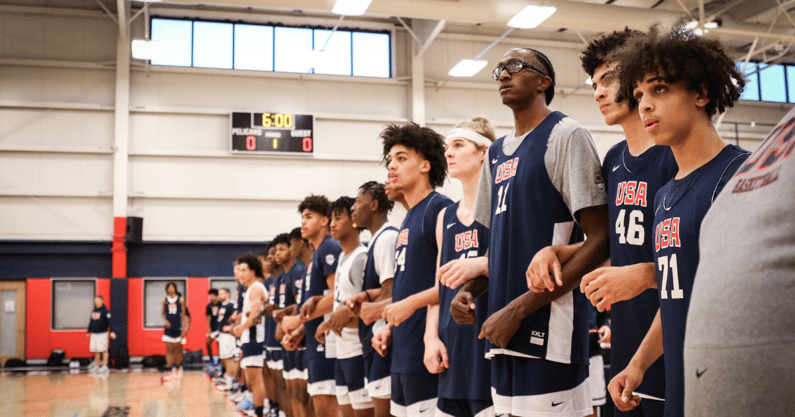 New Orleans, Lousiana — Forty-six of the top players in the country joined in New Orleans over the weekend to take part in the USA Basketball Men's Junior National Team minicamp. Members of the 2023, 2024, and 2025 class were selected to be a part of this invite-only event, in conjunction with the 2022 NCAA Final Four. 
Full roster for the USA Junior National minicamp
On3 attended practice to get eyes on all the new young talent and future stars. It was difficult to watch nearly 50 players simultaneously with one set of eyes in a short window but without further ado, here are the standouts.
4-star PG Isaiah Collier
Class of 2023
Marietta (Ga.) Wheeler
On3 Consensus: No. 17
In my eyes, Isaiah Collier was the most impressive point guard at USA Basketball this weekend. The 6-foot-2 floor general plays the game with a level of comfortability, swagger, and poise all simultaneously. He is such a skilled passer and playmaker. He forces the defense to expect the unexpected with a combination of behind-the-back and no-look-passes; to go along with a mean hesitation dribble, quite literally keeping defenders on their toes. While he doesn't look to score much, Collier is one of the best facilitators in the class.
PF Arrinten Page
Class of 2023
Marietta (Ga.) Wheeler
Unranked
Heading into the weekend, Arrinten Page was a relatively unknown name. The Georgia native is currently unranked by every recruiting site, but that won't be the case for long.
Page's physical presence immediately caught my eye. At 6-foot-9, 225 pounds, he has a college-ready body. He was quite possibly the most physically mature player on the floor in terms of his stature. A lot of players his age (16!) have difficulty putting on weight/muscle but not Page. He also showed touch around the rim, and the ability to block shots, rebound and stretch the floor. Page is one of those dudes that's just waiting to blow up, and it would not surprise me if he walks away with 10 high major offers after the first live period. Oh, and right after practice, Page picked up his first high major offer from Indiana.
4-star F Sean Stewart
Class of 2023
Orlando (Fla.) Windermere
On3 Consensus: No. 22
Committed to Duke
The first thing that stands out about Sean Stewart is his approach to the game and the level of intensity he plays with while on the court. The 6-foot-8 forward is a defensive menace. He will get up in you, make you force the turnover, and then come down and do it all over again. Frankly, he's just one of those dudes that you don't want to be guarded by because of the unwavering pressure he brings. He also showed he can handle the ball and can pull up on a dime, and knock down the mid-range jump shot.
4-star PF Xavier Booker
Class of 2023
Indianapolis (Ind.) Cathedral
On3 Consensus: No. 60
The way Xavier Booker moves at 6-foot-10 is what immediately draws your attention. He handles the ball well for a player of his size and put-back dunks come easy to him. He also has good hands and has the ability to block shots. Booker will need to continue to put on weight and strength, but he's easily one of my favorite bigs in the class of 2023.
5-star F GG Jackson
Class of 2023
Columbia (S.C.) Ridge View
On3 Consensus: No. 3
GG Jackson might be On3's No. 1 ranked prospect in the class, but he walks around as humbly as they come. At 6-foot-9, Jackson is extremely athletic and versatile. Yes, he's quite skilled but it's obvious and apparent that his best basketball is years down the road. This past weekend, his ability to knock down the three-ball is what surprised me the most. If Jackson continues to improve at this rapid rate, you will hear his name called early on during draft night in a couple years.
SF Bryson Tucker
Class of 2024
Baltimore (Md.) Mount Saint Joseph
On3 has not yet begun ranking the class of 2024, but Bryson Tucker's name will appear towards the top of the list once they do. At 6-foot-7, Tucker is as fundamentally sound as they come. The DMV native has a smooth shooting stroke and showed the ability to knock down the catch-and-shoot three-pointer or the mid-range jumper. Duke has already offered the wing prospect as he just now finishing his sophomore year. Tucker was the youngest 2024 prospect at the USA junior practice — only 15 years old.
2025 Standouts
Learn the name, Cooper Flagg. Man, oh man, this kid is going to be special. Only a freshman, Flagg has an advanced skill set for his age. He has a quiet demeanor, but his game speaks volumes. At 6-foot-7, Flagg has a silky smooth, fluid game. He has beautiful shot mechanics for his age, not to mention shot-making ability. He was one of the better shooters at the USA minicamp over the weekend. Defensively, he got into passing lanes, picked pockets, and even crashed the offensive glass for easy put-backs. He will need to add strength, but Flagg is one of my early favorites in the 2025 class.
Next up is Cameron Boozer. At 6-foot-8, Boozer has an excellent feel for the game to only be a freshman. He plays both ends, and impressed me on the defensive glass, grabbing boards, while blocking and altering shots. Boozer is just scratching the surface and is a star in the making. If you're a basketball fan, the Boozer last name should sound familiar. Cameron is the son of 13-year pro, two-time NBA All-Star, and former Duke Blue Devil Carlos Boozer — who was also in NOLA to watch his boys play. Oh yeah, Cayden Boozer — Cameron's twin — can also hoop too.