Stat Cat: How close Michael Penix, Bo Nix, Blake Corum are to being top ten players in college football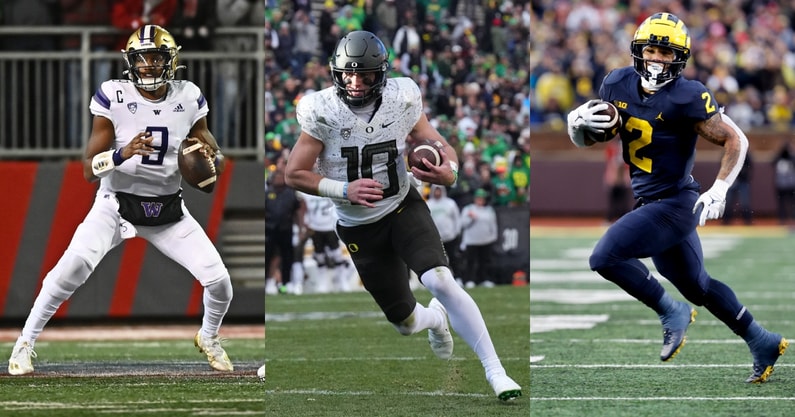 On3's Charles Power and Clark Brooks released their list of the Top 100 Players in College Football for the 2023 Season, featuring a top ten list that's absolutely loaded with talent that likely hear their names called soon in a future NFL Draft. But who were some of the players that just missed the top ten that were worthy of honorable mentions?
Washington quarterback Michael Penix came in at No. 11, Oregon quarterback Bo Nix at No. 13, and Michigan running back Blake Corum was right behind him at No. 14, representing three of college football's most exciting offensive players from the 2022 season. Brooks, aka Stat Cat, spoke with JD PicKell about the trio of players that could all be poised to move up in the rankings during the upcoming season.
"Well the two Pac-12 quarterbacks who we did not mention, so Penix Jr. and Bo Nix, they're right on the outside they're in the top 15 and of course Blake Corum," Brooks said. "He was on fire before his meniscus tear last season, he was in line to win the Heisman, so if he's healthy he absolutely has a great chance to finish the season as RB1 inside the top 10."
In his 11 games prior to his injury, Corum rushed for an impressive 1,457 yards and 18 touchdowns for the Wolverines. He'll be poised for another breakout season if he returns fully healthy, but Stat Cat wanted to focus more on the duo of west coast QBs.
"But looking at the quarterbacks because they generally drive the conversation and there's going to be a good chance that they themselves are going to be up for the Heisman race this year," Brooks said. "So Penix and Nix, they both have different styles per-say, Box Nix at Auburn he was awfully frustrating. Dropped his eyes a lot, didn't necessarily trust his environment and that definitely helped bleed into the inconsistent play."
Nix looked night and day from his first year with the Ducks versus his previous seasons at Auburn, notching career highs in rushing and passing yards and touchdowns along with completion percentage and passer rating.
"He experienced much more clean pockets at Oregon, half of his opponents finished in the bottom 15 in pass defense efficiency, so obviously that helped a lot of year-over-year improvement with him. But look, he was still making great decisions and he looked a lot more confident in his skin, and with him being one of the more older quarterbacks returning for this next season I really think he can hit the ground running," Brooks said.
Penix is another 23-year-old Pac-12 quarterback with experience that also had a breakout season after transferring. After never reaching the 2,000 yard passing mark in any of his four seasons at Indiana, Penix threw for an impressive 4,641 yards in 2022, ranking second in the nation and leading the Huskies to their first double digin win season since 2018.
"Penix, he's definitely got some juice in that arm. He's a lot bigger than people think and even though he's not necessarily one of the more 'toolsy' athletic guys who are erasing sacks, he does not take sacks because of how quickly he's able to get the ball out," Brooks said. "While I still have some concerns with him being 6'4 and having a low elbow that kind of alters his placement from being ideal, he's still a very prolific passer and he's gonna have a whole lot of opportunities to put up great numbers this season."
Penix was sacked just five times last season and was extremely efficient last season, and surely has the tools to build on his breakout year. As the two elite QBs will face off on October 14 in Husky Stadium when Washington hosts the Ducks.