Biggest surprise classes from the early signing period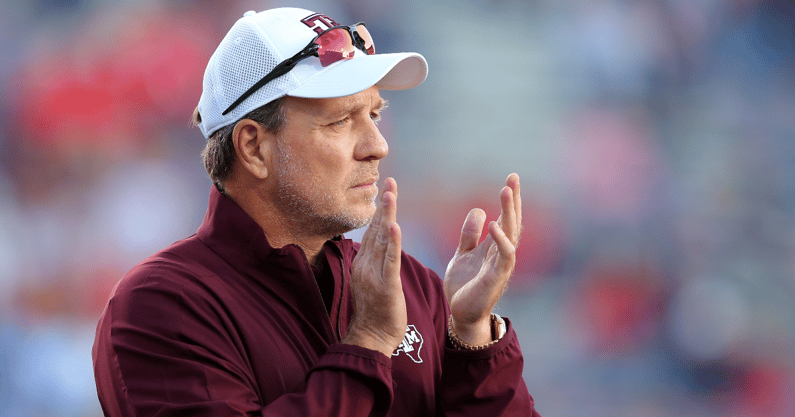 Wednesday marked one of the more wild National Signing Day's we've seen in years. A number of programs made big moves up the On3 Team Recruiting Rankings.
Let's take a look at some of the biggest surprise classes of the early signing period.
Texas A&M
Texas A&M has consistently signed top ten classes under Jimbo Fisher, but the jump to No. 1 (where they currently sit) in the On3 Team Recruiting Rankings is certainly noteworthy. The Aggies have signed the top class in program history coming off of a 8-4 season and there are several top targets who have yet to announce. Texas A&M has four On3 Consensus five-stars signed in  defensive lineman Walter Nolen (No. 2), wide receiver Evan Stewart (No. 4), defensive lineman Gabriel Brownlow-Dindy (No. 8) and quarterback Conner Weigman (No. 29). Safety Bryce Anderson, tight end Jake Johnson and offensive tackle PJ Williams all rank in the top 50 of the On300. 
The Aggies' close over the last few months is particularly of note. If you had told even the most zealous Texas A&M fans that they would sign Gabriel Brownlow-Dindy and Jake Johnson, I doubt they would've believed you. Brownlow-Dindy an Oklahoma commit prior to Lincoln Riley's move to USC. Johnson was a long-time LSU commit but decommitted after his brother, former LSU quarterback Max Johnson entered the transfer portal. Texas A&M finished the day by landing On3 Consensus five-star defensive lineman Anthony Lucas, four-star offensive lineman Kam Dewberry and four-star EDGE Enai White. Five-star wide receiver and A&M commit Evan Stewart's letter of intent has yet to be announced, would be be another headliner in the class.
Texas
It's typically not a surprise to see Texas in the top five of the On3 Team Recruiting Rankings, but the Longhorns' finish down the stretch had a number of surprising turns. Texas had several flips on signing day, headlined by five-star cornerback Terrance Brooks, who was committed to Ohio State since the summer. Texas also flipped local four-star EDGE Ethan Burke on Wednesday morning. The offensive line got a big boost earlier in the week, as Texas flipped five-star offensive tackle Kelvin Banks (No. 15) and beat out Oklahoma and USC for four-star interior offensive lineman Neto Umeozulu (No. 96). That pair are two of the top offensive line prospects in the country, both from in-state.
The strong finish comes on the heels of landing former five-star quarterback Quinn Ewers out of the transfer portal on Sunday. The former Ohio State quarterback was originally a member of the 2022 cycle before reclassifying and spending the fall as the fourth-string quarterback at Ohio State. All of these moves are coming off of a disappointing 4-8 season in Steve Sarkisian's first year on the Forty Acres, making the haul even more noteworthy. 
Kentucky
Kentucky's class, which currently ranks No. 12 in the On3 Team Recruiting Rankings, is the best of Mark Stoops' tenure. It's also the program's best haul in the internet recruiting era. Kentucky has 11 signees who are On3 Consensus four-star prospects and are finished the day by holding on to class headliner, five-star offensive tackle Kiyaunta Goodwin who was mulling a flip to Michigan State. 
Nashville Pearl-Cohn wide receiver Barion Brown is a headliner. The 6-foot-1, 173-pounder is one of the more explosive pass-catchers in the cycle and is a state champion sprinter. EDGE Tyreese Fearbry was initially committed to Penn State and is a high-upside, athletic pass rusher. The Wildcats pulled Deone Walker, an On3 Consensus four-star out of Detroit Cass Tech on Wednesday. The 6-foot-6, 357-pounder could be a nose tackle or offensive lineman at the next level. We're also very high on offensive tackle signee Nikolas Hall here at On3. The Kentucky legacy is a top 100 prospect in the On300, bringing some high-level length and agility to the position.
Missouri
Eliah Drinkwitz and Missouri made a considerable splash this cycle with a class that currently ranks No. 13 in the On3 Team Recruiting Rankings. It's currently tied as Missouri's highest-ranked recruiting class in the internet recruiting era. The Tigers capitalized on a strong year in the Show Me State, with half of the class coming from in-state.
The headliner is On3 Consensus five-star receiver Luther Burden, who had a very strong senior season playing at East St. Louis (Ill.) High. Burden is one of the better receivers after the catch in the cycle. Offensive lineman Tristan Wilson is a mauler inside and ranks as a top 100 prospect in the On300. Missouri capped off the class by beating out LSU for in-state EDGE D.J. Wesolak on Wednesday. 
Tennessee
Tennessee's finish down the stretch of the cycle mirrors the Vols' strong finish to the 2020 football season. The Vols' class is up to No. 17 in the On3 Team Recruiting Rankings. Tennessee made hay in neighboring states, landing some potential difference-makers from Georgia and North Carolina. They got the day started by landing running back Justin Williams, one of the most productive rushers in Georgia high school football. Tennessee then beat out Florida State for defensive lineman Tyre West, a long-time Georgia commit. In my opinion, the biggest news of the day came when four-star EDGE James Pearce opted to sign early and ink with the Vols, after previously stating he would wait until February. Pearce is the No. 57 overall prospect in the On300 and we feel he's arguably the most talented pass rusher in the cycle. He's a huge get for Josh Heupel and crew. Pearce and Joshua Josephs give Tennessee arguably the most athletic pass rushing pair in the 2022 cycle. 
Tennessee also adds some dynamic pass-catchers to their attacking spread offense. Kaleb Webb is a huge senior riser after catching 83 passes for 1,601 yards and 18 touchdowns this fall. Marquarius White is one of the more explosive receivers in the cycle and has a 10.69 second 100 meter time to his name. 
Oklahoma State
Oklahoma State's class currently sits at No. 22 in the On3 Team Recruiting Rankings. The group features six high-school signees who rank as four-star prospects according to the On3 Consensus. 
Wide receiver Talyn Shettron flipped to the Cowboys from Oklahoma mid-cycle and is the No. 2 prospect in the state. Quarterback Garret Rangel and running back Ollie Gordon are two of the better prospects at their respective positions in the state of Texas. Gordon is one of the most productive backs in the cycle, rushing for over 5,200 yards and 74 touchdowns in his high school career. Interior offensive lineman Austin Kawecki and EDGE Jaleel Johnson are two more Cowboy signees who are in the On300. We also saw Oklahoma State land two of the top prospects from the junior college ranks in linebacker Xavier Benson and offensive tackle Tyrone Webber. Benson is particularly of note. The Texarkana, Texas native started at Texas Tech as a redshirt freshman prior to heading to Tyler Junior College.
Vanderbilt
The Commodores' class is the program's highest-rated haul since the 2013 cycle, checking in at No. 38 in the On3 Team Recruiting Rankings. First-year head coach Clark Lea and our former colleague Barton Simmons (now Vanderbilt's general manager) were resourceful in landing a class that is sure to bolster the talent on campus.
The headliner is EDGE Darren Agu, who Vanderbilt flipped from Notre Dame earlier in the cycle. The 6-foot-6, 235-pounder is a native of the United Kingdom. Vandy had to hold off Tennessee for him at the end. The Commodores also landed safety Jadais Richard, a one-time TCU commit and flipped quarterback AJ Swann from Maryland. Running back Maurice Edwards is another headliner and ranks as an On300 prospect. Wide receiver Trudell Berry was a late flip from Marshall and has a strong speed and production profile Offensive tackle Grayson Morgan is a high-upside lineman who is a former tight end with functional athleticism and growth potential.