4-star DL T.A. Cunningham sets visits to Penn State and Ohio State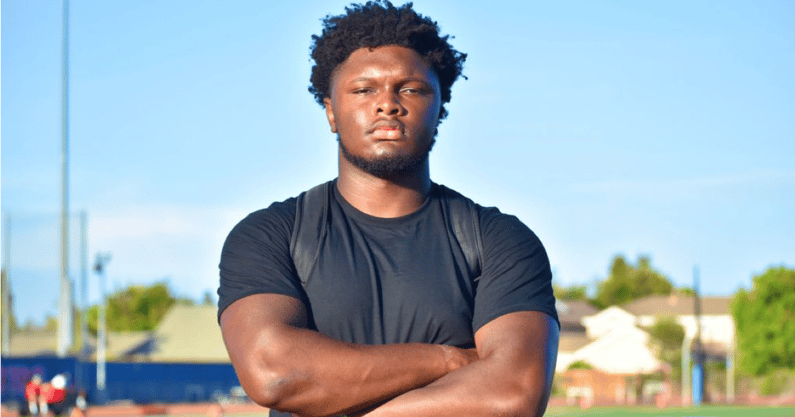 Los Alamitos (Calif.) four-star defensive lineman T.A. Cunningham is visiting Penn State and Ohio State this weekend. He announced the news over Twitter on Thursday.
Cunningham is the No. 58 overall prospect and No. 9 defensive lineman in the 2024 cycle, according to the On3 Industry Ranking, a weighted average that utilizes all four major recruiting media companies. He is also the No. 6 player in California.
The 6-foot-6.5, 275-pound defender holds 60 offers. His last visit was to Miami on the weekend of March 4.
"It's just really the family they've got there, the whole coaching staff, they all work in unison," Cunningham told On3 about why he likes Miami. "They really care about each other over there. The players, they're all on the same page, especially after coming off a season that may have not went as well as they wanted it to. It's really cool seeing how close together they are and Miami itself is its own special vibe."
Cunningham also shared that he is excited to learn more about Penn State and experience State College. The four-star speaks most with Penn State Director of Player Personnel Kenny Sanders.
For more Penn State recruiting intel, check out BlueWhiteIllustrated.
"I just want to get on campus and learn the history of the defensive linemen they've coached," Cunningham said. "I'm still learning about these schools and Penn State's really one of those schools I want to find out more about."
Penn State currently has four commitments in its 2024 recruiting class. Three are defenders, but none are defensive linemen. The group is led by Erie (Penn.) McDowell four-star interior offensive lineman Cooper Cousins, the No. 183 overall prospect in the On3 Industry Ranking.
For more Ohio State recruiting intel, check out Lettermen Row.
Meanwhile, the Buckeyes also have four players in their 2024 class, and none are defensive linemen. Hollywood (Fla.) Chaminade-Madonna Prep Five-Star Plus+ wide receiver Jeremiah Smith is Ohio State's highest-ranked commit as the No. 2 overall prospect in the On3 Industry Ranking.
Miami, Penn State and Ohio State are not the only programs Cunningham is interested in. Colorado, LSU, Oklahoma and Texas A&M are some others.
"I really like them," Cunningham said about the Aggies. "They're straight business. They just talk about coming for the development. The way I could get transformed in college, my body and all these different things, I've seen it done with their players before too."
"They're really high on me," he added about the Sooners. "They've been recruiting me for over a year now. It's just been a really fun experience with them. I have a really close relationship with all three of the coaches. They've just always been there, always been recruiting, just always checking in on me."