Takeaways from All-Gas 7-on-7 Showcase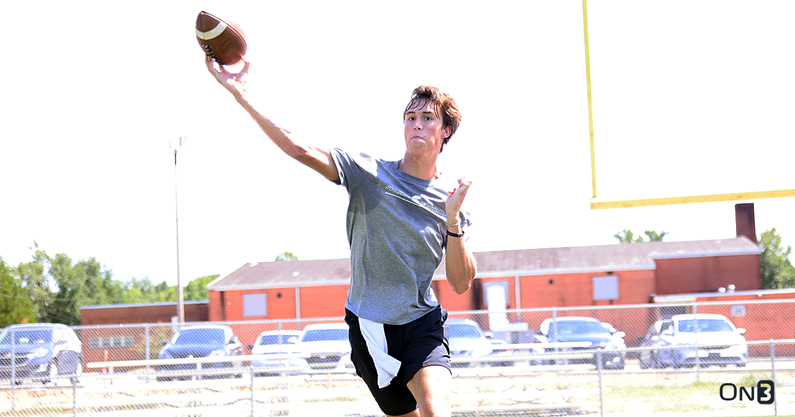 MONTGOMERY, Ala. – All Gas has become one of the top 7-on-7 programs in the southeast in recent years.
Christopher Vizzina (Clemson commit), Karmello English (Auburn commit), Avery Stuart (Kentucky), and DaKaari Nelson (Penn State) were among the stars on this past season's team. More will emerge next season.
There was a Showcase Sunday at Pike Road High School with numerous prospects that you will be reading about a lot more in the coming months. Here are a dozen that caught Director of Recruiting Chad Simmons' attention.
2024 WR Mario Craver
Mario Craver showed why he has two dozen offers. He is an ideal slot receiver on the next level. His speed, explosiveness, and skill-set were on display Sunday. He tracks the ball well, he runs good routes, and Oklahoma is a school that has hit attention early.
2025 EDGE Zion Grady
Four in-state schools have offered Zion Grady and one is from Auburn. It will be fun to watch the rising sophomore grow and develop in the coming years. He is an athletic EDGE with length and flexibility. He has a frame to add weight, he is going to get stronger, and he has real upside.
2025 RB Alvin Henderson
Alvin Henderson is set to spend multiple days at USC this week and he has quickly become a national talent. He showed why Sunday. From the size to the speed to the ball skills to the agility, Henderson showed as much as he could in this setting. Over three dozen schools have offered and he is on pace to be one of the best running backs in 2025.
2024 QB KJ Jackson
KJ Jackson just keeps working and it shows. I have seen Jackson over half a dozen times and he was strong Sunday. The left-handed quarterback delivered numerous throws down the field that drew praise from the coaches in attendance. He visited Penn State in June and he will be back on campus later this week.
2025 QB Charlie Johnston
The quarterback group was strong Sunday, and numerous quarterbacks had their moments, but Charlie Johnston was the most consistent. He has a big arm, a smooth delivery, and the 6-5, 175-pound rising sophomore is on his way to becoming a hot name. Pittsburgh has offered, but there are many more to come.
2026 Jamichael Jones
Yes, he has not played high school yet, but based on the small sample size of Sunday, Jamichael Jones is definitely a name to know. He is 5-11, 186-pounds already. In drills, Jones showed good body control and looked advanced for his age.
2024 WR Jabari Murphy
Every time I looked up, Jabari Murphy was catching a pass. He was as consistent as any receiver in attendance. He is a big, physical wide receiver, that looked a little quicker this session. Murphy is a veteran of All Gas and he has offers from schools like Arkansas, Kentucky, Maryland, and Ole Miss.
2025 DL Caleb Pitts
All Gas is a 7-on-7 brand, but the Showcase featured linemen too. I have seen guys like Yhonzae Pierre (Alabama commit), Hunter Osborne, and Tomarrion Parker (Penn State commit) workout at this event in the past. Caleb Pitts could be next in line. At 6-5, 245-pounds, he caught my attention early. He is raw, but he has the size, he showed good agility, and there was buzz around his name Sunday.
2024 LB Demarcus Riddick
Demarcus Riddick physically looks like he should be playing college football already. He is one that passes the eye-test as soon as he steps onto the field. Then you see him move, drop into coverage, and run around – it is impressive. Schools like Florida State, Georgia, and Oklahoma stand out to the four-star early on.
2024 ATH Malcolm Simmons
Malcolm Simmons is a raw athlete with a high ceiling. He is another versatile athlete that could project on offense and defense. His speed, length, and raw talent jump out immediately. Arkansas, Liberty, and a few others have offered. Expect Simmons' offer list to grow this fall.
2025 ATH Derick Smith
Derick Smith became a hot name in Alabama this spring. Alabama, Georgia, Michigan, and others offered during his freshman year and he is a very intriguing prospect. Is he a wide receiver? Is he a safety? That will play out over time. Smith does not look like your typical rising sophomore physically and he is very gifted athletically.
2025 S Eric Winters
Eric Winters is expected to grow into a linebacker on the next level, but he was a big safety roaming the field Sunday. He is a natural athlete that can run with plenty of room to grow. Penn State recently offered and this could be a big season for the rising sophomore. Winters is going to attract a lot of attention.