Going home: Emari Demercado's performance off the bench means TCU will play for national title down the street from his house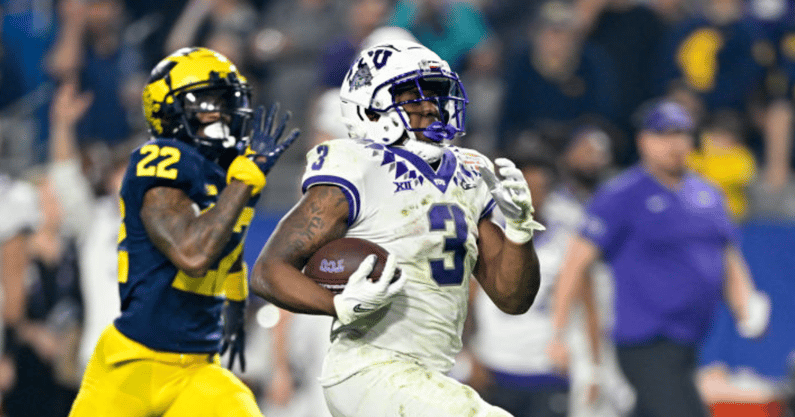 SCOTTSDALE, Ariz. – The smile on TCU running back Emari Demercado's face after the Fiesta Bowl on New Year's Eve would have lit up the desert sky as brightly as any five fireworks shows. Of course his delight derived from the Horned Frogs' 51-45 defeat of Michigan in a College Football Playoff semifinal. And from how he came off the bench in place of injured All-Big 12 starter Kendre Miller to rush for 150 yards and a touchdown against one of the best run defenses in the FBS.
But the real reason Demercado smiled so broadly didn't have everything to do with achievement.
"When all the confetti was going, it was a surreal moment, realizing my first college game in L.A. will be the national championship," said Demercado, a sixth-year senior said. "I've never played in California and I'm from California."
It's not just that Demercado is from California. It's not just that he grew up in Inglewood, the home of six-year-old Sofi Stadium, the site of the CFP Championship Game against No. 1 Georgia on Monday night.
"If I walk to the end of my street," Demercado said, "I can literally see the stadium."
There's also something a little surreal about Demercado's performance against the Wolverines. He got only three carries in the first half. Miller, who suffered a knee injury late in the second quarter, took the first carry of the second half and didn't play again. Demercado returned to the huddle and responded with 14 carries for 123 yards in the second half.
"When we came out at halftime, he was trying to go," Demercado said of Miller. "But I could see, in my mind, I was already, 'You're going to have to go do it.' I've been in this situation a few times. This year, last year, my first year here, I've had to carry the load. I know what it took."
Demercado, as have so many of his teammates, blossomed after Sonny Dykes replaced Gary Patterson as TCU coach. He had made a handful of starts in five seasons at TCU; he played for Saddleback (Ariz.) Junior College in 2017.
"He's been through a lot – a lot of highs, a lot of lows," Dykes said. "He's one of those guys that's ready every week. When he gets the opportunity, he makes the most of it."
Demercado began spring practice under Dykes saddled with few expectations.
"Emari was the biggest surprise for us in spring football," TCU offensive coordinator Garrett Riley said. "He was the number one player that we were like, 'This kid is really good.' For him to come in and step in and give us a huge spark was just awesome for that kid. He deserves it."
Demercado is listed as 5 feet 11, 210 pounds. The weight is the more believable measurement, if only because he runs tough and maintains good speed. The reason Demercado has earned so much confidence from the coaches has more to do with his ability to absorb the game.
"He's a smart player," Riley said of Demercado, a three-time All-Big 12 Academic selection. "He's one of those guys you tell him something one time, he gets it. He understands his role. He's such a great 1-2 punch for us with Kendre."
To put Demercado's performance against Michigan in perspective, the only back to break the 100-yard mark against the Wolverines during the regular season, Chase Brown of Illinois, rushed for 140 yards, and he had the benefit of playing four quarters.
And what about this? Demercado burst through the middle of Michigan's defense late in the third quarter on a 69-yard sprint to the Wolverines' 1. Only three backs this season gained more in a game than Demercado gained on that play.
Demercado didn't play flawlessly Saturday. On the last play of the third quarter, Michigan 337-pound defensive tackle Mazi Smith ripped the ball out of Demercado's grasp and recovered it at TCU's 27. Two plays later, Michigan scored a touchdown to cut it to 41-38, the first time the Wolverines closed the margin to three points all game.
It took 348 rushes and receptions over five seasons of Horned Frogs football before Demercado suffered his first fumble on a play from scrimmage.
"He got me," Demercado said of Smith. "He got the best of me. Just have to tell myself, 'Next play.' Good thing happens, bad thing happens, you can hear 'Kaz' (strength coach Kaz Kazmadi) yelling, 'Next play.' We could have a 99-yard touchdown, and he's yelling, 'Next play.'
"In my head, at this point, it is what it is. You can't get it back. Just go out here and finish this game."
Turned out it would be the only time Michigan got that close. TCU responded with 10 points on its next two possessions, which proved too much for the Wolverines to overcome.
Miller's status against Georgia remains up in the air. Demercado will be ready, especially because the CFP Championship Game will be his own personal homecoming. He said he will be hitting up his teammates for tickets. Demercado said he used 20 for the Fiesta Bowl. He may need more Monday night.