The 5-star recruits in the latest 2023 On3 Consensus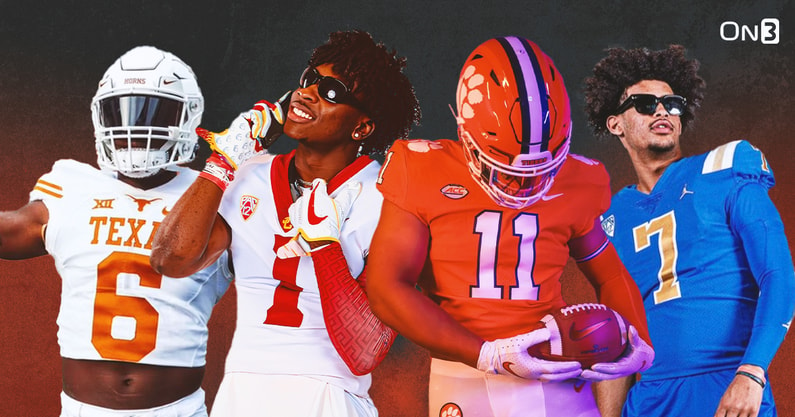 The 2023 On3 Consensus updated following On3's release of its final 2023 On300. 32 prospects currently hold five-star status, with signees from Alabama and UCLA moving up significantly in the rankings.
The On3 Consensus is a state-of-the-art resource in the recruiting industry. Unlike other consensus ratings, the On3 Consensus weight each of the four major recruiting services evenly and gradually increases the number of five-stars and four-star recruits as evaluators learn more about each recruit and obtain more data.
Here is the list of the five-stars included in the latest On3 Consensus:
1. QB Arch Manning — Texas enrollee
School: New Orleans (La.) Isidore Newman
Consensus Rating: 99.35
Previous Ranking: No. 1
On3 NIL Valuation: $3.7M
Scouting Summary: "Arch Manning possesses a pure throwing motion with one of the quickest releases we've seen from a high school quarterback prospect. Those mechanics pair with a strong arm to make Manning one of the more natural and accurate passers in the 2023 cycle. Has the ability to carve up opposing defenses from inside the pocket or outside of structure when things break down. Shows innate field vision for his age with the ability to find open receivers while making second-reaction plays. An above average athlete for the position with polished footwork and the capability of picking up yards in scramble situations. Has filled out a big frame over his high school career, entering his junior year as the most physically developed top quarterback in the 2023 cycle. Also carries a substantial mental load for a junior quarterback with the responsibility of setting protections."
2. QB Dante Moore — UCLA signee
School: Detroit Martin Luther King
Consensus Rating: 99.03
Previous Ranking: No. 9 (+7)
On3 NIL Valuation: $742K
"Dante Moore is a pocket passer who is one of the more accurate and efficient quarterbacks in the 2023 cycle. Skilled as a touch passer with the ability to layer throws and deliver with accuracy and nuance. Has a quick, natural release that aids in the short passing and RPO game. Shows a good arm both on video and in camp settings. Capable of hitting on deep shots off of play action. Put together a highly efficient and productive junior season in leading Martin Luther King to a state title while completing 73 percent of his passes for over 3,000 yards and 40 touchdowns against three interceptions. Does not appear to be quite the athlete or run threat as some of the other top quarterbacks in the cycle at this time. Will need to continue improving his movement skills and foot quickness."
3. WR Zachariah Branch — USC enrollee
School: Las Vegas (Nev.) Bishop Gorman
Consensus Rating: 98.99
Previous Ranking: No. 4 (+1)
On3 NIL Valuation: $565K
Scouting Summary: "Zachariah Branch is one of the more dynamic receiver prospects in the nation, regardless of class. Built like a traditional slot wide receiver at 5-foot-9, 170 pounds. An elite track athlete with a 10.33 second 100-meter mark and a 24 foot long jump as a sophomore. Is able to harness that speed on the football field with his high-end change of direction. Creates big plays as a deep threat and after the catch. Very difficult for defenders to tackle in space. A fluid mover with route-running and true wide receiver skills in addition to the considerable athleticism. Shows good ball skills with the ability to track and make extended catches in traffic. Plays at powerhouse Bishop Gorman and was a standout performer in four games against national competition in addition to the state title game. Looks like one of the best sub 5-foot-11 wide receiver prospects in several cycles."
4. QB Malachi Nelson — USC enrollee
School: Los Alamitos (Calif.) 
Consensus Rating: 98.95
Previous Ranking: No. 2
On3 NIL Valuation: $901K
Scouting Summary: "Malachi Nelson is a quick-armed, accurate passer with strong functional movement skills. Considered one of the more talented quarterback prospects in high school football dating back to his early high school career. A natural, nuanced passer with a quick release. Shows some aggressive tendencies in throwing downfield. Has touch with the ability to layer his throws. Accurate with good ball placement dating back to his sophomore spring season which was shortened due to COVID-19. Good arm strength, which could improve with overall strength progression. Adept at running the quick game out of spread looks, flipping the ball out quick to the boundary. Loose and fluid in his movements. Plays with bouncy footwork and lower body twitch. Looks to pass first, but has good burst as a runner with the ability to run zone read or pick up yards when the play breaks down. Plays at a relaxed pace and typically seems unbothered in the pocket. Has a lean, streamline frame and will need to continue adding mass."
5. S Caleb Downs — Alabama enrollee
School: Hoschton (Ga.) Mill Creek
Consensus Rating: 98.86
Previous Ranking: No. 6 (+1)
On3 NIL Valuation: $491K
Scouting Summary: "Caleb Downs is an extremely well-rounded safety who has been one of the top prospects in Georgia regardless of class for much of his high school career. Shows a complete skill set as a cover safety. Has the range to cover hash to boundary with ease. Also is fluid and natural in man coverage. Outstanding ball production with 14 interceptions over the first three seasons of his high school career. Instinctual both in coverage and as a cover down defender. Identifies run plays and underneath passes very quickly. Also an active tackler. Shows of his athleticism on offense where he sees snaps at multiple skill positions, including quarterback. Has starred while playing against top competition in the Peach State. Comes from strong bloodlines with a father who was an NFL Draft pick and brother who is one of the better receivers in college football."
6. QB Jackson Arnold — Oklahoma signee
School: Denton (Texas) Guyer
Consensus Rating: 98.82
Previous Ranking: No. 8 (+2)
On3 NIL Valuation: $657K
Scouting Summary: "Jackson Arnold is a tough, live-armed quarterback who quickly rose to be the top 2023 signal caller in Texas in his first year as a starter. Plays for one of the top high school programs in the Dallas Metroplex and led his team to the state title game as a junior. Plays in a spread-iso offensive scheme that heavily utilizes play action downfield passes and power running between the tackles. Shows a strong arm with the ability to generate velocity on intermediate and downfield throws. A light-footed athlete who consistently escapes pressure and makes plays out of the pocket. One of the tougher top quarterbacks in the 2023 cycle, carrying a considerable rushing load. A physical runner who embraces contact. Hit the ground running in his first year as a varsity starter against top competition. Has a smaller frame than some other top quarterbacks in the cycle."
7. OT Kadyn Proctor — Alabama enrollee
School: Des Moines (Iowa) Southeast Polk
Consensus Rating: 98.70
Previous Ranking: No. 12 (+5)
On3 NIL Valuation: $360K
Scouting Summary: "Kadyn Proctor is a wide, physically-developed offensive tackle who excels as a mauling run blocker. Dominant at the point of attack, using strong and quick hands to neutralize opposing defensive linemen. Plays with a nasty mentality as a block finisher, planting defensive linemen in the ground with regularity. Moves well and shows his athleticism as a defensive lineman. Does not appear to have high-end length for an offensive tackle and tends to lunge at times in his pass set."
8. OT Francis Mauigoa — Miami signee
School: Bradenton (Fla.) IMG Academy
Consensus Rating: 98.68
Previous Ranking: No. 5
On3 NIL Valuation: $327K
Scouting Summary: "Francis Mauigoa is a wide-bodied, nimble mover who is excelling in his first season as a full-time offensive lineman. Works at right tackle for IMG, but likely projects on the interior due to his arm length and build. Played very well against a national schedule and some top pass rushers as a junior. Uses his natural strength to create a big push in the run game. Plays with a wide base and has considerable pop in his hands. Has mauling qualities as a drive blocker and is athletic enough to get to the second level with ease. Though he doesn't project as an offensive tackle long-term, showed some very encouraging skills in pass protection."
9. DL David Hicks — Texas A&M signee
School: Katy (Texas) Paetow
Consensus Rating: 98.65
Previous Ranking: No. 7
On3 NIL Valuation: $360K
Scouting Summary: "David Hicks is a physically-developed defensive lineman with advanced power along with length and quickness. Possesses a big frame with a muscled build and an 80-inch wingspan at 6-foot-4. Has brute strength which he pairs with initial quickness to create steady disruption along the line of scrimmage. Consistently shows quick and powerful hands at the point of attack with some advanced pass rush technique for a young defensive lineman. Very much a power player at this point in his development, but plays with some nuance and technical skill. Working at both defensive end and defensive tackle as a junior at a powerhouse program in Texas' highest classification. A strong, but not elite athlete. Turned in dominant showings at college camps prior to his junior season."
10. CB Cormani McClain — Miami commit
School: Lakeland (Fla.) 
Consensus Rating: 98.54
Previous Ranking: No. 3
On3 NIL Valuation: $387K
Scouting Summary: "Cormani McClain has the best combination of stature, athleticism and ball skills among cornerback prospects in the 2023 cycle. Measured over 6-foot-1 prior to his junior season and has posted some of the best testing numbers in a combine setting we've seen from prospects in his cycle. A twitchy, bouncy athlete with explosive movement patterns. Pairs that athleticism with high end skill on the field. Has proven to be a ballhawk defender with nine interceptions as a sophomore and five picks midway through his junior season. Uses his quickness to stay in-phase with receivers off the line and long speed to turn and run downfield. Highly instinctual and plays fast. Breaks on the ball quickly. Comfortable playing off and press coverage. Doubles as a receiver, which aids in his ball skills and coordination. Would be a four-star type talent at receiver if he chose. Has a thinner frame at 165 pounds and will need to continue adding bulk. Older for the class."
11. QB Nico Iamaleava — Tennessee enrollee
School: Long Beach (Calif.) Warren
Consensus Rating: 98.52
Previous Ranking: No. 10
On3 NIL Valuation: $1.2M
Scouting Summary: "Nico Iamaleava is a high-upside signal caller who may have the best physical tools among quarterbacks in the 2023 cycle. Has one of the stronger arms in the cycle, generating considerable velocity on his throws in camp settings. Tall with a slender build with room to fill out. Boasts a quick, clean throwing motion despite his longer arms. A bouncy, fluid mover who doubles as a top volleyball player. Still developing in terms of some technical aspects of the game. Plays in a high school offense that is heavily skewed towards quick passes and screens. Can continue to improve his accuracy on downfield passes. Has done a very good job taking care of the football with just two interceptions in his first two varsity seasons."
12. EDGE Keon Keeley — Alabama signee
School: Tampa (Fla.) Berkeley Prep
Consensus Rating: 98.52
Previous Ranking: No. 11
On3 NIL Valuation: $300K
Scouting Summary: "Keon Keeley is a long pass rusher with high-end flexibility and finishing ability behind the line of scrimmage. Has a big frame at 6-foot-6, 230 pounds with outstanding length (7-foot wing-span). Plays with advanced bend and flexibility, sinking his hips and using his supreme length to create disruption off the edge. Already shows signs of some technical acuity with quick hands and pass rush moves. Displays strong closing speed and finishes plays behind the line of scrimmage at a high rate. Among the more productive pass rushers in the nation as a junior. Also a bouncy athlete with a basketball background."
13. S Peyton Bowen — Oklahoma signee
School: Denton (Texas) Guyer
Consensus Rating: 98.09
Previous Ranking: No. 13
On3 NIL Valuation: $292K
Scouting Summary: "Peyton Bowen is an athletic safety who stars for one of the best high school defenses in the state of Texas. Pairs solid size with some of the better combine athleticism we've seen among 2023 safeties.Carries over the twitchy athleticism onto the field. Is a dynamic return man, taking several kicks to the house as a junior. Plays with outstanding range, showing the ability to cover from the hash to the boundary with ease. Has awareness in coverage to recognize route combinations. Shows ball skills in deep coverage in addition to playing sparingly on offense in key spots. Stood out in the state championship game as a junior, making a number of explosive plays with the ball in his hands. Projects as one of the best defensive backs in the state of Texas in the 2023 cycle."
14. OT Samson Okunlola — Miami signee
School: Brockton (Mass.) Thayer Academy
Consensus Rating: 97.96
Previous Ranking: No. 16 (+2)
On3 NIL Valuation: $265K
Scouting Summary: "Samson Okunlola is an aggressive offensive lineman with nimble movement skills and a positive athletic profile. Has plus length for the position at 6-foot-5, 295 pounds with a 6-foot-10.5 wing-span. Has shown good short area quickness in the camp setting. Also spends time as a wrestler and thrower in the shot put. Plays both ways at his high school as an offensive tackle and defensive lineman. Has some dominant flashes, particularly as a run blocker. Moves well to the second level, locating and blowing up linebackers on contact. Finishes blocks at a high rate and works to plant defenders into the turf. Shows similar emphatic finishing ability on defense, where he suplexes ball carriers at times. Plays low and understands leverage. Will need to continue developing his pass set technique. Could also stand to improve his ankle flexion a bit. Faces subpar competition and may need some time to adjust to the uptick in talent level once in college."
15. LB Anthony Hill — Texas enrollee
School: Denton (Texas) Ryan
Consensus Rating: 97.96
Previous Ranking: No. 15
On3 NIL Valuation: $464K
Scouting Summary: "Anthony Hill is a downhill linebacker with good size and straight-line speed. Has starred for one of the top defenses in Texas high school football since his sophomore season. Combines his speed with a high effort level, resulting in a highly productive player at the high school level. At his best when he can use his closing speed as a blitzer or in pursuit sideline-to-sideline. Shows some physicality as a striker. Has one of the longer wing-spans of top linebackers in the 2023 cycle. Provides added value as a pass rusher and may eventually grow into an EDGE prospect down the line. Has a penchant for forcing turnovers and looks to strip the football often. Will need to continue improving his skills playing in space and in coverage."
16. DL James Smith — Alabama signee
School: Montgomery (Ala.) Carver
Consensus Rating: 97.77
Previous Ranking: No. 14
On3 NIL Valuation: $277K
Scouting Summary: "James Smith possesses the best combination of first-step quickness and power among interior defensive line prospects in the 2023 cycle. Extremely quick off the ball, often beating opposing offensive linemen out of their stance. Follows up his first step with considerable upper body and hand strength. Stuns offensive linemen with his punch and gets off of blocks at a high rate. Has a wide-hipped frame without much bad weight. Plays with high energy and violent physicality. A dominant player as a freshman and sophomore prior to transferring to IMG Academy. Finishes plays behind the line of scrimmage with authority. Is able to yank down ball carriers with one hand. Also shows advanced pass rush ability for an interior defensive lineman."
17. CB Desmond Ricks — Alabama enrollee
School: Chesapeake (Va.) IMG Academy
Consensus Rating: 97.68
Previous Ranking: No. 20 (+3)
On3 NIL Valuation: $368K
Scouting Summary: "Desmond Ricks is a big, athletic corner who stars on one of the most talented defenses in high school football. Has good stature for the position at over 6-foot-1 and 175 pounds heading into his junior season. Registers as a strong athlete in the combine setting. Was a key player on IMG Academy's talented defense as a sophomore in addition to seeing significant time as a freshman. A smooth mover with advanced technical ability. Battle-tested against top wide receivers both in practice at IMG and in playing a national schedule throughout the fall. Older for the class, turning 18 years old in the middle of his junior season."
18. EDGE Damon Wilson — Georgia signee
School: Venice (Fla.)
Consensus Rating: 97.64
Previous Ranking: No. 17
On3 NIL Valuation: $264K
Scouting Summary: "Damon Wilson is a disruptive pass rusher with one of the best first steps in the 2023 cycle. Bursts off the snap and is often in the backfield before opposing offensive linemen are out of their stance. Owns a solid build, checking in at nearly 6-foot-4, 230 pounds prior to his junior season with plus length for the position. Tests as a good athlete in the combine setting but plays quicker than his times indicate. Shows the ability to bend and dip around the edge, in addition to the outstanding first step. Plays for a top high school program in Florida. Turned in strong production with 15 sacks as a junior. Has added strength and checks in as one of the strongest EDGE defenders in the class in terms of weight room numbers. Highly technical and polished with his hands. Has few holes in his game and looks like one of the highest floor defenders in the cycle to go with substantial upside."
19. ATH Nyckoles Harbor — Uncommitted
School: Washington (D.C.) Archbishop Carroll
Consensus Rating: 97.58
Previous Ranking: No. 18
On3 NIL Valuation: $299K
Scouting Summary: "Nyckoles Harbor has the best combination of size and speed we've seen from a young prospect as a national-level sprinter at 6-foot-5 and over 230 pounds. Runs under 10.4 seconds in the 100 meters with the size and length of a premier pass rushing prospect. Plays both tight end and defensive end for his high school, but has developed into more of an EDGE prospect as a junior. Shows his considerable athleticism as a pass rusher with high end closing speed. Is also able to locate and track the ball as a tight end. Still unrefined technically as a pass rusher. Productive against sub-par competition."
20. TE Duce Robinson — Uncommitted
School: Phoenix (Ariz.) Pinnacle
Consensus Rating: 97.46
Previous Ranking: No. 21 (+1)
On3 NIL Valuation: $198K
Scouting Summary: "Duce Robinson is a jumbo athlete with a large catch radius who looks like one of the better tight end prospects over the last few recruiting cycles. Has outstanding statue and length at over 6-foot-6 and 230 pounds with a 6-foot-10 wingspan. Plays and moves like a receiver at that size. A smooth, fluid mover who showed continued improvement in top-end play speed as a junior, running away from defensive backs. Has one of the largest catch radiuses in the 2023 cycle and consistently wins in contested situations. Was the top pass-catcher at the Opening Finals prior to his junior season and created a considerable mismatch over the middle of the field. Turned in a very productive junior season with close to 1,000 receiving yards. Has an outstanding multi-sport profile as one of the nation's top baseball prospects and also plays basketball. Will need to continue getting stronger to aid in blocking, but has the look of an elite tight end prospect with five-star upside."
21. LB Qua Russaw — Alabama signee
School: Montgomery (Ala.) Carver
Consensus Rating: 97.36
Previous Ranking: No. 19
On3 NIL Valuation: $276K
Scouting Summary: "Qua Russaw is a rugged, athletic defender who plays with high-level play strength and speed in pursuit. Has adequate size at around 6-foot-3, 230 pounds. Highly active as a high school player on a snap to snap basis. Plays with one of the best effort levels that we've seen from a defender in the 2023 cycle. Excels as a pursuit defender, using his speed and motor to track down plays sideline to sideline. Very strong with the ability to stack and shed offensive linemen. Also sees some snaps as an off-ball linebacker. Highly productive as a junior with 27.5 tackles for loss and 16.5 sacks. Wins primarily due to his athleticism, play strength and effort level. Will need to continue honing his pass rush moves."
22. WR Jurrion Dickey — Oregon signee
School: Palo Alto (Calif.) Menlo-Atherton
Consensus Rating: 97.33
Previous Ranking: No. 22
On3 NIL Valuation: $239K
Scouting Summary: "Jurrion Dickey is a physical, productive receiver with a well-rounded skill set. Owns a thick, filled out build, checking in at 6-foot-2, 205 pounds prior to his junior season. Also has long arms with a 6-foot-6 wing-span, which manifests in a large catch radius. Strong in every facet. Bullies wide receivers off the line and at the top of his routes. Attacks the ball at the catch point and shows strong, reliable hands. Tough to bring down after the catch. Has good play speed and clocked a sub-4.6 second 40-yard dash prior to his junior season. Highly productive as a junior against some of the best competition in Northern California with 1,304 receiving yards and 19 touchdowns. Also plays defense. Shines in competitive situations. Was the top receiver at The Opening Finals prior to his junior season. Younger for the class and won't turn 18 years old until he's enrolled in college."
23. WR Hykeem Williams — Florida State signee
School: Fort Lauderdale (Fla.) Stranahan 
Consensus Rating: 97.23
Previous Ranking: No. 30 (+7)
On3 NIL Valuation: $239K
Scouting Summary: "Hykeem Williams is a physically-developed receiver with plus body control and burst. Possesses the balance and agility to make defenders miss in the open field as well as the juice to get upfield and pull through arm tackles after the catch. Has a big frame that carries his weight with ease. Measured 6-foot-2.5, 193 pounds with a 6-foot-4.5 wing-span as a junior. Shows vertical ability on 50-50 balls and on the hardwood as a basketball player. Averaged a double-double in points (12.2) and rebounds (10.3) on the basketball court as a junior. Totaled 31 receptions for 693 yards and 6 touchdowns his junior season. Will develop a more diverse route tree as he transitions to the college game. Has all the physical tools to potentially turn into a dominant X-type receiver at the next level. On the older end among prospects in the 2023 cycle, turning 18 during his junior season."
24. EDGE Adepoju Adebawore — Oklahoma signee
School: Kansas City (Mo.) North Kansas City
Consensus Rating: 97.17
Previous Ranking: No. 27 (+3)
On3 NIL Valuation: $237K
Scouting Summary: "Adepoju Adebawore is a twitchy, athletic pass rusher with a very high ceiling. One of the more athletic and physically-gifted EDGE prospects in the 2023 cycle. Checked in at 6-foot-4, 227 pounds prior to his senior season. Has elite length for the position with a 7-foot wing-span. Tests as a top athlete in the combine setting, sporting some of the best athletic testing numbers among top EDGE prospects. His workout at Under Armour's Kansas City camp was arguably the best camp showing we saw from any 2023 prospect during the spring. Transfers that athleticism over to the field, where he makes high-level plays behind the line of scrimmage with regularity. Uses his burst to beat opposing offensive tackles off the ball, while also showing the ability to dip and bend around the edge. Consistently runs down quarterbacks and rushers behind the line of scrimmage. A high-level finisher due in part to his elite length and twitch. Operates with a high effort level both in games and the camp setting. Very productive as a junior with 17.5 sacks. Will need to continue developing his hand usage in getting off of blocks along with pass rush moves. Younger for the class and still relatively new to football. Has the look of an ascending prospect and one of the higher ceilings in the 2023 cycle."
25. OT Zalance Heard — LSU signee
School: Monroe (La.) Neville
Consensus Rating: 97.14
Previous Ranking: No. 24
On3 NIL Valuation: $238K
Scouting Summary: "Zalance Heard is a physically-gifted offensive tackle prospect with outstanding length and block-finishing skills. Has prototypical size at the position, measuring 6-foot-5.5, 295 pounds as a junior. Possesses elite length, with his arms checking in at 36 inches on college visits. Began his career as a defensive lineman prior to transferring to northeast Louisiana power Neville High. Played exclusively at right tackle as a junior and looks to have the highest upside at offensive tackle. His defensive lineman athleticism shows up by way of advanced movement skills, particularly in the run game where he's a mauling presence. Already a dominant drive blocker in his first full season playing offensive line. Has natural upper body strength to go with his length and athleticism. Is a bit high-hipped and will need to continue playing lower. Needs to continue developing his pass set technique as he gains experience at the position."
26. RB Cedric Baxter Jr. — Texas enrollee
School: Orlando (Fla.) Edgewater
Consensus Rating: 97.13
Previous Ranking: No. 23
On3 NIL Valuation: $436K
Scouting Summary: "Cedric Baxter Jr. is a big-framed runner with home run ability. Went from a versatile athlete to a bell cow back in his junior season. Has the largest frame of top running backs in the 2023 cycle, checking in at over 6-foot-1 and around 205 pounds prior to his senior season. Gets downhill quickly. Shows the ability to make cuts at full speed in tight quarters. Efficient in his cuts with little wasted movement. Has the stride and on-field play speed to pull away once in the open field. Received a heavy workload as a junior. Capable of running with power and has shown signs of a dangerous stiff arm. Productive in Florida's top classification as a junior, rushing for 1,651 yards and 22 touchdowns. Draws on his background as a wide receiver as a pass catcher out of the backfield. A natural pass catcher with quickness in his routes. Among the better pass-catching running backs in the 2023 cycle."
27. WR Brandon Inniss — Ohio State signee
School: Miami Gardens (Fla.) American Heritage
Consensus Rating: 97.12
Previous Ranking: No. 28 (+1)
On3 NIL Valuation: $320K
Scouting Summary: "Brandon Inniss is a developed wide receiver who has been on the national radar dating back to middle school. Emerged as a college prospect while playing on varsity as an eighth grader. Has a technically advanced skill set. Has high-level quickness both in his releases and at the top of his routes. Can break off defensive backs with his change of direction. Competitive and embraces matchups with other top prospects. A standout on the camp and 7-on-7 circuit. Tests as a good athlete in the combine setting. Not as productive as some other top receivers as a junior in part due to being forced to play quarterback for part of the season. Has a tendency to let the ball get into his body at times, but has shown more high-point ability as a junior. Fights for yardage after the catch. Has the look of a high-floor prospect who should be set up to contribute early in his college career."
28. WR Makai Lemon — USC enrollee
School: Los Alamitos (Calif.)
Consensus Rating: 97.05
Previous Ranking: No. 25
On3 NIL Valuation: $359K
Scouting Summary: "Makai Lemon is arguably the top two-way high school football player on the West Coast. Stars as a receiver and defensive back. Savvy with advanced ball tracking skills. Does not test as a top athlete, but shows play speed that belies what he does in the combine setting. Smooth mover with the ability to create separation with route-running and acceleration. Totaled over 1,000 receiving yards in addition to four interceptions as a junior. Consistently produces and performs well against top talent. Likely projects as a slot receiver long-term. Does not have a separating physical trait when it comes to size, length or speed/athleticism."
29. DL Peter Woods — Clemson enrollee
School: Alabaster (Ala.) Thompson
Consensus Rating: 97.03
Previous Ranking: No. 26
On3 NIL Valuation: $269K
Scouting Summary: "Peter Woods is a compact defensive lineman who creates disruption with first-step quickness and speed in pursuit. Smaller than most of his fellow top defensive line prospects at around 6-foot-2, 280 pounds. Highly productive and disruptive while starring for one of the more talented high school teams in the Southeast. Lines up inside and at end for Thompson High. Has some of the best play speed we've seen from a defensive lineman nationally. Runs like a linebacker in pursuit. Makes plays behind the line of scrimmage at a high clip. Elevated his play as a junior. Likely projects as a three-technique long-term. Lacks prototypical length for top prospects at the position."
30. RB Rueben Owens — Texas A&M signee
School: El Campo (Texas) 
Consensus Rating: 96.97
Previous Ranking: No. 33 (+3)
On3 NIL Valuation: $242K
Scouting Summary: "Rueben Owens is the most productive rusher in the 2023 cycle. Dominates mid-level competition, rushing for nearly 3,000 yards and 46 touchdowns as a junior. Extremely efficient, rushing for over 12 yards per carry. Pairs very good long-speed with vision and contact balance. Has run sub-11.0 second marks in the 100 meters and carries that speed over to the field. Regularly pulls away from the competition. Bounces off tackles at the second level. Spins out of arm tackles. Does not give up on runs. Has also shown advanced ball skills as a pass catcher in the 7-on-7 setting. Does not appear to have a big frame at 5-foot-11 and under 200 pounds. Will need to add mass to his lower body to optimize leg drive and durability. Can improve his lateral agility as he gears down to cut at times. Older for the class, turning 19 years old in the middle of his senior season."
31. DL Matayo Uiagalelei — Oregon signee
School: Bellflower (Calif.) St. John Bosco
Consensus Rating: 96.87
Previous Ranking: No. 29
On3 NIL Valuation: $230K
Scouting Summary: "Matayo Uiagalelei is a a big jumbo athlete who doubles as a tight end and defensive end for one of the nation's top high school programs. Has unique movement skills and speed at 6-foot-5 and over 260 pounds. Is able to run with linebackers and some defensive backs at his size. Has shown some improvement as a pass catcher over the course of 2021. Likely has a higher long-term upside as a defensive lineman or even offensive tackle rather than tight end. Can continue to increase his physicality on a snap-to-snap basis."
32. RB Justice Haynes — Alabama enrollee
School: Roswell (Ga.) Buford
Consensus Rating: 96.83
Previous Ranking: No. 31
On3 NIL Valuation: $337K
Scouting Summary: "Justice Haynes is a well-rounded, highly productive running back with few holes in his game. Has a developed, muscled frame at around 5-foot-11, 195 pounds. One of the more productive rushers in the 2023 cycle. Rushed for 2,375 yards and 29 touchdowns at 8.8 yards per carry as a junior. Has amassed over 5,800 yards and 72 rushing touchdowns through the first three years of his high school career. Has a strong base. Runs with high-level contact balance, regularly running through arm tackles and bouncing off defenders at the second level. Shows good vision as a runner, making decisive reads and cuts at the line of scrimmage. Burst and top-end speed (electronically-timed 4.66 second 40-yard dash as a sophomore) are above average but not elite. Catches the ball well out of the backfield as a receiver. A rock solid running back prospect with a high floor. Has a NFL pedigree with his father playing in the league after a career as a running back at Georgia."