The biggest risers in latest 2022 On300 rankings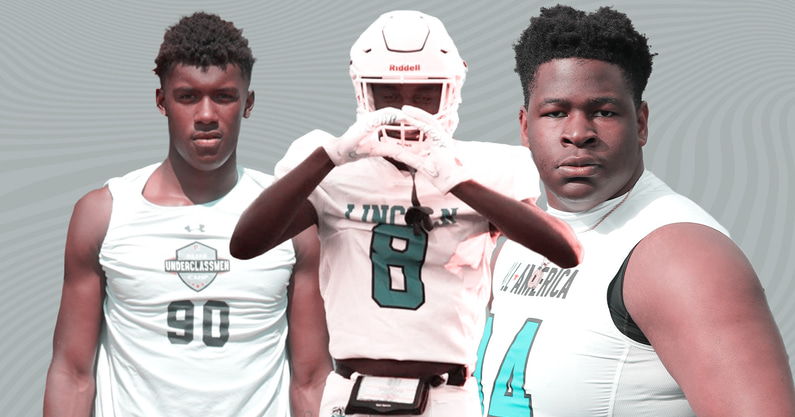 We're about halfway through the high school football season in most parts of the country. On3's team of analysts have been watching games all over the country in-person and on film. Those evaluations lead to the updated On300 rankings for the 2022 class.
As with every ranking, there are several prospects that have ascended in the On300, including six prospects committed to six different schools and four of the top uncommitted prospects in the class. Here's a look at the big movers in the On300.
OT Elijah Pritchett
School: Columbus (Ga.) Carver
On300 Ranking: No. 43
The 6-foot-6, 280-pound athletic and long-armed tackle makes a major move in the updated ranking. Pritchett rises to 43 from 127 overall with senior tape that displays quick feet, excellent ankle flexion, a jolt on contact, and the ability to work the second level. And Pritchett does so with a terrific frame for development. Pritchett made an official visit to Georgia on Sept. 17. That visit followed June officials to Florida State, USC and Alabama. The Crimson Tide have been trending in this recruitment since July, but the home-state Bulldogs won't go quietly. 
TE Amari Niblack – Alabama commit
School: Saint Petersburg (Fla.) Lakewood
On300 Ranking: No. 49
Niblack, an Alabama commit, made a big leap from No. 121 to 49 after impressive senior video. The 6-foot-4, 220-pounder plays receiver but will transition to tight end at the next level. He's a fast starter for his size, possesses long arms and big hands, and makes multiple receptions with arms extended. He's sneaky quick turning up the field after the catch and answers the call physically. Niblack has recorded 16 receptions for 239 yards in four games. 
EDGE Joshua Josephs
School: Kennesaw (Ga.) North Cobb
On300 Ranking: No. 73
Josephs makes the leap from No. 148 to 73 after flashing off the end in big games this season. At 6-foot-3, 215-220-pounds, the four-star features 36-inch arms and a 4.7-second time in the 40-yard dash. And he plays quick, fast and physical. He made June officials to Michigan and Penn State with the Wolverines gaining summer traction. Tennessee is also making a strong push. 
DL Isaiah Hastings
School: Clearwater (Fla.) Academy International
On300 Ranking: No. 75
The senior video pops for the 6-foot-4, 290-pound defensive lineman. The Canadian makes a huge move from No. 250 to 75 after the practice and camps film carried over to the field this season. That big-time film resulted in September offers from Georgia and Alabama. The Florida Gators have had Hastings on campus twice this month, and an official visit is set up for Oregon on Oct. 16. His recruitment could go a number of different directions. 
CB Jahlil Florence – Oregon commit
School: San Diego (Calif.) Lincoln
On300 Ranking: No. 76
Florence, a recent Oregon verbal commitment, makes the big leap from No. 158 to 76 after some terrific senior performances. He's locked down DeAndre Moore in a showcase game early in the season. The 6-foot-1, 180-pounder's track speed of 10.77 in the 100 meters carries over to the field with explosive movement skills. He made a June official visit to Michigan before deciding on the Ducks. 
WR Luther Burden 
School: East St. Louis (Ill.) High
On300 Ranking: No. 90
We make the big move of 114 spots on Burden after being too low on him the first go-round. The 6-foot-2, 195-pounder plays faster than he tests and is a quick reactor after the catch. He has displayed strong hands this season with a great showing vs. St. John Bosco. The one-time Oklahoma verbal has Missouri fighting to keep him close to home. The competition includes Georgia and Ole Miss. 
TE Ryan Otton – Washington commit 
School: Olympia (Wa.) Tumwater
On300 Ranking: No. 109
Otton, a Washington commit, moves over 100 spots from No. 242 to 109. The two-way standout at tight and defensive end has a coach's dream size and frame. He's a ball-winner at the catch point but also doubles as a strong blocker. This was a huge recruiting win in-state for the Huskies after Otton made June officials to Stanford and Oregon State. 
IOL Austin Kawecki – Oklahoma State commit
School: Frisco (Texas) Lebanon
On300 Ranking: No. 162
Oklahoma State has a very well evaluated 2022 class, and one of those is the 6-foot-4, 265-pound Kawecki. He made a big move from No. 269 to 162 in our latest update with strong senior tape. He's athletic in a three-point stance with impressive ankle flex and is tremendous as a down blocker. Kawecki is expected to transition to the interior offensive line at the next level. 
EDGE Michael Ibukun-Okeyode – SMU commit
School: Garland (Texas) Rowlett
On300 Ranking: No. 165
Ibukun-Okeyode, an SMU verbal, makes the move from No. 285 to 165 with some terrific senior performances. Already blessed with a terrific frame, the light has seemingly come on this season for the DFW defender. He's taken his physicality at the point of attack up a couple of notches and flashed the ability to turn and pursue the ball. He committed to SMU July 1 after making June officials to Arizona State, Oklahoma State, Kansas State and the Mustangs. 
IOL Tegra Tshabola – Ohio State commit
School: West Chester (Ohio) Lakota West
On300 Ranking: No. 167
Tshabola, an Ohio State commit, is our final big mover. The 6-foot-5, 340-pound athletic mauler goes from No. 298 to 167. Tshabola displays excellent initial movement skills and body quickness for his size. That combination combined with long arms and strong hands elevates him to one of the top IOL prospects in the class. The June official visit to Ohio State is the lone trip made for the long time Buckeyes commit.