The mystery of Bronny James' college recruitment: Duke, UK interested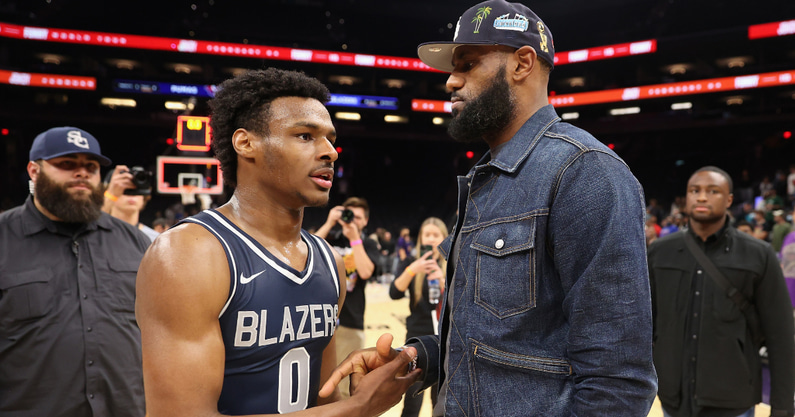 LeBron James Jr., better known as Bronny, is the most famous high school basketball player who's ever lived. He's also likely the most scrutinized, but how could you not, being the son of LeBron James? Bronny was born into stardom, but much of his life remains private. In fact, until he appeared on social media just over two and a half years ago, the world did not know much about him, other than the fact he was LeBron's son. When Bronny joined Instagram in May of 2019, his pops was the first to promote his page and the basketball world went into a frenzy. Within the first 24 hours, Bronny gained over a million followers.
Fast-forwarding to the end of 2021, Bronny sits at a whopping 6.1 million followers while only having to make a total of 14 posts since joining. With all the unwarranted attention, you can't blame Bronny for living a private life or at least attempt to. With that being said, his college recruitment also largely remains a mystery.
Bronny doesn't do interviews (trust me, I tried). He doesn't speak to the media and I haven't even seen a single quote from him. He hasn't taken any known college visits, besides to Duke in middle school with his AAU team. Besides reported offers from HBCU programs North Carolina A&T and North Carolina Central, we truly do not know who has offered him scholarships. This is largely due to the fact that his camp has kept everything air-tight and sealed off from the rest of mankind. But you can't blame them though. The amount of attention Bronny receives is already overwhelming, especially for a 17-year-old high school student, or frankly any human, so why create even more?
Back in 2016, ESPN reported that Bronny held "standing scholarships" from both Kentucky and Duke. Mind you, Bronny was 11-years-old at the time. On3 did some digging on Tuesday to see if this original report still rang true. In short, it did not. The Blue Devils of Duke and the Wildcats of Kentucky have not offered Bronny a scholarship. But they are both in fact interested in the young, talented prospect.
For the last few years, it's been pretty much radio silence regarding Bronny's recruitment and if you heard or read anything, it was purely speculation. Finally, about two weeks ago we got a sliver of information regarding Bronny's recruitment. It came from 247Sports' recruiting analyst Eric Bossi. He reported that Bronny was interested in the following schools: Duke, Ohio State, Texas, and Tennessee.
Naturally, this stirred the question – do they reciprocate that same interest?
Well, for starters, we already know Duke is interested, but it still remains in the air whether or not coach-in-waiting Jon Scheyer will indeed offer Bronny a scholarship. It's important to note that LeBron Sr. was quoted in 2016 saying: "I hope Coach K is still at the helm when my boy arrives." Yes, we know the 2021-22 season, will be Krzyzewski's last, meaning Bronny will still be in high school by the time Coach K retires. But, surely the same interest in Duke remains. Additionally, Krzyzewski coached LeBron on Team USA.
Now on to THE Ohio State. If you follow LeBron's career even remotely closely, then you know he grew up in Akron, Ohio. Once James made it to the league, he publicly stated that if he would've chosen the college route, he would've attended Ohio State. LeBron is still a known supporter of the Buckeyes even today, so it's no surprise that Bronny is interested in them. However, On3 also confirmed on Tuesday that the Buckeyes have also not offered Bronny a scholarship, but that's not to say they won't recruit the young James in the future.
Now for Texas and Tennessee. Some college fans might raise an eyebrow and ask the question: "why?" Well yes, they aren't Duke or Kentucky, nor do they have the connection that Ohio State holds, but they are both respectable programs, that produce NBA talent and win basketball games.
The interest level from the Longhorns and the Volunteers is not currently known at this time.
One high-major college coach from a top-25 program spoke to On3 on Tuesday and said an attempt was made to reach out to Bronny and his party but was turned away. Why, you ask? Beats me.
Another high-major college coach from another top-25 program said the situation involving Bronny's recruitment is "very complicated". Yeah, no kidding.