The On3 Awards: Flyin' to the Hoop Top Gun Showcase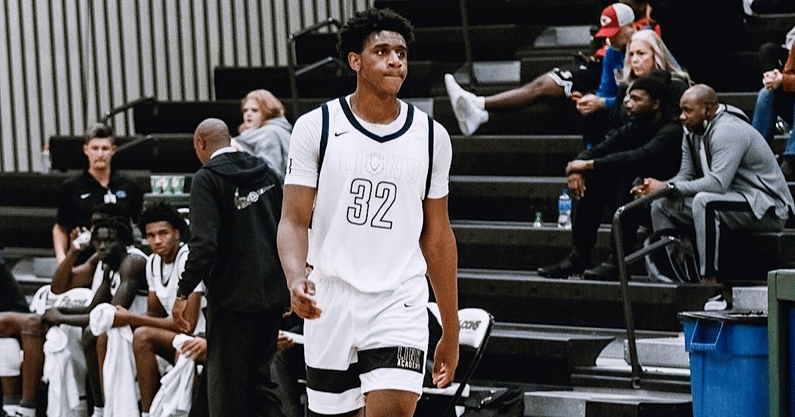 Dayton, Ohio – The leadership at Flying to the Hoop brought in six of the best teams in the country for a two-day showcase event. On3 was on hand to bring you the On3 Awards for the event.
Coach watch
Coaches from the following D-I programs were seen in attendance: BYU, Ole Miss, Morehead State, California, Iona, Washington State, West Virginia, Northern Kentucky, Bradley, Ohio State, Duquesne, Cincinnati, and Oregon.
Most Valuable Player
6-10 C Tarris Reed
The Branson (MO) Link Academy post was a man amongst men all weekend. Reed showcased a blend of soft hands, brute strength, and skills to produce in both outings. Reed is an excellent area rebounder and a massive presence, with go-to moves and counters on the block. The On3 Consensus No. 34 player was the best player on the floor for the Link Academy vs. AZ Compass game, and he followed that up with a 26 point and 11 rebound performance against Huntington Prep. His play made him an easy decision for the On3 awards most valuable player.
Status: Reed has signed with Michigan
Most Outstanding Player
6-4 SG Jared Frey
Let's start by saying Jared Frey was nothing short of spectacular all weekend. He provided an array of 30-plus foot jump shots while mixing in some paint touches and pocket passes. The Willoughby (OH) ISA Academy guard exploded for 35 points on night one and followed that up with a 25 point and seven three-pointer showing on day two. With college programs wanting to get more shooting, Frey, one of the best in-game shooters in the country, should see a significant recruiting bump in his recruitment.
Status: Claimed offers from Miami (OH), Toledo, Ohio
Defensive Player of the Event
6-7 F Yann Farell
This event was very telling for Farell, who gave onlookers a taste of what he could look like in college. Always a plus defender, Farell guarded multiple positions, switching up and down a lineup in single possessions. He defended the opposition's best wing/forward in both games, making things challenging. Offensively he knocked down shots, both catch and shoot threes and off the dribble pull-ups. Farell's recruitment stagnated after not playing last season due to COVID. He had a good EYBL with PSA and an excellent season with Erie (PA) Keystone Prep which should put the On3 No. 135 prospect firmly at the top of recruiting boards as he makes college decisions. 
Status: Claimed offers from St. John's, Penn State, Kent State, etc.
The On3 awards Top Underclassman
6-8 SF Jason Asemota
There is a world of natural talent here; blessed with an excellent frame, lengthy with broad shoulders, Asemota is a noted sharp-shooter. What he showed in this event were overall scoring chops. Only a sophomore at Phoenix (AZ) Hillcrest Prep, Asemota scored 22 and 18 points in his two games. There is clear, high-level ability here, and it will be all about tightening and honing from here on out.
Status: Oregon, Kansas, Ohio State, Ole Miss, etc.
1st Team
6-8 SF Mike Sharavjamts, 2022 On3 No. 50
Willoughby (OH) ISA Academy
Status: Signed with Dayton
6-2 PG Kylan Boswell, 2023 On3 Consensus No. 12
Chandler (AZ) AZ Compass
Status: Committed to Arizona
6-3 CG Amaree Abrahm, 2022 On3 Consensus No. 76
Los Angeles (Calif.) So Cal Academy
Status: Committed to Ole Miss
6-4 SF Kaden Cooper 
Atlanta (GA) The Skills Factory
Status: Claims offers from Oklahoma State, Oral Roberts, DePaul, Elon, etc.
6-7 SF Jordan Walsh, 2022 On3 Consensus No. 12
Branson (MO) Link Academy
Status: Signed with Arkansas