The On3 Awards: Geico High School Basketball Nationals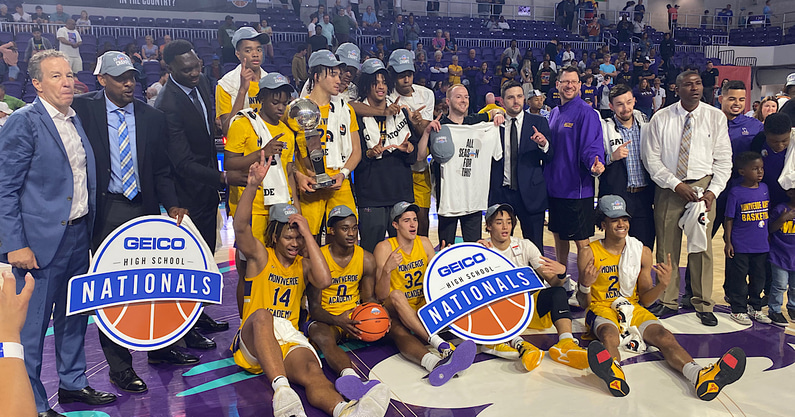 Fort Myers, Florida – The 13th Annual Geico High School Basketball Nationals took place this week and Montverde (FL) Academy walked away as the repeat champions, defeating Branson (MO) Link Academy 60-49. Montverde head coach Kevin Boyle won his sixth championship in this event.
On3 was courtside for the entire event and here are the awards as we saw things play out.
Most Valuable Player
6-8 PF Malik Reneau
While he may lack the size of some others, the hard-hat approach Malik Reneau brings is steady. You know what you will get from him, and while he may not be above the rim, drilling deep threes or saucing up his man off the bounce, Reneau produces. Reneau had a typical showing in the championship game with 14 points on 5 of 10 from the field. He added 12 rebounds, six of which were offensive. Reneau recently de-committed from Florida when head coach Mike White took the same job at Georgia. Miami is the school that has been most commonly linked with Reneau.
Most Outstanding Player
6-6 SF Tre White
There may have not been a more impressive player at this event than Tre White. The 6-foot-6 wing did everything to give his Napa (Calif.) Prolific Prep team a chance. He averaged 21 points in his team's two games, including seven made threes. However, it was the defense he played during their upset of No. 1 ranked Sunrise Christian, more specifically holding five-star Gradey Dick to a 1 of 10 shooting night. White's grit and competitiveness shined through. It should be fun seeing what Andy Enfield does with White at Southern Cal.
Defensive Player
6-8 PF Jarace Walker
Jarace Walker could have taken any number of spots for his play in this event. However, it was his defense that stood above the rest. Walker finished with 5.5 blocks and2.5 steals per game in his two outings. Walker was great as a creator, and he showcased floor-vision as an initiator. Still, his ability to erase mistakes throughout the Geico Nationals on the defensive end was impressive for the future Houston Cougar.
Best in (under)class
6-0 CG Dravyn Gibbs-Lawhorn
While there were a lot of heavy-hitting underclassmen throughout this event, it was Dravyn Gibbs-Lawhorn who gave the most consistent performances. The 2023 Purdue commitment is an explosive guard. He came into these games with the mentality to score. He played efficiently and very effectively. Gibbs-Lawhorn is the No. 48 ranked player in the 2023 On3 Consensus.
First Team
6-2 G Judah Mintz
Judah Mintz only played in one game while at the Geico Nationals, but it was a memorable performance. Mintz finished with 21 points and seven assists on 6 of 10 shooting from the field. He then went on ESPN and committed to Syracuse. The 2022 On3 Consensus No. 50 overall player put a ton of pressure on the defense with his ability to touch the paint seemingly every possession. His decision-making was improved in this one, and he played with the typical fire Mouth of Wilson (VA) Oak Hill fans have come to know this season.
6-7 F Jordan Walsh
The motor always runs hot, so Jordan Walsh finds a way to produce even when the skill stuff is not going his way. He is an excellent offensive rebounder and is a tough defender in the passing lanes. On the break, he is decisive and goes north to south quickly. In the half-court, Walsh is a good off-ball cutter. You can poke holes into parts of his game, but the totality of his production speaks volumes for the Arkansas signee.
6-8 SF Julian Phillips
Julian Phillips continues to improve each time out. As his game continues to round out, he continues to produce big scoring totals. In the championship game, Phillips led the way for Link with 16 points and eight rebounds, going 2 of 3 from beyond the arc. Phillips recently de-committed from LSU when they parted ways with Will Wade. Now that the regular season is winding down, things should start to heat up with his recruitment. Auburn, Florida State, and Tennessee are the three schools linked to Phillips, while the G-League remains an option.
6-3 SG Keyonte George
While it was an up and down McDonald's All-American week showing for Keyonte George, he bounced back in a big way at Geico Nationals. George finished with 22 points in the opening round win against La Porte (IN) LaLumiere and followed that up with a 21 point performance against eventual champion Montverde (FL) Academy. George scored in an efficient manner going 15 of 26 on the weekend. When he is at his best, George plays with a lot of fire. How he continues to progress at Baylor will be worth watching.
6-9 PF Mark Mitchell
While it was not the optimal outcome for Mark Mitchell and his Bel Aire (KS) Sunrise Christian team, but his performance at Geico Nationals was excellent. He was able to show what his role could be at Duke. Mitchell is a lengthy forward prospect, he is a switchable defender and shows his ability to handle and create opportunities in the half-court. The On3 Consensus No. 22 player in 2022 finished his lone game with 15 points and eight rebounds while going 7 of 12 from the field.