The TCU Horned Frogs continue their magical season under first-year head coach Sonny Dykes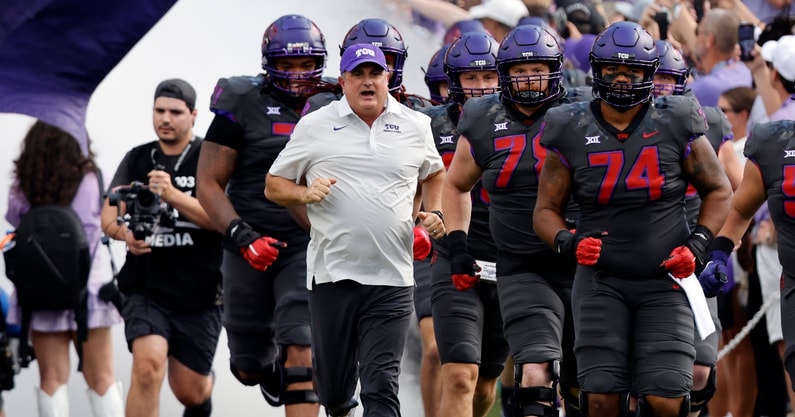 Another week, and another comeback victory for TCU, and after the Horned Frogs remained undefeated and a College Football Playoff contender, first-year head coach Sonny Dykes had to admit there's something magical happening in Forth-Worth this season. 
"The Hypnotoad is powerful stuff," Dykes said after TCU rallied to beat Texas Tech 34-24 on Saturday. 
TCU is 9-0 and rolling toward a conference championship appearance, but there's no doubt that as impressive as the Horned Frogs' season has been thus far, they've benefited from some opposing quarterback luck. Perhaps some of that Hypnotoad which-craft is coming from whatever Big 12 QB-voodoo doll Dykes has in his office. 
TCU knocked out Dillion Gabriel in its blowout over Oklahoma, but then they faced backups or banged up starters against Kansas, Oklahoma State, Kansas State and West Virginia.
On Saturday, TCU trailed Texas Tech 17-13 in the third quarter when Red Raiders' starter Behren Morton went down with an injury. 
Like white smoke from the Vatican, that was the sign TCU needed to ignite its comeback, going on a 21-0 run before a late Texas Tech touchdown. 
The Horned Frogs have an elite offense, but it was stifled when star wideout Quentin Johnson when down on the team's first drive with an ankle injury Saturday. TCU's QB-WR-RB triumvirate in Max Duggan, Quentin Johnson and Kendre Miller lead one of just two offenses in the country to average 300 yards passing and 200 yards rushing each week. They average over 44 points per game. 
But without their glue-guy, the Horned Frogs couldn't really find any rhythm until the fourth quarter. They didn't score their first offensive touchdown until the final period, relaying on some strong special teams (ANOTHER punt return touchdown by Derius Davis and two field goals) to stay in the game. 
Duggan finished with just 195 yards passing on 23 attempts, with both his touchdowns coming in the fourth quarter. Miller led the way for TCU, rushing for 158 yards on 21 carries. 
After taking a 20-17, TCU was able to create some space when Texas Tech head coach Joey McGuire opted to go for it on fourth-down deep in his own territory. Play-by-play analyst Gus Johnson then went on a weird — "Analytics, throw them in the garbage — rant, but whether math played a decision in McGuire's choice or not, like they've done all season, TCU took advantage of its opportunity.
"Our deal is let's just try to figure out a way to win a game and then at the end of the year, we'll sit down and see what we have to do," Dykes said. 
"I think the way we've tried to approach this has served us well."
TCU was ranked No. 7 in the initial College Football Playoff rankings on Tuesday, which angered some considering the Horned Frogs were the only team in America to go 5-0 in the month of October.
The playoff committee said it wanted to see more "balance" from TCU, and they got that Saturday, as the Horned Frogs' special teams and defense gave their offense enough time to finally find its footing to remain undefeated. 
The Horned Frogs benefited *some* by playing more than a quarter against a backup QB, but TCU also held Texas Tech to just 350 total yards, 3 of 16 on third downs and forced the game's only turnover. Led by Dee Winters, who was ejected for targeting in the third quarter, and Johnny Hodges, they pressured TTU all day, recording four sacks and nine tackles for loss. 
TCU "writing a different story"
Every week, TCU has answered the call. They've won in every way possible. Blowouts. Shootouts. Comebacks. More tests await, with road games at Texas and Baylor the next two weeks. 
Booey to style points. They just need to keep winning.
In recent years, Sonny Dykes' teams have a history of starting fast, but then fading late. 
In 2019, SMU raced out to a 8-0 start. In 2021, the Mustangs were 7-0. In both seasons, Dykes' teams ran out of gas in November, going just 3-5.
A couple weeks ago, he promised these Horned Frogs are "a different team.
"It doesn't matter what happened in the past here or where I've been," he said. We're going to write a different story."
Well, a week into November, Dykes is right. 
He's 9-0 in a single-season for the first time in his career. TCU is 9-0 for the first time since 2010 — when it was a member of the Mountain West Conference. The program's turnaround in one season under Dykes has been remarkable. This is a team that went 3-7 a year ago, and outside a spirited upset over Baylor, mostly looked disinterested in Gary Patterson's final season in Fort-Worth.
The Horned Frogs have their flaws. They've had some luck. But confidence, which continues to build each week, is a helluva ingredient for a football team. And at the end of 60 minutes (or more), TCU has come out on top every Saturday.
"We feel like if we get the ball in the second half, with a chance to win, we're going to figure out how to do it. I thought it was the same story today," Dykes said. 
Sure was. Must be the all that powerful Hypnotoad stuff.