The top five transfers in the PAC 12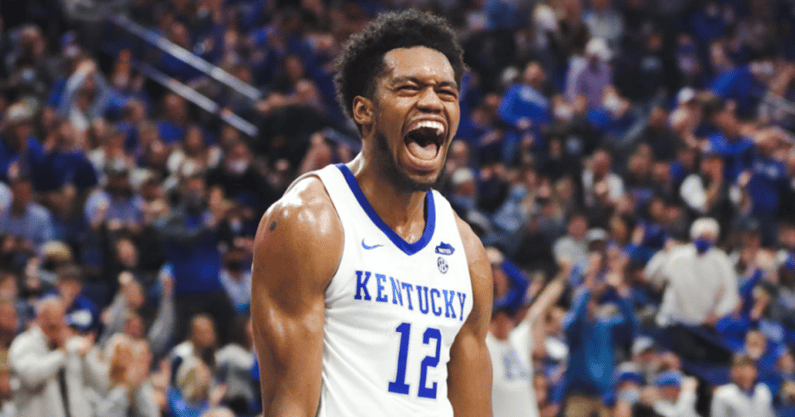 The transfer portal has become such a hot-button topic, especially over the last 12 months. Here we are with the college basketball season starting in a couple of weeks. Teams can be transformed in one offseason by adding talented players with college experience who are looking for a fresh start.
The PAC 12 alone had at least 25 players transfer into its 12 teams within the conference this offseason. Some players were added to be focal points, and some were added as pieces of a bigger picture. Interestingly enough, the only two teams in the PAC 12 not to bring in any transfers were UCLA and Southern California.
Read the top five transfers in the Big 12
Some players, like Justin Powell and Devin Askew, are looking for new scenery to kick-start their careers. And some fifth-year players, like Michael Jones and Ethan Wright, are looking to keep their careers going because their previous programs do not offer graduate programs. Everyone's path is different.
Read the top five transfers in the Big East
In 2020, Jeff Goodman of Stadium Sports wrote an article with research suggesting that players who transferred up in level (D-II to D-I, mid-major to high-major, etc.) would, on average, have their statistics cut in half. It should be noted this article was written while the transfer portal was on the rise but prior to the one-time transfer rule when the portal exploded. However, that is interesting research and an article I suggest reading.
Read the top five transfers in the Big Ten
In this series, I wanted to go through each conference and look at the transfers. I plan to list the top five transfers from each conference in alphabetical order and then others to watch. The purpose of this is to spark conversation.
Read the top five transfers in the ACC
Next up is the Big 12, and I can't wait to hear your comments.
Top five transfers
Keion Brooks (Kentucky) Washington
Height/Weight: 6-7/210
Class: Senior
2021-22 stats: 10.8 points, 4.4 rebounds, 49.0% FG
Keion Brooks is a former four-star recruit who started 42 career games in his three seasons at Kentucky. Brooks is an efficient forward who maximizes his minutes on the floor. Last season, the 6-foot-7 tweener forward finished top 20 in the SEC in both player efficiency rating (18.9) and offensive rating (113.7). Brooks is looking for a new start; he is the only player on this Washington roster to average ten or more points per game in college last season. While expectations are not enormous, there are some in place for a stat-stuffing season.
Desmond Cambridge (Nevada) Arizona State
Height/Weight: 6-5/180
Class: Senior
2021-22 stats: 16.2 points, 5.1 rebounds, 1.7 steals, 37% 3P
Desmond Cambridge brings an experienced win who has scored 1,849 career points and knocked down 300 career threes. Cambridge has the positional size, and he can be a ball hawk on defense; he finished top five in the MWC last season in steals (1.7) and blocked shots (1.1). On a team that will bring in four new starters, Cambridge has D-I experience as a go-to scorer.
Jermaine Couisnard (South Carolina) Oregon
Height/Weight: 6-4/215
Class: Senior
2021-22 stats: 12.0 points, 2.5 rebounds, 3.2 assists, 1.1 steals
Jermaine Couisnard has experience playing on and off the ball in a power six program. During his first two seasons at South Carolina, Couisnard was a combo or scoring guard, and last season then, coach Frank Martin moved him on the ball. That should slot nicely beside returning guard Will Richardson. The former SEC All-Freshman has knocked down 102 career threes. Couisnard finished top ten in the SEC last season in assist percentage and third in usage rate.
Justin Powell (Tennessee) Washington State
Height/Weight: 6-6/210
Class: Junior
2021-22 stats: 3.7 points, 1.5 rebounds, 38.0% 3P
During his freshman season at Auburn, Justin Powell averaged 11.7 points, 6.1 rebounds, and 4.7 assists. He was asked primarily to play the point guard as Sharife Cooper served a suspension. Powell also shot 44.0 percent from three that freshman year. The guard transferred to Tennessee last year and never could find his footing. Powell moves into a situation with few expectations outside of their own program and some nice pieces in place. Washington State made a nice run in the NIT last season. Powell will need to be good for them to build on that success.
Courtney Ramey (Texas) Arizona
Height/Weight: 6-3/185
Class: Senior
2021-22 stats: 9.4 points, 3.5 assists, 1.0 steals, 35% 3P
Courtney Ramey comes to Arizona with a reputation for toughness. He should immediately enhance the point-of-attack defense while providing some experience beside returning point guard Kerr Kriisa. Ramey is a career 37 percent three-point shooter, which should help with the spacing. In the eternal quest for college programs to get old and stay old, Ramey is a fifth-year senior who has been through some meaningful moments.
Others to Know
Devin Askew (Texas) California
Keeshawn Barthalemey (Colorado) Oregon
Devan Cambridge (Nevada) Arizona State
Ben Carlson (Wisconsin) Utah
Frankie Collins (Michigan) Arizona State
Michael Jones (Davidson) Stanford
Franck Kepnang (Oregon) Washington
Christian Wright (Georgia) Oregon State
Ethan Wright (Princeton) Colorado
Warren Washington (Nevada) Arizona State