This Georgia defensive draft class might be the last of a certain type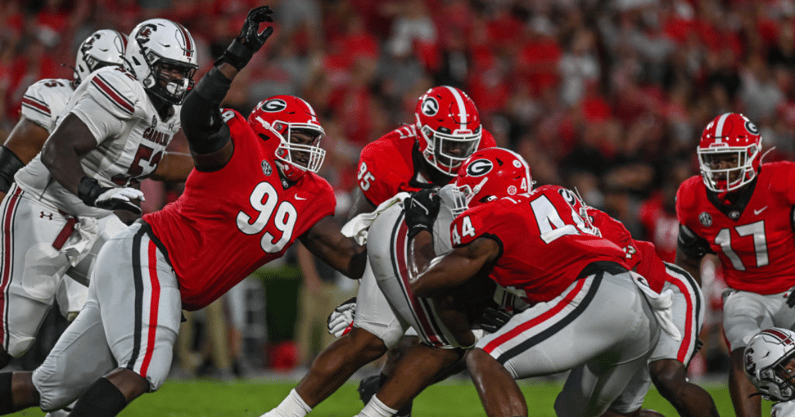 ATHENS, Ga. – It's rare enough that Georgia will have as many as seven defensive players go in the first two rounds of the 2022 NFL Draft. You have to scour the draft logs closely to find another unit as talented.
There's the Alabama offense in the 2021 draft (six of the first 37 picks, five in the first round).
There's the Oklahoma defense in the 1984 draft (five of the first 36 picks, another two in the first and second rounds of the supplemental draft).
Take a good, long look at Bulldogs who will parade across your screen on Thursday and Friday night. They are linemen Travon Walker, Jordan Davis and Devonte Wyatt, linebackers Nakobe Dean, Quay Walker and Channing Tindall, and safety Lewis Cine. They may be the last group of homegrown, one-school-no-portal stars who develop as a unit. Only Wyatt attended a junior college. The others came in as raw freshmen.
As spring practice closes, and self-declared refugees flock to the portal gates, as college football careens toward an uncertain future with, to coin a phrase, all gas and no brakes, the 2022 draft class of Georgia Dawgs may be the last we see of a homegrown crop of stars.
That's not necessarily a bad thing. The sport has weathered big changes before. In the 1950s, the old guard of coaches proclaimed that two-platoon football wasn't football at all, that a real football player had to know how to block and tackle, not block or tackle. But the old guard died, the new generation of coaches liked having separate players on offense and defense, and the sport thrived under the new rules.
"I don't want it to be portrayed as me bitching about the portal," Georgia coach Kirby Smart said, pointing out Justin Fields made his career better by going to Ohio State from Georgia. Duly noted.
"We got a kid that didn't even start this year that is going to get drafted in the second or third round," Smart said. "Channing Tindall – the third linebacker. Did he have to go somewhere else to do that? Would he have been drafted higher going somewhere else? I argue no. I argue he became who he became because he went against two guys (Dean and Quay Walker) who are really good every day."
It is a conversation that coaches have been having with frustrated young players for decades. The player who has reached the end of his freshman and/or sophomore years and hasn't won a Heisman yet. Hasn't been cheered by fans yet. Hasn't started a game yet.
"What is the greater goal?" Smart asked. "Is it the endgame of where I go? Or do they think, 'I have to play to make it?' You got to get better. What gets you better?"
A player has to be mature enough to decide between the discomfort of working toward an opportunity to play and the allure of a better opportunity somewhere else.
"What you're doing," Smart said, "is you explain, 'You will have the same opportunity to play in the NFL being here going against the best every day in practice. You're still going to get an opportunity to show the NFL. You don't necessarily have to do it on a Saturday at 2 p.m. at a smaller school or a different school.' "
Sticking it out at Georgia paid off for Quay Walker
Smart said Quay Walker came to him during his second year and wanted to leave. Walker played in 27 of 28 games those first two seasons. But he didn't start a single one.
"Came to see me, wasn't playing in his second year, frustrated as hell because he had this glorification coming in," Smart said. "He was an unbelievable prospect. He couldn't overcome those expectations. Once he did, he started his junior year. Started his senior year. Look at what he's done, and he would have left!"
It's hard to argue against a player's dream, and the dreams of his parents, advisors, cousins and barber. Jameson Williams listened to his dream, transferred from Ohio State to Alabama, and went from sometime player to All-American. Smart's point is that having the freedom to walk out the door doesn't mean everyone should exercise it.
"What's your stick-to-it-iveness?" Smart asked. "Are you going to push through it? Have you given it everything here before you're leaving? Have you given it your all? Have you done everything you can do? A lot of them will say, 'No, I haven't given my complete effort.' Well, what makes you think that's going to change when you go somewhere else?"
That is, if you get somewhere else. The NCAA announced this week that only 59 percent of FBS players who entered the portal enrolled at another school with a scholarship.
In the end, the fans may not care. Bring the best players in the best way you can and put them in our laundry. That's what coaches are charged to do.
Still, for coaches used to developing players over a career arc, it is jarring at best.
"The question is, is it (the portal) good for the greater group?" Smart said. "Because for every one of those kids, there is a group of 200 kids that you never heard of that are just crushed. They put all their eggs in the football basket. They don't graduate. They would have been better off staying where they were and graduating where they were because they weren't going to play regardless."
Coaches argue that a player who leaves won't be able to use the alumni network that funnels players into jobs, that leaving a school often means a step back academically. Credits don't always transfer easily from one school to the next.
Players argue that they can go somewhere else and play, that they need a fresh start, that the NIL opportunities will be greater if they are playing, that how are they going to play on Sunday if they don't play on Saturday?
"This all-in, NFL mentality, all or nothing. It's really not meant to be that way," Smart said. 'It's get a good education, and if you make it to the NFL, that's an added bonus. The fun point was playing a game, playing for a school, playing for something you love. Now it's all transactional and how do I get to the NFL?"
And even at this level, Smart said, the Alabama/Georgia/Ohio State level, only a handful of players get a foothold in the NFL.
"Ten percent is an astronomical number," Smart said. "That's like crrrrrazy if you get 10 percent. I don't know what the top schools say their percentage is, but it's still a lot more that are not than are. And what are we doing for those guys?
"I think the old world, they realized that and they focused on their education. The current world, when they realize that, they go somewhere else. And there's not a realization until they get to the other place and they say, 'It might be important that I get this education.' "
Take a good look at those Georgia defenders. We may never see a class like this again.