This Week in Coaching: Nick Saban might've subtweeted Nate Oats, but his message was intended for his football program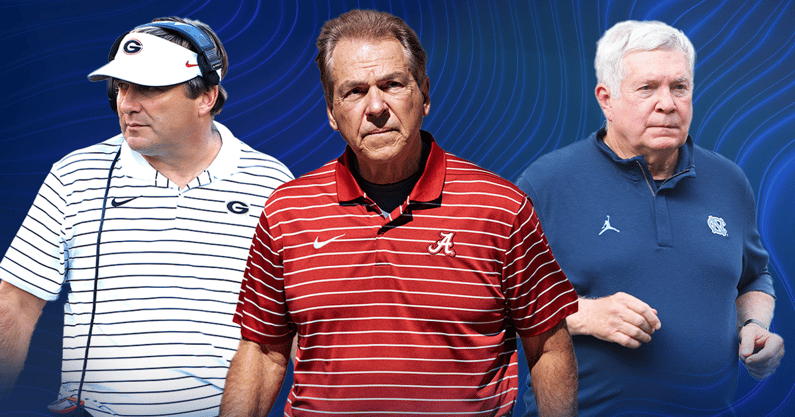 Did Nick Saban take a shot at Alabama basketball coach Nate Oats? Was college football's greatest coach sending a message to a fellow colleague and the rest of the Tide's athletics department about how to properly discipline your team?
Let's dive in.
The second Saban uttered the popular phrase of "no such thing as wrong place, wrong time" when discussing the suspension of 4-star freshman defensive back Tony Mitchell, folks immediately drew a straight line to Nate Oats' comments last month regarding Crimson Tide star Brandon Miller and his connection to the deadly shooting in Tuscaloosa in January. 
"Can't control everything anybody does outside of practice. Nobody knew that was going to happen. College kids are out, Brandon hasn't been in any type of trouble nor is he in any type of trouble in this case. Wrong spot. Wrong time," Oats said during a press conference before later releasing a statement clarifying his comments once more information was released about Miller's alleged role in the tragedy where police reports state that the future NBA Lottery pick brought the gun to teammate Darius Miles, and it was later used to kill 23-year-old female James Jonae Harris. 
Notably, Miller has not been charged and remains a witness in the case. 
As for Nick Saban, here's what he said Monday when he took to the podium and announced that Mitchell, who was recently arrested on multiple charges after attempting to evade police at 141 miles per hour and was in possession of copious amounts of marijuana and cash with a loaded handgun, would be suspended indefinitely until further information was gathered.
"Everybody's got an opportunity to make choices and decisions. There's no such thing as the wrong place at the wrong time. It is what it is, but there is cause and effect when you make choices and decisions that put you in bad situations."
Nick Saban's comments are in contrast to what Oats said. That much is obvious and absolutely true. That doesn't mean we have a John Calipari-Mark Stoops kerfuffle on our hands here, though. 
Saban was certainly sending a message. It just wasn't one directed toward Nate Oats.
Saban is on record throughout his career of using the media to send a message to his football team, once telling reporters, "You guys use me sometimes to create a little news, so I'm going to use you to create some news with our team."
So I don't believe it was a coincidence in what Saban said. With the Brandon Miller situation, what's happened at Georgia recently and now a blue-chip enrollee entangled in all sorts of issues, Saban shrewdly used the opportunity as a teaching moment for his players — that decisions have consequences. And what might be permissible elsewhere, even at the same school, won't cut it for Alabama football. 
His standards are higher.
So sure, Nate Oats was caught in the crosshairs of Saban's message. Maybe Saban was even ticked off at how the basketball program has handled Miller, but Oats & Co., still weren't the primary audience for his comments.
It was classic Saban PR 101. He used a layup opportunity to send his team a message.
His decision two days later to "clean up" any perceived burn aimed at Oats by chumming it for photos just before Alabama left for its trip to the Sweet 16 was another stroke of PR genius for a guy who only makes calculated decisions and statements. 
Saban even stated in a post-Pro Day press conference later in the week, "I don't watch basketball coaches' press conferences. I mean, how many years have I been coaching, you know? Never watched one. Never listened to what other people say. That was strictly about our program and what we do. It had nothing to do with anybody else. I don't make any comments about anybody else."
Kirby Smart fills open analyst roles with two former Power 5 coordinators 
With Mike Bobo promoted to OC and Buster Faulkner now the coordinator at Georgia Tech, Georgia had a pair of open analyst roles and Kirby Smart filled the vacancies with a pair of recently-fired offensive coordinators. 
Former Texas A&M OC Doug Dickey and Clemson OC Brandon Streeter are now on the Bulldogs' staff, giving Smart two veteran quality control analysts. 
While Nick Saban popularized the School for Wayward Coaches at Alabama, Smart has similarly targeted former well-regarded assistants who were recently fired. In the last couple of seasons, he's hired the likes of Bobo, Will Muschamp and John Jancek for off-field roles. 
Dickey, 63, spent the last four seasons working for Jimbo Fisher. He didn't call plays for the Aggies, but he has prior experience as the OC at Memphis, Texas State, SMU and elsewhere. He's considered a strong recruiter and was a former head coach at North Texas from 1998-06. 
Streeter's lone season as Clemson's OC didn't work out, but he was also the Tigers' QB coach for eight seasons and was an integral part of the recruitment and development of the likes of Deshaun Watson and Trevor Lawrence.
QUOTABLE 
"We're also talking about the NCAA Tournament. You look at how many upsets there are. When you look at the upsets, how does a certain team beat another team, and then in their next game, they get blown out? It has to be that sometimes, the guys didn't take them serious. That's just, that's what we do in our everyday life, but it's sports. That's happened to us some in our four years here."
— UNC head coach Mack Brown
North Carolina did not make the 2023 NCAA Tournament, but Tar Heels football coach Mack Brown is still using March Madness as a teaching tool for his team this fall. 
UNC made the ACC Championship Game last year, but the Tar Heels had a very topsy-turvy 2022 season — mostly playing with fire on a weekly basis before getting burned with four straight losses to end the year. 
Too often, North Carolina played down to its competition, resulting in one-score wins against the likes of App State, Georgia State, Miami and Virginia — teams with a combined record of 18-28
That laissez-faire mentality cost the Tar Heels at home against Georgia Tech, 4-6 at the time, and versus rival NC State, without its top two quarterbacks, to end the regular season. 
With star quarterback Drake Maye back, and a reshuffled secondary hoping to provide more positive results, UNC is looking to play with more consistency and edge in 2023. 
But to do that means they must "change the narrative," per Brown. To reach their goals, the Heels can no longer be the proverbial high-seed in the NCAA Tournament that gets upset because they lack focus or competitiveness. 
Brown's goal this spring is for UNC to improve its mental toughness. 
"We've got to be focused and be ready to go, and have an edge every day and every meeting, and every practice," Brown said. 
"Every walkthrough, to be able to get your mindset, that's that is the way that you're going to play every Saturday, regardless of who you play or what somebody thinks that game is going to be, you're supposed to beat this team, 21 points. It doesn't matter. Look at the Tournament. Look at the Tournament. It's who plays the best on that day. It sounds like a cliche, but it is a fact. So far, we've had four practices with full focus, from everybody."