This Week in Coaching: On Trent Dilfer at UAB, TCU's DC Joe Gillespie the coordinator of the week to watch and Kirby Smart on LSU's 5-star freshman Harold Perkins Jr.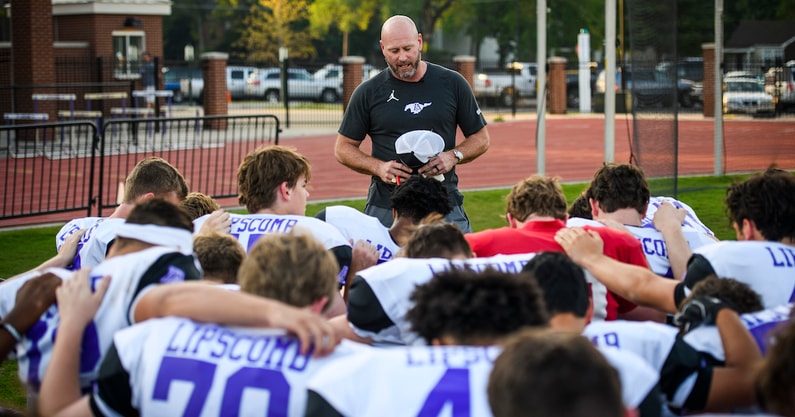 Bill Clark retired as UAB's head coach on June 24, citing back issues as the reason he was departing from a Blazers' program he literally resurrected from the grave. 
UAB athletics director Mark Ingram spent the next five months chasing big names — reportedly among the likes of former Florida coach Dan Mullen, former Va. Tech head coach Justin Fuente and former Texas coach Tom Herman, who was hired by FAU on Thursday — before ultimately picking another big name, only someone without college head coaching experience. 
Almost out of left field, ex-ESPN analyst and former Super Bowl-winning quarterback Trent Dilfer, who has spent the last four years building up a powerhouse high school program in Nashville, landed the gig in a true stunner. 
Dilfer certainly has his bonafides as a longtime NFL analyst, a successful NFL quarterback and someone who has spent the last many years leading the Elite 11 quarterback camp, but he's still a very unorthodox hire — especially for a program set to make the jump from C-USA to the new AAC next season. 
In four seasons at Lipscomb Acadamy, Dilfer was 39-8, winning back-to-back state titles. He has a number of top prospects on his team, too, including a trio of players committed to Tennessee and a quarterback verbally pledged to Liberty.
He's considered a football junkie, and also someone who is very well-connected within the industry. He's a prolific public speaker and has remained a media presence on multiple platforms, continuing to offer analysis on college and NFL star quarterbacks he tutored at Elite 11 and The Opening. 
Still, UAB is taking a big chance here. Since the program started playing football again in 2017, Clark led the Blazers to a pair of C-USA titles in 2018 and 2020. They have a brand-new stadium, and quality facilities, but they're about to face must stiffer competition in a conference with the likes of SMU, Tulane, Memphis and ECU, and they're handing their program to a coach who has zero experience dealing with recruiting, boosters, the transfer portal, NIL, etc. 
To his credit, Trent Dilfer openly addressed the challenge of making such a significant jump, comparing it to climbing "a giant mountain." 
"I was skeptical (when he first received UAB's interest)," he said.  
"Because I am a high school football coach and I'm not ashamed of that. But as I started going down this process, my visionary instinct started taking over and my excitement and enthusiasm started overwhelming me. I was like, "Oh my gosh, there's something big out there to do." I wish I was a better athlete these days, I'd be a mountain climber. I like looking up at the top of the peak and people saying there's no way to get up there and I say, "Let me show you," and that's what we're going to do here at UAB."
Dilfer admitted he has to "learn how to recruit at an elite level," and plans to hire a strong staff to help him do so. He also faces some early internal issues, as Blazers players openly pinned for interim Bryant Vincent to get the job, only for Ingram to ignore their petitions or input. 
"They're losing a man they truly, truly believe in," Trent Dilfer said. 
"Talking to those players today, you can see the pain in their eyes. They love Coach (Bryant) Vincent, they love that staff, and I said I want to honor that. I want to help them finish strong. But I also hope to earn their trust as we go through this together because great things are coming."
UAB clearly hired Dilfer because he brings the program some potential publicity, and the best avenue for this gamble to work is for Dilfer to deliver on his ability to land and develop a potential top-flight Group of 5 quarterback.
DID YOU KNOW?
If Mack Brown and the North Carolina Tar Heels upset Clemson this weekend in the ACC Championship, they'll take home the conference crown for the first time in 42 years?
It's a rematch of the 2015 ACC title game (45-37 Tigers' win) — the only other time the Tar Heels have played for the conference championship. 
Brown has two conference titles to his name at Texas (2005, 2009), last winning a league championship 13 years ago.
COORDINATOR OF THE WEEK TO WATCH
TCU and Kansas State square off in the Big-12 Championship on Saturday at high noon. 
First-year Horned Frogs defensive coordinator Joe Gillespie faces the unenviable task of devising a gameplan against a Wildcats offense that gashed his defense for a half, only to lose their first and second-string quarterback in the game allowing TCU to rally from down 18 to stay undefeated. 
After KSU's Adrian Martinez went down on the game's opening drive, TCU appeared unprepared for backup Will Howard, who doesn't pose the running threat of Martinez but is a much better passer. The Wildcats jumped out to a 28-10 lead, averaging close to 12 yards per play with Howard leading the offense. They gashed Gillespie's unit for six plays over 20 yards in the first half. 
But then Howard got hurt, threw a pick and K-State's third-string quarterback had to come in the game. The Horned Frogs immediately bowed up (allowing around 3.1 yards per play the rest of the game), their offense came to life, and that was pretty much that as TCU scored the game's next 28 points. 
Well, Gillespie, a longtime high school coach who is at his first Power 5 stop after Sonny Dykes hired him away from Tulsa, has had a full week to prepare for Will Howard at quarterback. Martinez is available as a backup option for the Wildcats, but K-State has turned to Howard, who is averaging 9.3 yards per attempt and has 11 touchdowns to just one interception in the last four games since lighting up TCU for a half. 
With a second-time facing Howard, can Gillespie's 3-3-5 stack defense frustrate K-State's quarterback to be impatient? To make errant throws into tight windows? 
The Horned Frogs are better at stopping the run than the pass, but TCU's back-eight has played much better (and more zone) the last month of the season, picking off more passes (five) and than touchdowns allowed (four) in the month of November. They yielded just 5.7 yards per attempt and a sub-54 completion percentage.  
In what's expected to be a coin-flip game, TCU's ability to get one-stop — via turnover or in the red zone (where KSU is very good at converting touchdowns) could be the difference in winning a Big 12 title and going to the College Football Playoff or seeing their dream season dashed on the final weekend before the bracket is announced. 
QUOTABLE 
"Extremely athletic. Very twitchy. … I think they do a tremendous job utilizing his skill set, edge rusher, zone coverage guy, man-to-man guy. He's a force to be reckoned with. He's very talented."
— Georgia head coach Kirby Smart on LSU's freshman linebacker Harold Perkins Jr. 
The former 5-star recruit almost single-handily beat Arkansas in late November, and Perkins also delivered notable showings against Auburn and Alabama, too. 
If the Tigers, who are 18-point underdogs against the Bulldogs in the SEC Championship Game, have any hope of pulling off a major upset Saturday afternoon they need their all-world linebacker to wreck havoc over and over again.