On3 5-Star Countdown: No. 23, TE Duce Robinson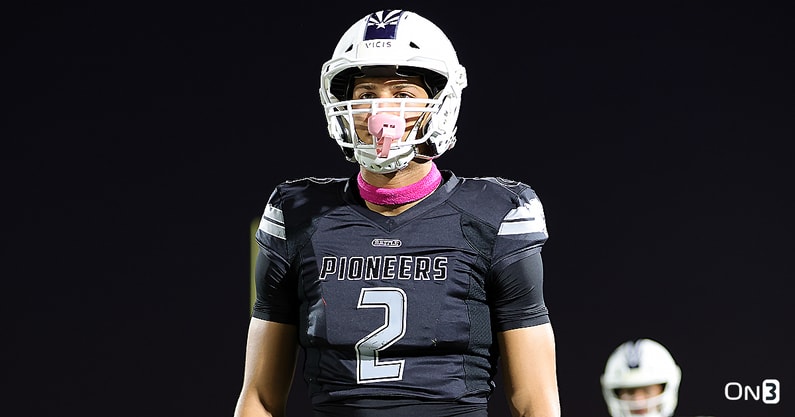 On3 has released its final recruiting ranking for the 2023 class after the completion of the high school football season and all-star competitions. Phoenix (Ariz.) Pinnacle tight end Duce Robinson ranks No. 23 overall and five-stars in the 2023 On300.
The latest edition of On3's 2023 rankings features 32 five-star players, up from 26 in the previous update in November. Of those 32 prospects, 30 are signed to college programs, with two still yet to make their decisions official.
This final update comes after the end of the high school playoffs and postseason All-American games, where top prospects across the country faced off in a week of practices and ended with nationally televised games.
Duce Robinson On3 Scouting Summary
The following is the On3 Scouting Summary for Duce Robinson:
"Jumbo athlete with a large catch radius who looks like one of the better tight end prospects over the last few recruiting cycles. Has outstanding statue and length at over 6-foot-6 and 230 pounds with a 6-foot-10 wingspan. Plays and moves like a receiver at that size. A smooth, fluid mover who showed continued improvement in top-end play speed as a junior, running away from defensive backs. Has one of the largest catch radiuses in the 2023 cycle and consistently wins in contested situations.
"Was the top pass-catcher at the Opening Finals prior to his junior season and created a considerable mismatch over the middle of the field. Turned in a very productive junior season with close to 1,000 receiving yards. Has an outstanding multi-sport profile as one of the nation's top baseball prospects and also plays basketball. Will need to continue getting stronger to aid in blocking, but has the look of an elite tight end prospect with five-star upside."
On3 compares Robinson's style of play to former Miami and NFL tight end Jimmy Graham.