TJ Finley can't win Auburn's QB job on A-Day but he can still make a statement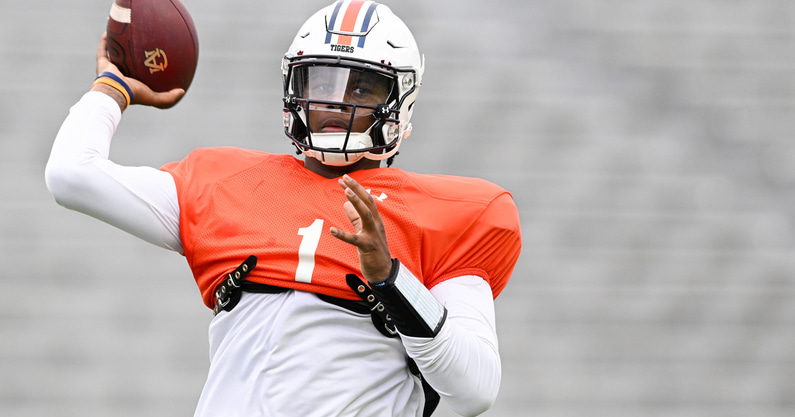 It's been a shamelessly messy offseason on The Plains, even by Auburn standards, and while the palace intrigue surrounding head coach Bryan Harsin's long-term future with the program will linger all season, the more pressing concern this spring surrounds the Tigers' ongoing quarterback competition. Bo Nix is gone. TJ Finley is back, and Zach Calzada, Robby Ashford and Holden Geriner are now part of the program.
It's up to Harsin to determine which signal-caller might cool his hot seat and return Auburn to SEC relevancy in 2022. No one will the job during Saturday's annual A-Day spring game at Jordan-Hare Stadium, but one quarterback has the potential opportunity to seize a true leg-up in the competition.
Can TJ Finley take advantage of Calzada being sidelined?
Despite a chaotic offseason, the Tigers have reportedly had a calm and solid spring camp. Their overall team culture has improved. Tank Bigsby has done Tank Bigsby things. Their offensive line has found some cohesion. What they haven't determined is who will start under center come September. 
At the beginning of spring practice, Harsin cautioned against placing any sort of timeline on Auburn's quarterback battle, and through no fault of his own, the Tigers' embattled head coach hasn't been able to fully evaluate all his options either.
Texas A&M transfer Zach Calzada has been severely limited with a shoulder injury, and has not participated in any live team reps this spring. Calzada started 10 games in the SEC last fall, and although he was hardly the model of consistency, he has by far the most experience amongst the group. With the transfer sidelined, Finley, Ashford, a Mobile native who left Oregon after two seasons with zero snaps, and Geriner, a freshman, have split reps.
"I know he wants to be out there," Harsin said of Calzada, who many presumed would be Auburn's 2022 starter when he left the Aggies for the Tigers.
"He's dying just to stand back there and watch. He's in the yellow jersey, and it's killing him. He wants to go out there and play. … He's learning, he's been in the film room really trying to pick it up. So, summer's going to be big for him, fall camp, and that's going to be determined when he can get out there and get those reps that guys are getting right now.
"But all four of those guys have done some really good things, but right now I think T.J.'s played in the offense, I think he's leading well, I think he's got a good feel for what we're trying to do and just some of the things we want to accomplish this spring, that operation piece is really critical."
TJ Finley, Ashford and Geriner will see time in Saturday's scrimmage, but Finley has the biggest opportunity in the group to make a statement. With Calzada out, Finley has been QB1 in the rep line for the Tigers. He's the lone returnee at the position, and while Harsin is integrating a third different offensive coordinator in two seasons, Finley has the most experience with the basic principles of the playbook. 
Finley started the final three games of 2021 — all losses for the Tigers — averaging just 6.5 yards per attempt and completing only 54.7 percent of his throws. With the noted caveat of small sample sizes, his numbers would've ranked at the bottom of the SEC among all starting quarterbacks. Ironically, right alongside Calzada's stat line (6.7 yards per attempt, 56.1% completion). The former LSU transfer has a hose for an arm, but poor footwork and accuracy issues limited Finley's ability to smoothly operate Harsin's offense. Evidently, Harsin has seen real progress on both accounts from the 6-7, 250-pound quarterback this spring, recently praising Finley on making the most of his opportunities in the QB competition. 
"TJ has gotten quite a few reps, he's gotten the most. Right now, T.J. has played in the offense, he's leading well, he has a good feel for what we're trying to do," Harsin said.
"TJ is still a young guy that's developing, all of our quarterbacks are developing. To me, you're working on a lot of different things. He has a handle on the operation, on what we're trying to get done, the checks, he's seeing the defense well, now it's just going out there and making plays."
Harsin has really harped on "operation" at the quarterback position all spring, which makes sense considering the Tigers ranked 12th in the SEC in passing efficiency in 2021 despite throwing just four picks all season. 
Finley has been the smoothest "operator" thus far, which needs to continue in Saturday's A-Day Game. Until Calzada is fully-cleared, Harsin won't make any sort of decision at quarterback. But Finley could provide his head coach with some added clarity one way or another Saturday. He's clearly built some real momentum toward the end of spring camp.
Play well Saturday, and TJ Finley could head into the summer throwing sessions and fall camp without ever leaving the top of Auburn's QB pecking order.  
Struggle amid live bullets?
Then a head coach facing enormous pressure may be strongly inclined to give a fresh face or two every opportunity to seize the job rather than go with the quarterback who didn't get it done for him last season.