TO Barrett breaks down Missouri official; talks Oklahoma and Oklahoma State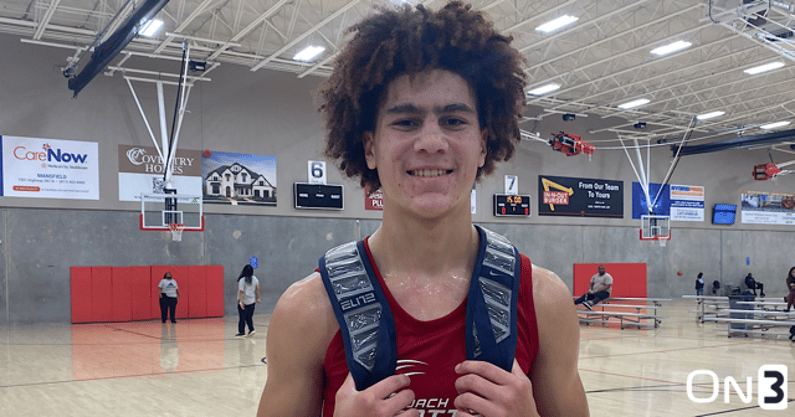 TO Barrett is the No. 113 ranked player in the 2024 On3 Industry Ranking. The 6-foot-4 guard led his Edmond North (OK) team to a second consecutive state championship this season, averaging 15.5 points and 4.1 assists per game.
Barrett is playing this summer with the MoKan travel program on Nike's EYBL Circuit. He is averaging 7.8 points, 5.5 rebounds, 3.3 assists, and 1.3 steals per game. His team is currently 7-5 on the circuit.
"I'm a point guard but really versatile," Barrett told On3. "One of the players I like to watch is Shai Gilgeous-Alexander. I feel like he can bring the ball up the floor and play off the ball and be effective, and impact the game. And I like that he can guard people."
The highly-rated three-star recently announced he would be transferring to play his senior season at Link Academy (MO). On3 caught up with TO Barrett recently to talk about the current state of his recruitment.
Barrett talks Missouri official
"So far, I've only taken an official visit to Missouri," Barrett said.
Missouri: "I really enjoyed it because they all were really close to each other. The whole team and program it was like a family. There didn't seem to be any animosity between them. Watching them play, I see myself running their offense. I really like how they play because it is free, but it is not out of control."
Barrett talks recruiting
"Right now, I'm talking with Oklahoma and Oklahoma State about setting something up," Barrett said. "We don't have exact dates set yet, but I should be taking them in June."
Oklahoma: "So what's standing out to me the most with them is how much they want me there. They've expressed that a lot. I've been to some of their games. I feel like I will fit into their play style of play well, especially with the way they use pick-and-roll reads and their mentality on the defensive end. I talk regularly with Coach (Ryan) Humphrey and Coach (Porter) Moser."
Oklahoma State: "I've been to a few Oklahoma State games as well. All of the facilities there are really nice. And I feel like I would fit in well with their offense and the way they use ball screens. Also, I really like them defensively. I feel like they really have that dawg mentality. My main recruiters are Coach (Mike) Boynton and Coach (David) Cason."