Tom Izzo fires back at Big Ten punishment decision, Michigan tunnel management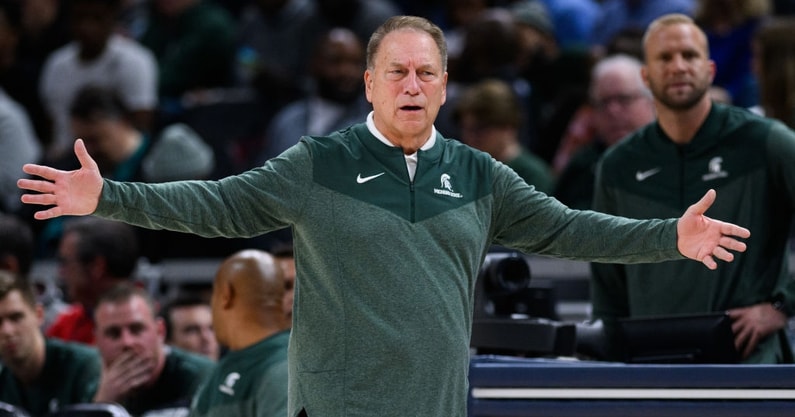 Michigan State basketball coach Tom Izzo defended Spartans football, questioning the Big Ten ruling on the recent tunnel incident. Izzo repeatedly made it clear he feels the players involved should be punished for what happened when Michigan players were attacked by Michigan State players in the locker room tunnel after the game.
However, Izzo expressed his disgust with the entire situation and called into question how Michigan could be "reprimanded" if they were not partially at fault for the altercation due to their management of their facilities.
Tom Izzo criticizes Michigan for their part in tunnel incidents
"Tom Izzo said he is "completely upset" about the Big Ten's decision to fine Michigan State $100,000 and issue Michigan a public reprimand for the tunnel incident. Emphasized he doesn't condone MSU players' actions but criticized UM's management of the tunnel," explained MLive's Kyle Austin.
Izzo spoke at length about the fallout of the ugly scene in the tunnel at the Big House, breaking down his issues with the Big Ten leadership for giving Michigan a "pass" and a slap on the wrist for allowing issues to occur routinely.
"I'm completely upset about it," said Izzo. "I think to get a $100,000 fine, a suspension of a player is fine but to get a fine like that and then the other school gets reprimanded. What the hell does reprimanded mean? I've told you guys I'm completely upset by what our players did, as Mel was. I would think that administratively, they should be upset on how the tunnel was handled and how those players ran in there.
CLICK HERE to subscribe for FREE to the On3 YouTube channel
"As I said before, what starts bad, ends bad. And so if they were reprimanded enough, they must have found something wrong. If it was managed right, there would have been no second part. I haven't talked to anybody here, AD, President. I haven't talked to the Big Ten office. It's none of my business. It disgusts me that it happened.
"It really disgusts me too that it wasn't handled on the front end since they had a problem with Ohio State a year ago, Penn State this year, and then we get a $100,000 fine and there's a reprimand. Well what the hell does a reprimand mean? What does it stand for? I'm disappointed and again, I'm going to keep sayin git, do not read in that I validate anything that happened. I don't validate the two players that ran in there, I don't validate the guy rubbing his head. I don't validate that grown-ups had a chance to make sure that thing was secure. Grown-ups."
Izzo finished his tirade against the Big Ten by taking another jab at their decision-making after an incident between Michigan and Michigan State in 2018. The Big Ten previously fined the Spartans program $10,000 for a pregame incident where Michigan State players walked across the field and initiated contact with Michigan players.
Previous Michigan State football coach Mark Dantonio was reprimanded by the conference "for failing to take action to mitigate a foreseeable conflict from occurring." The decision to punish the Spartans at that time was made by previous Big Ten commissioner Jim Delany directly, without following the conference's usual protocols. Izzo made it clear that he felt the conference has a history of decisions that hurt the Spartans directly.
"I'm not happy with it. It doesn't surprise me. Been here a lot of years, seen a lot of things. Watched it happen to Dantonio when they went after our Spartan head."