Top 10 cornerbacks in the On3 College Football Top 100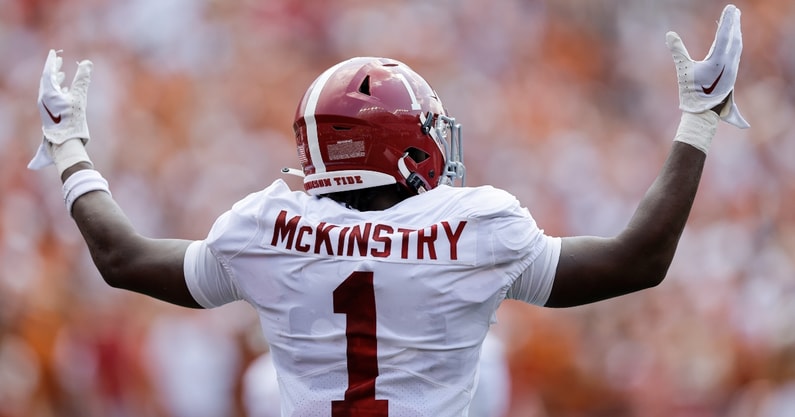 On3 celebrated the college football season being 100 days away in style, by counting down the Top 100 players in all of the sport.
Doing the rankings was none other than On3's Charles Power and Clark Brooks, as the duo broke down the top 100 players in college football for the 2023 season, and their rankings feature a bevy of exciting cornerbacks in their top 10 at the position.
There's a ton of debate on who the best pass-defenders are in the sport, and Power and Brooks made their picks. Here's who they chose as the top cornerbacks in the On3 College Football Top 100.
9) Kool-Aid McKinstry, Alabama Crimson Tide
10) Kalen King, Penn State Nittany Lions
30) Benjamin Morrison, Notre Dame Fighting Irish
31) Travis Hunter, Colorado Buffaloes
35) Will Johnson, Michigan Wolverines
40) Aydan White, NC State Wolfpack
41) Cooper DeJean, Iowa Hawkeyes
65) Fentrell Cypress, Florida State Seminoles
66) Josh Newton, TCU Horned Frogs
67) Marcellas Dial, South Carolina Gamecocks
Ranking top cornerbacks in college football
As you can see, the duo believes it's Kool-Aid McKinstry who leads the way for cornerbacks at the moment.
The Crimson Tide pass defender came into the college football world with a ton of hype as one of the top recruits in the nation. Over his time at Alabama, he's blossomed into a tremendous player, and is projected to be a first round selection in the 2024 NFL Draft.
However, Penn State's Kalen King is right on McKinstry's tail. The Nittany Lions defender turned in a great season in 2022, playing alongside the No. 32 overall pick in the 2023 NFL Draft Joey Porter Jr., the freshly-minted Pittsburgh Steelers defense back.
While King learned a lot from playing alongside Porter Jr., he'll be hoping to be even better than him last season, and challenge McKinstry for the top spot.
Continuing, perhaps the name on the list with the most potential is Colorado's Travis Hunter. The defense back's collegiate career has been a whirlwind, starting with when he spurned Florida State to attend Jackson State as the No. 1 recruit in the nation, and now he's following Deion Sanders to Colorado as he undertakes a new venture.
Hunter can play both the offensive and defensive side of the football, so it'll be fascinating to watch how that plays at the Pac-12 level. If he's able to keep it up like his mentor Sanders did, he could become a unicorn type of player that we haven't seen in many years.
Regardless, there are many exciting cornerbacks ready to roll in 2023, and it's going to be wonderful to watch them ball out next season.