Top-150 C Michael Nwoko talks future visits and top schools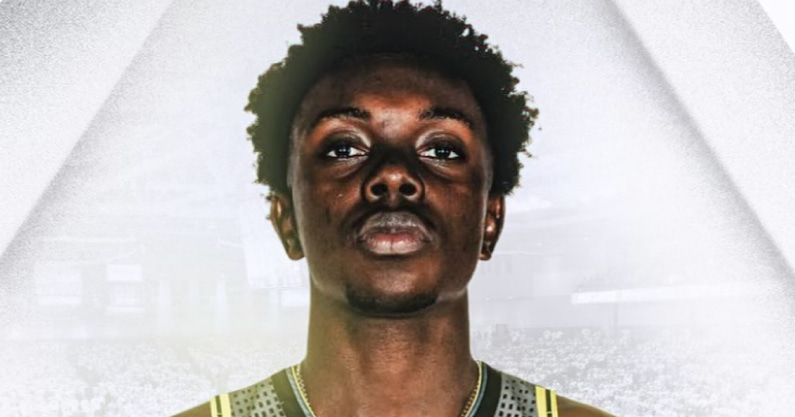 Michael Nwoko came in at No. 132 in the updated On3 2023 rankings. Listed at 6-foot-10, Nwoko won third place with the u18 Canadian National team in the FIBA Americas this Summer. He averaged 12.2-point and 8.3-rebounds on 62.2-percent shooting.
"I work hard on the court," Nwoko told On3. "I'll do all the dirty work and will do what it takes to win. I rebound at a high level, and when I get the ball around the basket, I'm looking to dunk it. I feel I've got a lot more to my game and showed that playing with Team Canada this summer."
With his efficient play on Nike's EYBL Circuit and his stellar play for Team Canada, college coaches are prioritizing the three-star center. On3 caught up with Michael Nwoko after putting out his top ten schools today and talked about visits.
"I've taken official visits to Northwestern and Vanderbilt," Nwoko said. "I have upcoming visits set with UCLA, Miami, Providence, and Georgia Tech."
Nwoko talks previous visits
Vanderbilt: "Vandy was great! I loved the visit and loved the staff and the city. They showed love from the beginning! The city was very live, especially for a weekday which I liked a lot."
Northwestern: "Northwestern was phenomenal. The campus was beautiful, and the facilities were better than I expected – that shocked me a little. It is a great school academically too, which my parents like."
Nwoko talks future visits
Providence: "My visit is set there for September 9. They have always believed in me. Coach (Jeff) Battle has believed in what I can do as a player from day one. Providence has also produced great front-court players in the past."
UCLA: "I visit them on October 7. I mean, it's UCLA. You can't go wrong with UCLA. Coach Ivo (Simovic) and Coach (Mick) Cronin have both heavily recruited me. They tell me how much they love my game and say I can make an impact as soon as I get there."
Miami: "My visit to Miami is September 23. Coach (Kotie) Kimble and Coach L (Jim Larranaga) tell me they love how hard I play. They are great people, and they have a winning culture at Miami. They have had many tournament appearances."
Georgia Tech: "I will visit Georgia Tech on September 16. They are a great school academically, and it's in the ACC. They are a place I'll go to and contribute on both ends. I love the connection I have with Coach (Brian) Eskildsen."
In his words
"I have watched these schools," Nwoko said. "They have sent clips of how they'll use me. I feel like I can fit in any style of play. My game is easy to play with because I'll still work my butt off no matter how the gameplay is.
"All of these schools are in good cities too. I want to make sure the place I choose feels like home. Go to a school with a great environment, where I could see myself live. Somewhere where the people are engaged, and the people show love."