Top 2023 recruits react to September 1 contact from coaches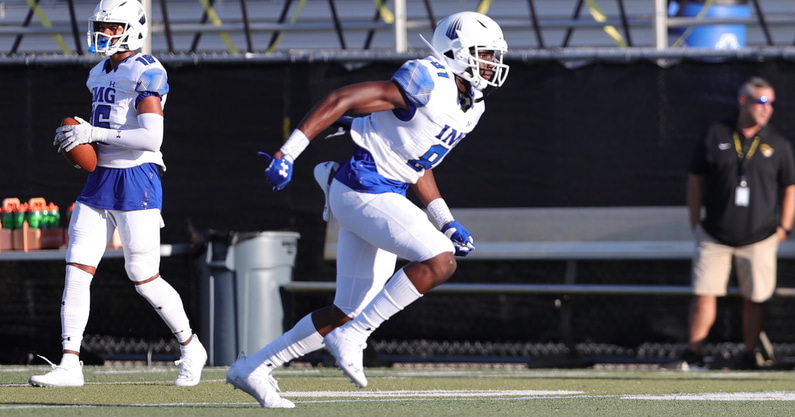 September 1 was the first day college coaches are legally allowed to contact the class of 2023 recruits. Many recruits had more than 200 text messages from coaches and received phone calls and edits from different schools, phone calls. On3 spoke with several of the top players in the class for their reactions.
DL David Hicks, Allen (Texas) High
"It is cool because I'm getting messages from coaches that didn't text me before, so it's cool to build those relationships," Hicks said. "I was asleep at 12, but it was cool to wake up to. As of right now, I've received 258 messages."
ATH Samuel M'Pemba, Bradenton (Fla.) IMG Academy
"A lot of schools have reached out, like Alabama, Miami, Georgia, USC, Texas A&M and more," said M'Pemba, who's from St. Louis. "Right at 12 my phone started blowing up, and after an hour it started glitching. I just went to sleep.
"But it feels good for the day to finally come because now you can see who really wants you at their program and who was just talking."
RB Treyaun Webb, Jacksonville Trinity Christian
"USC, Florida, Penn State and, of course, Oklahoma are the schools who have been contacting me heavily," said Webb, an Oklahoma commitment. "I appreciate all the love from schools, but right now I'm locked in with Oklahoma."
IOL Francis Mauigoa, IMG Academy
"September 1, my phone blew up like crazy. Multiple coaches were reaching out to me and wanted to get on FaceTime," Mauigoa said. "I appreciate all the love, but it was just too early in the morning. I woke up at 1 to a phone call from Coach (Alex) Mirabal (Oregon's offensive line coach). But there's nothing in this world I can't handle with all of God's help."
LB Jaiden Ausberry, Baton Rouge (La.) University Lab
"My phone has been blown up since 12 a.m., and pretty much every big program has reached out," Ausberry said. "It feels really good being able to talk to all the coaches and staff now, too. I was really excited about it."
CB Malik Muhammad, Dallas South Oak Cliff
"It's crazy, I still haven't went through all of the messages, I'm still scrolling now," Muhammad said. "It's an unbelievable feeling getting messages from head coaches and defensive coordinators."
DL Peter Woods, Alabaster (Ala.) Thompson
"The first school to hit me up was Michigan at 12:00 and 1 second. They had Tony Mitchell on the other line and talked to us for about 10 minutes," Woods said. "Everyone hit me up around midnight. It was wild! I could feel my phone vibrating on my bed like it was shaking."
WR Carnell Tate, IMG Academy
"Tennessee, Texas, Ohio State, Ole Miss, Alabama, and Notre Dame all reached out to me," said Tate, who's from Chicago. "It was hectic waking up to over 100 new notifications from messages and Twitter. It feels great knowing a coach can reach out directly to you without having to worry about NCAA violations."
S Joenel Aguero, IMG Academy
"Programs like Alabama, Ohio State, Clemson, LSU, Georgia, Penn State, Florida, Florida State and others reached out to me," said Aguero, who is from Danvers, Mass. "All of these coaching staffs have been blowing up my phone. I had to put it on 'do not disturb' for the night because I was getting too many messages. Nonetheless, it feels good though to finally be able to talk to coaches whenever."
LB Raylen Wilson, Tallahassee (Fla.) Lincoln
"My phone was blowing up like crazy; it woke me up at 3 o'clock," Wilson said. "I woke up to lots of graphics and head coaches sending videos of them talking about how excited they are. Multiple head coaches, about everyone in the country's recruiting coordinators, defensive coordinators and my position coaches reached out."
OT Payton Kirkland, Orlando Dr. Phillips
"I've spoken to about every program, and this is truly hectic," Kirkland said. "It's an amazing feeling finally talking to these guys. I've received nearly 150 messages in total."
IOL Knijeah Harris, IMG Academy
"Miami, Florida, Florida State, Alabama, Oregon, Oklahoma, Georgia and Penn State are a few of the programs that reached out," said Harris, from Port St. Lucie, Fla. "As soon as the clock hit 12, my phone blew up and has been going off nonstop since.
"It's great to finally be able to legally text coaches without having to jump through hoops to talk."
ATH Cedric Baxter Jr., Orlando Edgewater
"The first school to contact me was Miami. Other schools who contacted me were Notre Dame, Florida State, Florida, Clemson, Auburn and Louisville," Baxter said.
"I'm cool with the midnight texts because as you become a recruit, you look forward to the day. Also your relationship with coaches can grow even stronger because now they can contact you whenever they want without any restrictions."
CB Ethan Nation, Roswell (Ga.) High
"It's been awesome finally being able to talk to the coaches via call and text," Nation said. "Just about every program has reached out to me, and it's been wild seeing my phone buzzing and ringing."
WR Johntay Cook II, DeSoto (Texas) High
"Texas, Texas A&M, LSU, Ohio State, Alabama, Florida, Notre Dame and USC reached out," Cook said. "Last night my phone was going crazy, I just had to turn on 'do not disturb' and call it a night. My phone is still going crazy as we speak."
OT Luke Montgomery, Findlay (Ohio) High
"Being able to communicate was awesome," Montgomery said. "Super excited to build relationships with all of the coaches.
"I heard from a lot of different schools. The main ones that sent the most were Clemson, Ohio State, Oregon, Penn State, Oklahoma, Notre Dame, Michigan, Michigan State and Stanford."