Top 25 highest paid coaches in college football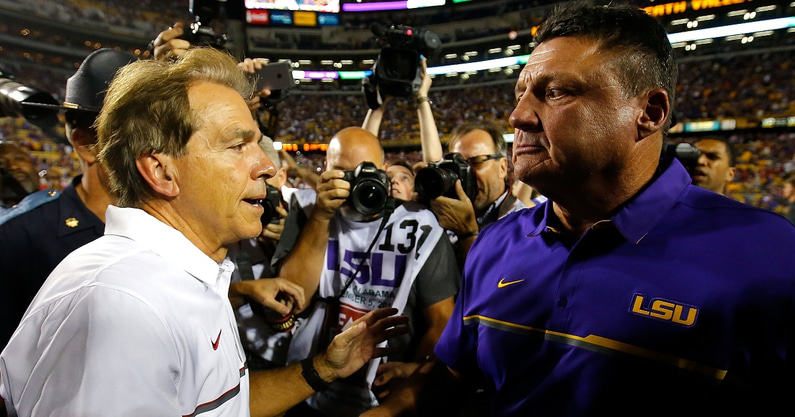 The Top 25 highest paid coaches in college football featuring a bevy on interesting names scattered throughout. While Nick Saban topping the list may not shock anyone, some of the coaches that make up the rest of the Top 25 aren't living up to their salary.
While the highest paid coaches aren't always the most successful, it can be a great indicator of expectations. Alas, it's evident programs like the LSU Tigers and Stanford Cardinal aren't living up to theirs.
Moreover, one of the highest paid coaches on the list isn't even coaching any longer this season — Clay Helton. Obviously, USC thought it better to cut bait with a bad investment than see it through.
Using USA TODAY's complete salary data, here are the Top 25 highest paid coaches in college football. Whether some of the coaches deserve to be on the list is a story for another day.
Top 25 highest paid coaches in college football:
1) Nick Saban, Alabama Crimson Tide – $9,753,221
2) Ed Orgeron, LSU Tigers – $9,012,917
3) David Shaw, Stanford Cardinal – $8,924,683
4) Dabo Swinney, Clemson Tigers – $8,370,775
5) Lincoln Riley, Oklahoma Sooners – $7,672,710
6) Dan Mullen, Florida Gators – $7,570,000
7) Jimbo Fisher, Texas A&M Aggies – $7,500,000
8) Kirby Smart, Georgia Bulldogs – $7,133,600
9) Ryan Day, Ohio State Buckeyes – $6,614,693
10) Gary Patterson, TCU Horned Frogs – $6,103,543
11) Pat Fitzgerald, Northwestern Wildcats – $5,748,179
12) Chip Kelly, UCLA Bruins – $5,600,000
13) Mel Tucker, Michigan State Spartans – $5,566,303
14) Steve Sarkisian, Texas Longhorns – $5,545,000
15) Mark Stoops, Kentucky Wildcats – $5,263,600
16) Kyle Whittingham, Utah Utes – $5,200,000
17) Scott Frost, Nebraska Cornhuskers – $5,000,000
18) Kirk Ferentz, Iowa Hawkeyes – $5,000,000
19) Bryan Harsin, Auburn Tigers – $5,000,000
20) Mike Leach, Mississippi State Bulldogs – $5,000,000
21) Lane Kiffin, Ole Miss Rebels – $4,841,937
22) Pat Narduzzi, Pittsburgh Panthers – $4,816,806
23) Clay Helton, USC Trojans – $4,813,832
24) P.J. Fleck, Minnesota Golden Gophers – $4,420,000
25) Jeff Brohm, Purdue Boilermakers – $4,417,774
The SEC leads the way
At the mountaintop of the top 25 highest paid coaches in college football, the SEC leads the way. Nick Saban gets paid to be Nick Saban, and everyone else gets paid to beat Nick Saban.
Right after Saban, LSU's Ed Orgeron slots in at No. 2 on the list. Afterwards, Florida's Dan Mullen lands at No. 6, Texas A&M's Jimbo Fisher at No. 7 and Georgia's Kirby Smart at No. 8.
Currently, Orgeron's salary looks like the worst investment. As he enters a game against Mullen's Gators this weekend, the Tigers coach has rumors of his firing swirling over his head.
As for Fisher, he finally defeated Saban for the first time this past weekend. Moreover, Smart's ranking in the top 25 may seem low — but he's more concerned with his Bulldogs leading the way in the polls.