Top 25 QB rankings entering Week 4 of college football
J.D.'s CFP Rankings After Week 3
Week 4 is here and so is a new batch of the On3 Top 25 quarterback rankings. With a quarter of the season gone, a clearer picture is coming into focus.
The Top 10 saw some movement in the back end with a new face showing up for the first time. The current conference breakdown is as follows: Seven Pac-12 quarterbacks, six from the SEC, four each from the Big 12 and ACC, three from the Big Ten, and Sam Hartman — the lone Group of 5 quarterback in the Top 25 slipped out due to injury.
Once more, no SEC quarterbacks are in the Top 10.
Check out the full On3 Top 25 quarterback rankings below.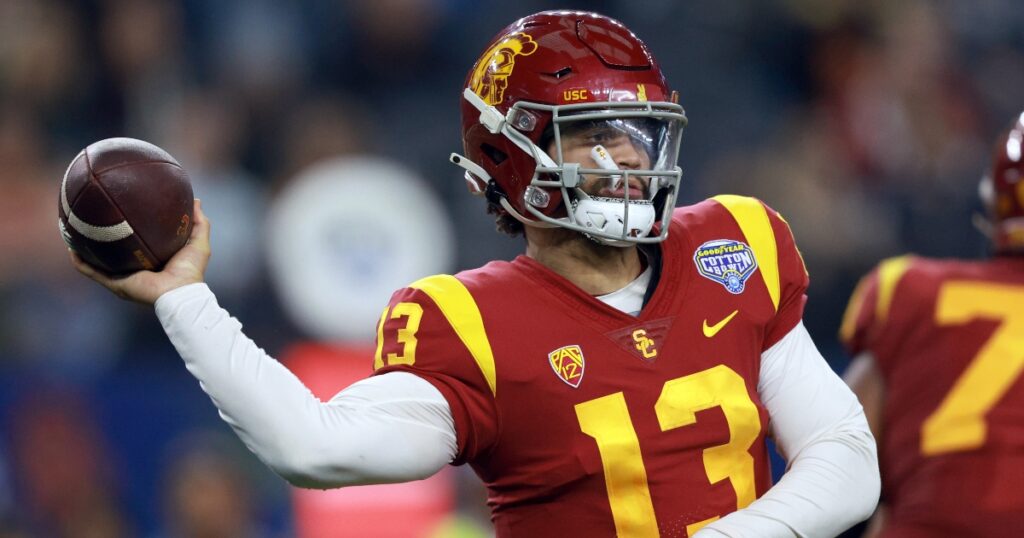 Williams and USC were idle in Week 3, having played a Week 0 game. After a week off, it's into the heart of conference play for the top quarterback in the country.
USC starts with Arizona State in Tempe before a Sept. 30 trip to Boulder — a trip to Notre Dame in mid-October looms, too. But with Williams at the helm, the Trojans should at least have a chance no matter who they line up against.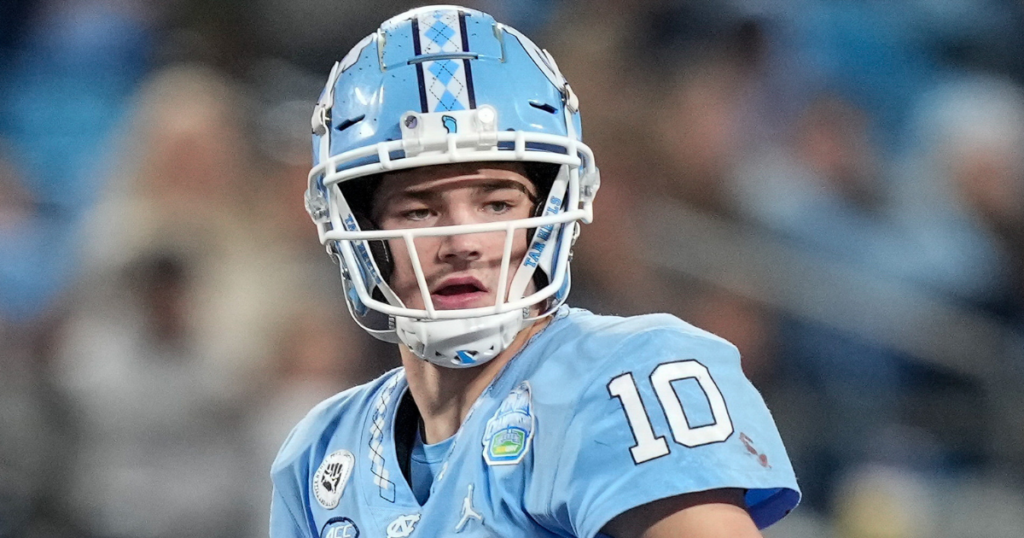 Maye and his Tar Heels are off to a 3-0 start, but he's been far from sterling in his last two outings. A few more uneven showings and his seemingly locked down spot at No. 2 could be challenged by the rest of the quarterbacks in this ranking.
After not throwing a touchdown or interception in Week 2 as UNC survived in double overtime, Maye tossed two touchdowns in a win against Minnesota, completing 72.5% of his passes for 414 yards. But he threw a pair of interceptions, bringing his total to four on the year.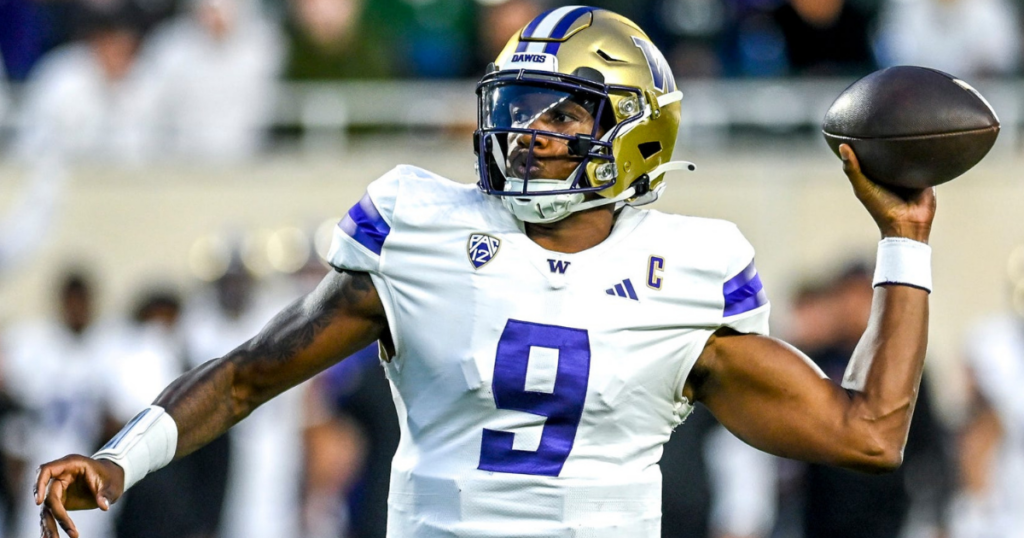 Penix and Washington went into East Lansing for a matchup against a wildcard Michigan State squad. Would the Spartans steel themselves or get rolled? From basically the first Husky offensive play, Penix made sure it was the latter.
Washington scored 35 first half points in a game that was never really competitive. Through three games, Penix is averaging, effectively: 28-for-38 passing for 444 yards and four touchdowns a game. He has thrown just one interception.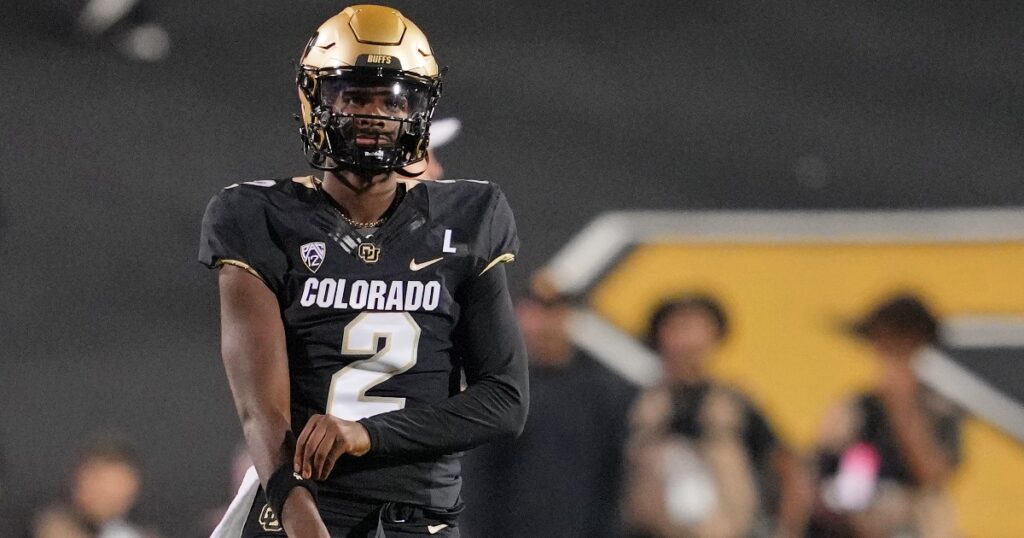 Sanders went "Brady Mode" as he led Colorado on a 98-yard game-tying drive at the end of regulation against in-state rival Colorado State. And he did it without star wideout (and cornerback) Travis Hunter.
Sanders has done nothing but shine as he's been the engine driving along Colorado's offensive success. He trails only Penix in total passing yards and has thrown 10 touchdowns to one interception.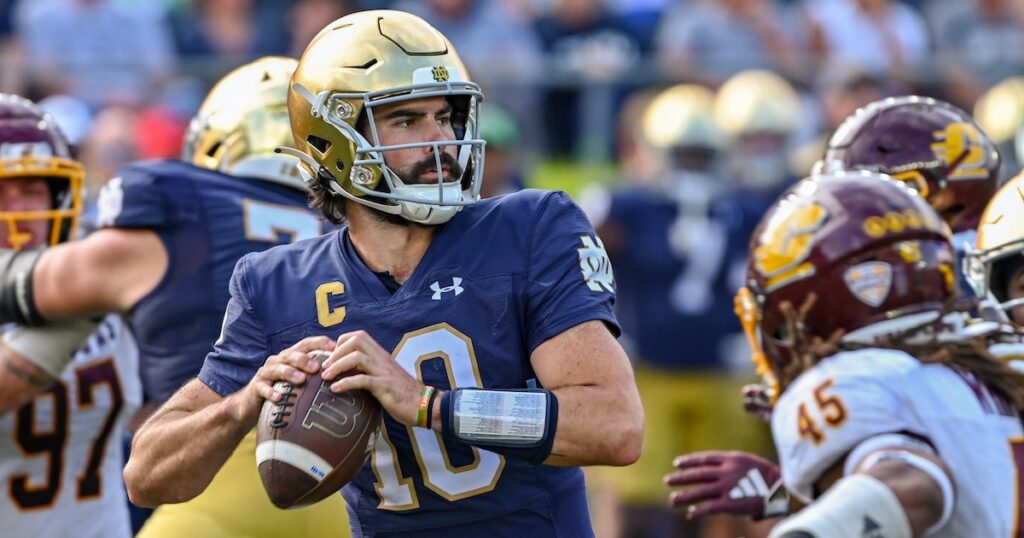 Hartman and Notre Dame get their biggest test of the season to date. The Irish welcome Ohio State to the horseshoe for one of the biggest non-conference games of the season.
If Hartman performs like he has so far, Notre Dame could be in for a season-defining win. Hartman has been lethal, as his 61.5% completion rate against Central Michigan was his lowest of the four Notre Dame games so far — he's also accounted for 15 total touchdowns.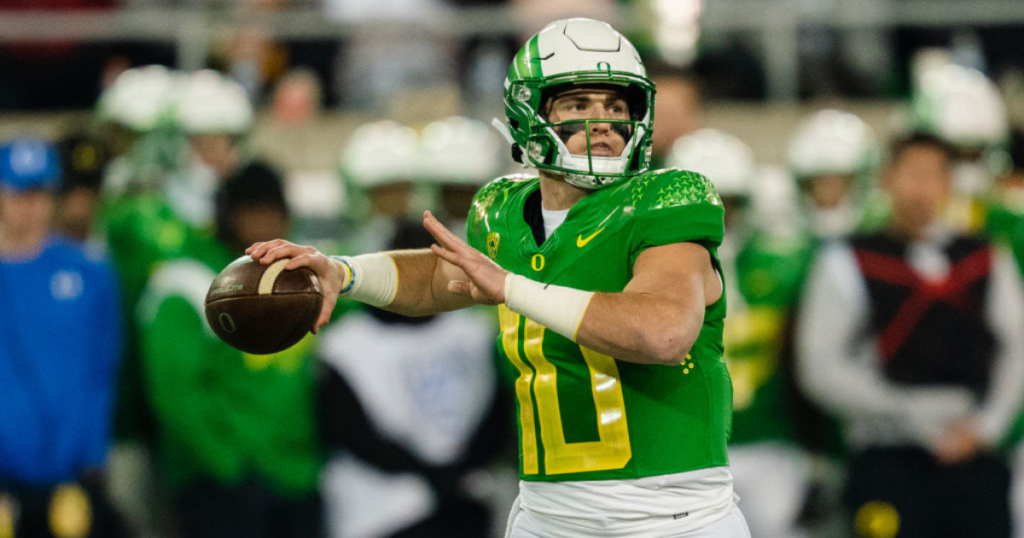 Nix and Oregon will play host to Sanders and Co. in Eugene this weekend, a chance for the Ducks to be the talk of college football with a win. Nix and Oregon had a relatively easy weekend, obliterating Hawaii, 55-10.
Nix was firing on all cylinders. He completed 21-of-27 passes for 247 yards and three touchdowns as Oregon cruised to cap off the non-conference slate.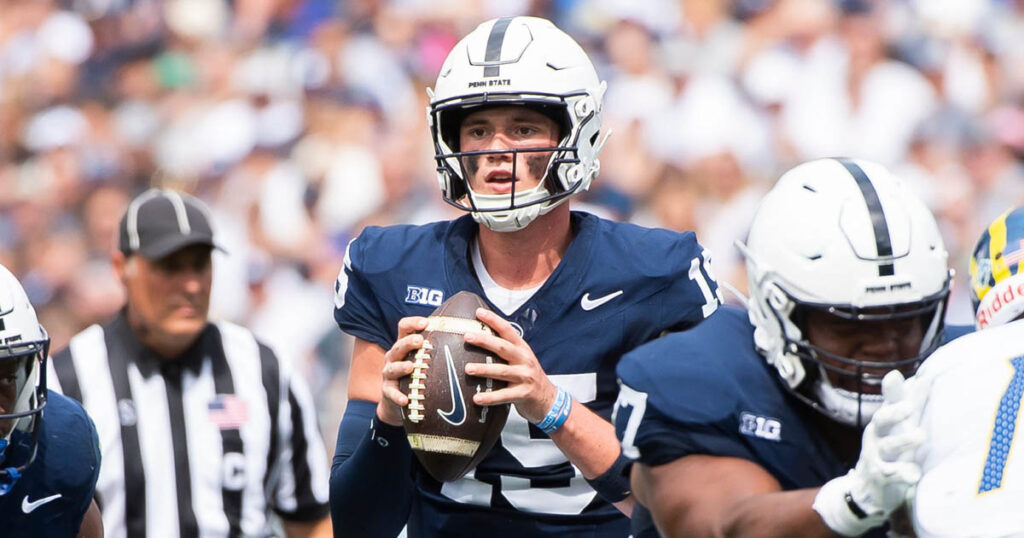 Allar and his Penn State offensive line were tested for 60 minutes by the stout Illinois defensive front, but the young signal caller passed one of his first big tests of 2023 and the Nittany Lions are 1-0 in conference play. It was also his worst statistical performance so far.
Allar completed fewer than 50% of his passes and threw for just 208 yards. But in a game where Penn State benefitted from a bevy of takeaways and ground out a win on the road, Allar never made a catastrophic mistake in just his third start.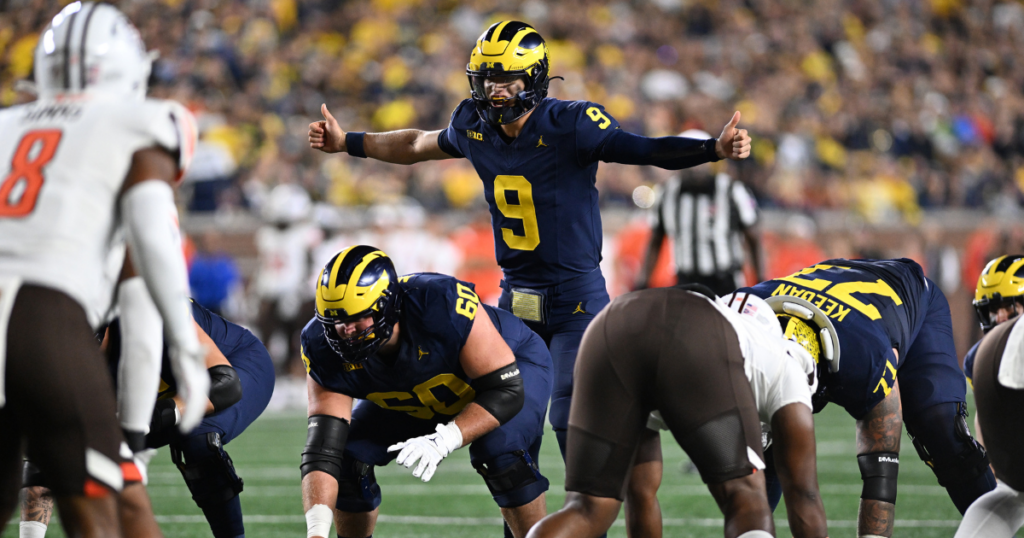 McCarthy showed he was human on Saturday, throwing three interceptions after just seven incompletions in his first two games. How much the interceptions are his fault versus his pass catchers is up for debate, but a cleaner performance will still be in order regardless as Michigan opens Big Ten play in Week 4.
After his three interceptions — all in the first half — McCarthy bounced back and finished 8-of-13 for 143 yards and two touchdowns as Michigan rolled to a 31-6 win. It was a bit of a clunker from McCarthy passing, but at a time where Michigan could certainly afford it.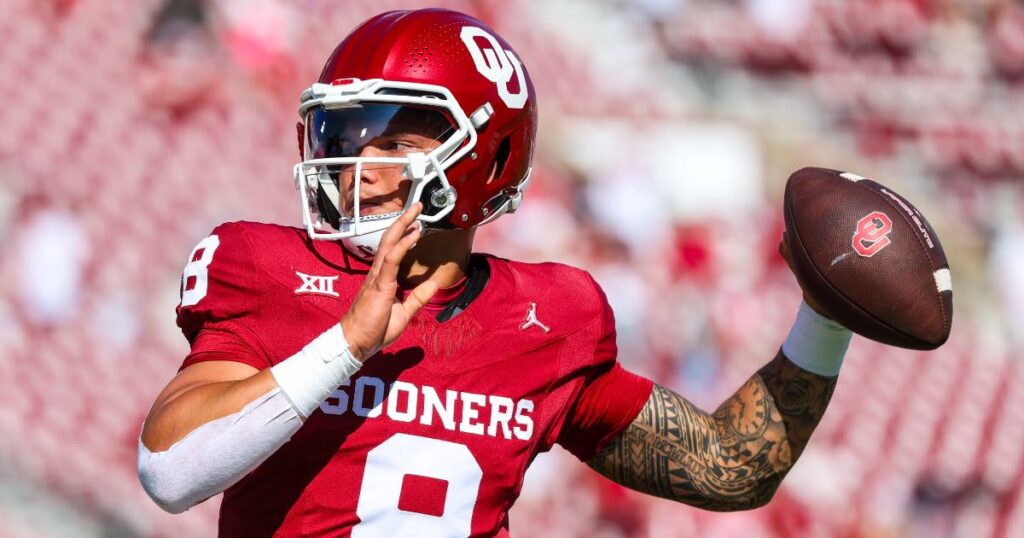 A new entrant in the Top 10, Gabriel has been spinning it for the Sooners early in 2023. His performance against Tulsa over the weekend was almost perfect.
He did throw an interception, but Gabriel went 28-for-31 for 421 yards and five touchdowns. He's completing passes at and 82.5% rate this season and has 12 total touchdowns to just the lone interception in three games.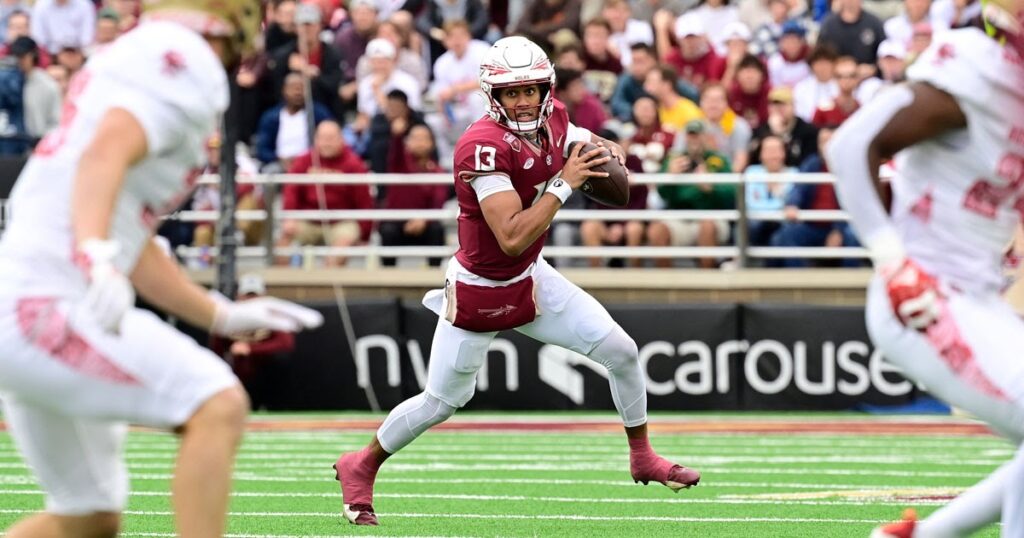 Travis and Florida State got into a weird game on the road against Boston College. At first it looked close, then the Seminoles appeared to pull away before a furious Eagles comeback fell short.
To boot, Travis apparently hurt his non-throwing shoulder in the contest, a week prior to a trip to Clemson. He started the season white-hot, but has cooled in the following weeks. Against Boston College he went 15-of-24 for 222 yards and two touchdowns passing while the injury limited his ability to threaten the defense as a runner.
Quarterbacks No. 11 through 25
11. Jayden Daniels, LSU
12. Jaxson Dart, Ole Miss
13. Tyler Van Dyke, Miami
14. Quinn Ewers, Texas
15. Devin Leary, Kentucky
16. Jalon Daniels, Kansas
17. Spencer Rattler, South Carolina
18. Riley Leonard, Duke
19. KJ Jefferson, Arkansas
20. Will Howard, Kansas State
21. Conner Weigman, Texas A&M
22. DJ Uiagalelei, Oregon State
23. Cameron Ward, Washington State
24. Taulia Tagovailoa, Maryland
25. Dante Moore, UCLA
Hello and welcome to the Top 25, Dante Moore. The UCLA freshman made a splash of an introduction when he threw for a pair of touchdown passes in Week 1 and has since risen to be the starter for UCLA. Also climbing into the Top 25 are Conner Weigman (No. 21) and Taulia Tagovailoa (No. 24), who returns after dropping out last week. Falling out of the Top 25 are Tulane's Michael Pratt, who continues to be hampered by an injury, Tennessee's Joe Milton and Mississippi State's Will Rogers.