Top-30 guard Wesley Yates announces top schools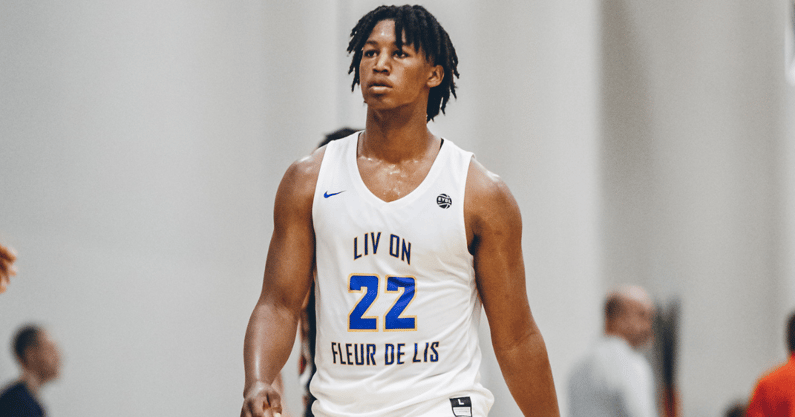 Beaumont (Texas) United four-star shooting guard Wesley Yates is one of the most sought-after recruits in the class of 2023. The 6-foot-4, 200-pound Yates tells On3 he has trimmed his nearly 25 scholarships down to nine: Arkansas, Auburn, Baylor, Gonzaga, Houston, LSU, Stanford, Texas, and Washington.
Yates has officially visited Auburn, Stanford, and Washington. Unofficially, he's been to LSU, Baylor, Houston, and most recently Texas.
The Texas native has also scheduled two more official visits: LSU on September 10th and Texas on September 3rd. He also plans to officially visit Arkansas, Gonzaga, and maybe one more program.
Yates is the No. 28 overall prospect in the 2023 class, according to the On3 Consensus, the average ranking from all four major recruiting media companies. He's also the No. 4 shooting guard and the No. 2 player in the state of Texas.
Wesley Yates discusses the in-state programs
In a previous interview with On3, Yates discussed the in-state programs involved in his recruitment.
Baylor: "They are close to home, and I have a great relationship with Coach (Scott) Drew and Coach (Alvin) Brooks. They hit me up a lot, and I talk with them a lot. I talk with their players too, Keyonte George and Langston Love. I grew up playing against them and with them, talking to them; they just tell me the truth about every situation. Coach Drew keeps it real with me; it's like a family atmosphere there. When I went for my two unofficials, I enjoyed myself."
Houston: "I like their playstyle. Coach (Kelvin) Sampson really lets them play. They're moving to a new conference…the Big 12… I believe they're going to run small, kind of like small ball, and get out a run a lot and that will fit my playstyle well. That's what the teams I play for do. That's what I like to do, get out and run and make plays for myself and others. UofH's coaching staff is good too. They're really good people. Like Coach Sampson, the first time I met him, it was like I'd known him for so long."
Texas: "It was my first time (at Texas on a recruit visit). I liked it. It was good. I liked everything I saw. The energy around the players and program. (Chris Beard) just keeping it real with me. Told me he would have my back, and the opportunity to play early if I came there. He wants me to develop as a player, and be part of a great culture."
Yates discusses the SEC program on his list
Arkansas: "They still hit me up a lot. Like the whole coaching staff, even the head coach, Coach Muss. Obviously, I know Anthony Black, Jordan Walsh, and Nick Smith. So I can ask those guys anything, and they'll tell me straight up. Just the atmosphere is crazy; watching them play against Auburn when Arkansas was at home was crazy. Just the crowd and just everything about them. They get people in the league, develop them, develop them the right way. And their players get in the league and do what they need to do."
Auburn: "That's a school I've built a great relationship with BP (Bruce Pearl). It was like a family atmosphere there when I took my official visit. They told me what it was going to be like. It really felt like home, just how all the players kept it real with me and told me what it was. I talked to a couple of the player's parents, and they said everything was true, everything they do. I just liked the atmosphere. It was crazy out there too. BP lets his players play. I feel like he would let me rock out if I went there."
LSU: "It's close to home, and I got a real good relationship with the coaches. Coach (Casey) Long is my guy, and you got Coach (Matt) McMahon, the head coach, who developed Ja Morant. It's just crazy to know he did that at Murray State, and he still talks to Ja today. They have shown me how I can develop my game and how they can develop me into a pro. They play in the SEC, which is a big stage. I got a visit set with them on September 10; it's the week LSU plays Southern in football, so it'll be fun."
Programs out west
Gonzaga: "Gonzaga is always winning. They win a lot. That's what I like; I like to win. There's not really much to do out there. That's what I like about it. Pretty calm, cool, and just basketball. I feel like they develop pros, and all their pros have been staying in the league for a long time. So obviously, they're doing something right. So just the way they develop their guards, let them play, shoot. They can come down and pull transition threes; they do all that."
Stanford: "They hit me up a lot. I'll be on FaceTime with Coach (Rob) Ehsan a lot, man, it's crazy. It is calm out there. The weather is great, the education is great, and the 40-year plan. Everybody is well-spoken, and there is a lot of positive energy. If you go to Stanford, you'll love it because it's really positive out there."
Washington: "Quincy Pondexter is my cousin, so they offered me on the spot. Knowing that he's family, he's been in the league; he won't let me fail. He played against some of the greats and was in the league for a long time; he'd show me the ropes. They let their guards play and get up a lot of shots."
Yates has developed the best relationship with…who?
In a previous interview with On3's Jamie, Wesley Yates said he's developed a few relationships with coaches that are stronger than others.
"I feel like I developed the best relationship with Baylor and Houston because they're so close to me," Wesley Yates said. "Every time I get around them, it just basically elevates me. I feel like a better person, and they're always positive. Coach (Scott) Drew, Coach (Kelvin) Sampson, Coach (Alvin) Brooks, all of them, man, like the energy around them is just crazy. I would say Auburn too, and BP (Bruce Pearl)."
Scouting Summary
Wesley Yates is a strong framed guard who plays with a lot of confidence. He is efficient on the ball, taking care of possessions. Yates has deep range on his jump shot and is comfortable off the bounce or the catch. His release point is a little low, but the release is clean and repeatable. Yates has a strong handle, his understanding of change of paces gets him to his spots in the half-court. He is an average athlete, vertically and horizontally, but he competes and has toughness. Yates is a noted gamer and wants the ball in his hands.

On3's Jamie Shaw, National Recruiting Analyst