Top-50 small forward Scotty Middleton down to five schools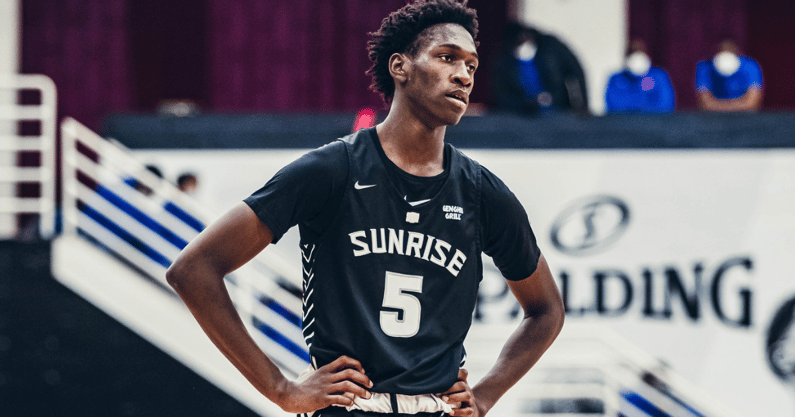 Scotty Middleton, a 6-foot-7 small forward out of Sunrise Christian (Kan.) Academy, tells On3 he's down to five schools — Kansas, UConn, Ohio State, Seton Hall, and Texas A&M.
Middleton is the No. 34 overall prospect in the 2023 On3 Consensus, a complete and equally weighted industry-generated average that utilizes all four major recruiting media companies. 
The four-star prospect also received offers from Kansas State, Georgia, Texas Tech, Oklahoma State, DePaul, and others.
Middleton discussed his recruitment in a previous interview with On3.
Middleton talks recruitment and game
If you take a look back and read previous interviews with Middleton, found here and here, you can clearly see Ohio State has stayed the most consistent in his recruitment.
On top of that, Ohio State is the only school that's hosted him on an official visit. He also says he doesn't have any official visits currently planned.
Middleton also visited Kansas State last September, but they've since had a coaching staff change, and are no longer in consideration.
Middleton broke down a couple of schools within his finalists in an earlier interview with On3's Jamie Shaw.
Ohio State: "They like my versatility and my energy. They talk to me about staying positive. I don't really know much about them yet. I am going to take an official visit there from March 4-6. Jacob Diebler is my main recruiter there." (Interview dated Feb. 2022)
Kansas: "I was able to see on my visits they play super hard and are well-coached. They have produced a lot of pros over the last few years, and they have a couple this year. Coach (Norm) Roberts called me yesterday morning and told me he likes how hard I play and how my versatility impacts the game. Then he said it was time to go ahead and offer me a scholarship." (Feb. 2022)
Middleton also gave his take on what he's looking for in a school.
 "I am going to look closely at the system and how they use versatile guys like me. Whichever school believes in me both on and off the court. I want to go to a school that focuses on defense."
How does he describe his game?
"I do whatever my team needs," Middleton recently told On3. "I bring energy to my team on both ends, get my team going and shoot the three. I've improved this season in finding my role on the team. I watch a lot of Brandon Ingram and Jaylen Brown. I look at their pace on offense, how they play through ball screens."
Scouting Report
"Scotty Middleton is a versatile defender. He has the length and motor to guard on or off the ball and the size to defend up a lineup. With his feet set, Middleton can knock down a jump shot and is excellent in transition, switching ends quickly. He will need to continue tightening his ball skills and shooting off the bounce, but his motor keeps him productive." – Jamie Shaw, On3's National Recruiting Analyst