Shocker: Top-ranked Alabama falls and now there is little margin for error to get into CFP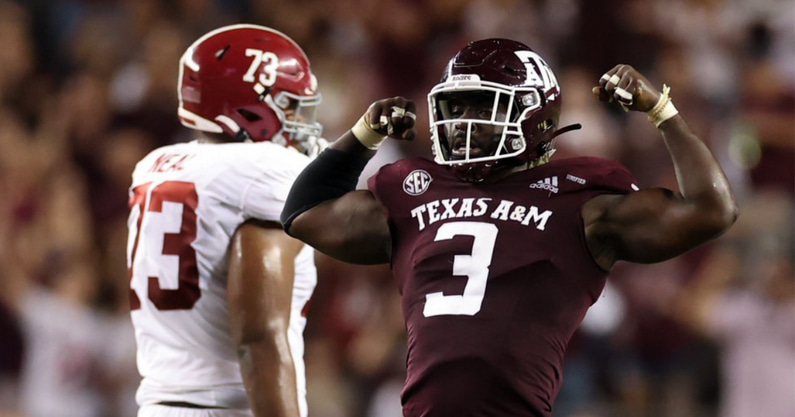 Top-ranked Alabama saw its 19-game winning streak end Saturday night as host Texas A&M stunned the Tide 41-38 on a 28-yard field goal by Seth Small on the final play of the game.
The Crimson Tide (5-1, 2-1 in the SEC), who also saw a 100-game winning streak against unranked opponents snapped, now has a thin margin of error to get back to the College Football Playoff. What looked to be an unencumbered march to a SEC Championship Game appearance against Georgia instead become a bit more interesting; after all, Texas A&M (4-2, 1-2) already had lost to Arkansas and Mississippi State — two teams Alabama still has to play.
Still, Alabama is going to be favored in every regular-season game the rest of the way, but a second loss in the SEC title game likely would keep the Tide out of the Playoff.
Alabama is the first No. 1 team to lose to an unranked opponent since USC fell to Oregon State in 2008.
Alabama coach Nick Saban now is 24-1 against his former assistants. Aggies coach Jimbo Fisher had been 0-4 against his former boss, but that didn't stop Fisher from talking big in May. At a Houston Touchdown Club meeting, Fisher was asked what it would take to beat Alabama other than Saban retiring.
"We're going to beat his ass when he's there," Fisher responded. "Don't worry."
Saban's response? "In golf?" he said.
The Tide outgained A&M by almost 150 yards, but Aggies quarterback Zach Calzada — who had played mediocre football since becoming the starter — threw for 285 yards and three TDs. His performance was even more surprising because he didn't have a running game to lean upon; the Aggies managed just 94 rushing yards.
Calzada had been limited to 183 or fewer yards, one or zero TD passes and a completion percentage of 60 or worse in his previous three starts against Power 5 opponents.
Ainias Smith, whose brother, Maurice, had a controversial transfer exit from Alabama a few years ago, was huge for A&M. He had six catches for 85 yards and two touchdowns, including one that tied the game at 38 with three minutes remaining. In his past two games against the Tide, Smith has 12 receptions for 208 yards and four TDs.
Until its final two drives, A&M had accumulated just 21 yards through its first four possessions of the second half. The Aggies went 119 combined yards on their last two drives to overcome a seven-point Tide lead.
Heisman frontrunner Bryce Young threw for 369 yards and three TDs, but he was sacked four times, harassed often and threw a pick.
In the postgame news conference, Saban bemoaned Alabama being held to field goals after reaching the red zone twice in the fourth quarter. In addition, he referenced Young's interception, which came in the end zone in the first half.