Transfer Portal King: Examining Lane Kiffin, Ole Miss' 2022 roster rebuild strategy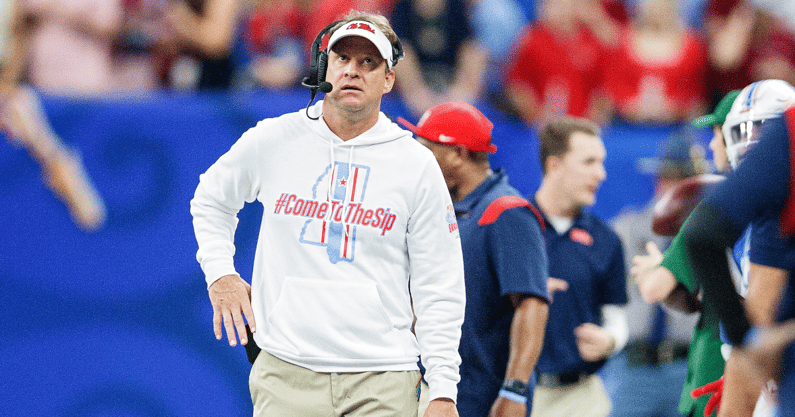 Lane Kiffin is the self-proclaimed Portal King, and in the past few months, Ole Miss' head coach has flaunted pic after pic of transfers in riding in his sports cars and debuted custom hoodies. 
No coach in America has embraced the NCAA's new transfer rules quite like Kiffin, who initially decried the sport's rebranded "free agency" only to turn around and use the portal as a hallmark of the Rebels' roster rebuild.
After signing 14 players from the transfer portal already in 2022, Ole Miss released a transfer hype video Monday, asking "Who's Next?" 
With the May 1 deadline to enter the portal and remain eligible for the fall looming quickly, the Rebels continue to send out bat signals they're not done looking to add more players just yet.
Throughout this offseason, Kiffin has become obsessed with discussing analytics and talking about being "innovative" and "cutting edge" in reshaping Ole Miss' roster. The Rebels must replace 13 starters off last season's 10-win team — the first in school history to win double-digit games in the regular season. 
"There's specific needs that you're trying to do and then there's also best available," Kiffin said in February.
"The thing about it that's strange, it's not like grad transfers where those are positions of need immediately that you take. It may be a grad transfer, it may be someone that has four years to play. It's very unique and challenging to figure that out.
"There's no evidence of how to do it and what's worked, so we're just trying to be cutting edge in how we're doing that and putting together our roster."
Kiffin & Co., have clearly done the math and come to the conclusion that a roster built around transfers — namely ones with multiple years of eligibility — is the best blueprint use of scholarships right now. 
Marquee transfer tight end Michael Trigg, quarterback Jaxson Dart, tailback Zach Evans, defensive end Jared Ivey, defensive tackle J.J. Pegues and a couple other transfers are all potential starters who could play multiples seasons at Ole Miss. 
The fascinating question is whether Kiffin's 2022 strategy is:
An intentional, short-term response to a roster that lost a ton of production.
An acknowledgment of his own lack of in-state recruiting, or 
An organic reaction to the changing landscape in college football.
Because make no mistake, #ComeToTheSip has metamorphosed into #TransferToTheSip. 
The year before Lane Kiffin arrived in Oxford, former Ole Miss coach Matt Luke signed 19 players from the state of Mississippi. 
Among those in the 2019 recruiting class included a slew of future backbones on Kiffin's 2021 team that made it to a New Year's Six Bowl. Top tailbacks Jerrion Ealy and Snoop Conner. The team's leading receiver, Dontario Drummond, sack-monster Sam Williams and several other notable contributors. All from Mississippi. 
Yet, in Kiffin's first three recruiting classes at Ole Miss, the Rebels have inked just 16 TOTAL players from the 'Sip. Conversely, Mike Leach and Mississippi State have signed 42 players from Mississippi from 2020-22. Notably, Kiffin is 2-0 against Leach in the Egg Bowl.
So can — or will — Ole Miss continue to ignore its in-state talent in favor of transfers? It that a sustainable long-term strategy for the Rebels? 
To be clear, we can't answer that question right now, which is what makes Kiffin's current calculous interesting to see unfold. 
"Kiffin is a national name with national appeal, especially on the offensive side of the ball. In the end he wants the best players on his roster, and he will push for those in Mississippi for sure, but he's going to cast a wider net nationally with both high school recruits and in the transfer portal," On3 Recruiting expert Chad Simmons told me. 
"He has showed that he will not just sign high school players to sign them, whether they be from the home state or other parts of the country. Kiffin is trying to build a roster to complete with Alabama and other SEC powers, so he is in search for the best players to help close that gap each cycle.
"The state of Mississippi is a solid state at the top typically, but the depth is not always strong when talking the players Kiffin wants to compete at the top in the SEC. He is going to recruit who he thinks can help him win from wherever they are located in the country."
Per the On3 Consensus, in the last three recruiting cycles the state of Mississippi has produced 29 prospects with a 4-star ranking. Six have signed with Ole Miss, with the other 23 prospects either going out of state (15) or to play for Leach and the Bulldogs (eight). 
For whatever reason, Kiffin doesn't have the juice with high school prospects in the 'Sip like he does nationally getting former blue-chip recruits to come to Oxford. 
Perhaps that changes in 2023, especially if the Rebels can have another strong season. They already have a verbal commitment from the No. 1 player in the state in linebacker Suntarine Perkins and they're contenders for four-stars like Ayden Williams, Isaac Smith and Dante Dowdell.  According to the On3 Recruiting Prediction Machine, Ole Miss is the favorite to land all three with Williams at 58.5%, Smith at 33.5%, and Dowdell at 97.7%.
Kiffin has truly been the Portal King in 2022, and it's supplied the Rebels with instant reinforcements to avoid a potential rebuild this fall. Time will tell if it's a yearly, long-term strategy for Kiffin or if a more balanced approach to roster management takes place in 2023 and beyond.